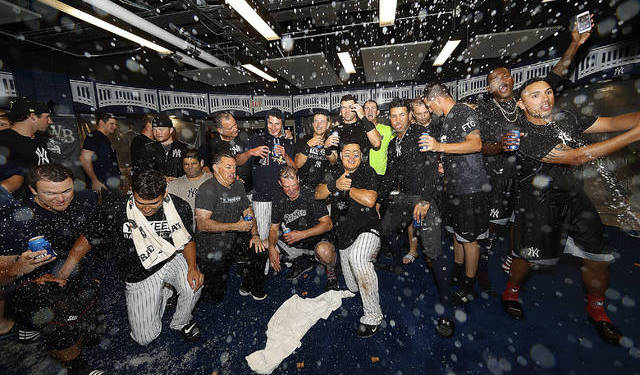 Once upon a time the Yankees had a middling — if not miserable — farm system that failed year after year to supplement the big league roster with cheap and productive talent. Aside from a Brett Gardner here and a David Robertson there, the farm system produced very little from Robinson Cano's debut through about the middle of the 2015 season.
That has changed. Now? Now the Yankees produce stars. Within the last two and a half years the farm system produced the 2016 AL Rookie of the Year runner-up, the unanimous 2017 AL Rookie of the Year and 2017 AL MVP runner-up, and the third place finisher in the 2017 AL Cy Young voting. Gary Sanchez, Aaron Judge, and Luis Severino are just the start too. Don't forget Greg Bird, Jordan Montgomery, or Chad Green. Or all the highly regarded prospects the Yankees cashed in as trade chips.
Suddenly the Yankees are a player development machine. They graduated all that talent, traded all those prospects, and still have a deep farm system. Both Keith Law and Baseball America rank the system as the second best in baseball going into the new season. The Yankees have star power and depth in the farm system. Position players and pitchers. Everything you could want. Well, except catchers. The Yankees are a little short on catching prospects at the moment, but when you have Sanchez at the big league level, that's not a huge deal.
This is my 12th year — 12th year! — ranking Yankees prospects at RAB, and I'm pretty sure I've never considered as many prospects for my annual top 30 prospects list as this year. Some years it was a struggle to get to 30 names. Some years you have a few extra names to consider. This year the list of prospects I seriously considered for the top 30 included 48 names. Guys like Cody Carroll, Ben Heller, and Nick Nelson would've been easy top 30 prospects two or three years ago. This year they didn't make the top 40.
That is my long way of saying the Yankees are loaded with prospects right now. I know we've been hearing the system is deep for however many months now, but it is shockingly deep. To see all the names on a list in one place is pretty amazing. The Yankees are drafting well, they're getting quality players in trades, and they've knocked it out of park internationally the last few summers.
As a reminder, I am no expert. I am just a guy with a blog who reads a lot and has opinions about prospects. I'm wrong about players all the time. All the time. Disagree with my rankings? That's cool. Mock me as you please. There is no correct way to rank prospects. It's all about balancing upside with probability, and tools with performance. Finding the right balance is tough, and once you think you've got it, some prospect changes your mind.
Anyway, all of my top 30 lists are right here. I use the MLB rookie limits of 130 at-bats and 50 innings to determine prospect eligibility. I don't worry about service time. That stuff is too much of a headache to track. All headshots come from MLB.com or MiLB.com unless noted otherwise. This year's top 30 prospects are after the jump. Enjoy.
[Read more…]