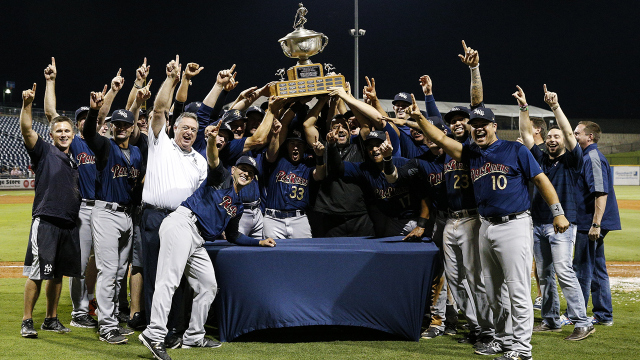 Over the last 14 months or so, the Yankees went from having a promising middle of the pack farm system to arguably the best system in all of baseball. They sold at the trade deadline for the first time in nearly three decades, and the trading of veterans for prospects continued this offseason. The Yankees have acquired six of my top 30 prospects (and five of my top 15) since last July, plus two others who were among the final cuts.
The trades are not the only reason New York's farm system has morphed into one of baseball's best, however. A strong 2016 draft as well as several breakout (and bounce back) seasons from prospects already in the system helped as well. It would be wrong to say everything went right in the farm system last year. Only most things went right. It's hard to think of a better possible season on the minor league side.
Amazingly, the Yankees have arguably the game's top system despite graduating four of last year's top 30 prospects to MLB, most notably No. 2 prospect Gary Sanchez. Fellow 2016 top ten prospects Rob Refsnyder (No. 6) and Bryan Mitchell (No. 7) also graduated to the big leagues last year, as did Luis Cessa (No. 26). Four others from last year's top 30 are no longer in the organization due to trades (Ben Gamel), releases (Slade Heathcott, Jacob Lindgren), and the Rule 5 Draft (Luis Torrens). Thirteen of last year's top 30 prospects are not on this year's list for whatever reason.
This is, ridiculously, my 11th top 30 prospects list here at RAB. It still feels like just yesterday we were dreaming on guys like Jose Tabata and Christian Garcia. Good times. Good times. You can see all my previous top 30 lists right here. Obligatory reminder: I do not claim to be an expert. I'm just a guy who likes to read about prospects and rank them on my free of charge weblog. Disagree with the rankings? That's cool. Mock me as you see fit.
For prospect eligibility, I stick with the MLB rookie limits of 130 at-bats or 50 innings pitched. Why at-bats and not plate appearances? Who knows. Also, I don't pay attention to service time — players lose rookie eligibility once they accrue 45 days of service time outside September — because it's not worth the effort to track. As always, prospect ranking is about balancing upside with probability, present skills with projection, and performance with tools. Everyone balances those things differently. It would be boring if we all did it all the same.
I liked the way the format worked out last year, so I stuck with it again this time around. All head shot photos come from MLB.com and MiLB.com. This year's top 30 is after the jump. Enjoy.