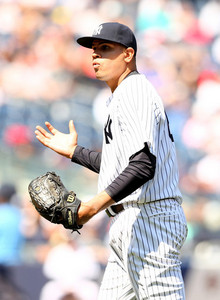 The draft signing deadline was last Friday, and the Yankees were able to sign everyone they were expected to sign. There were no surprises, good or bad. Because they didn't have a first round pick (or a supplemental round pick), this wasn't the most exciting draft for the Yankees, who went heavy on college pitching and took a reliever with their top selection.
The Yankees did, however, add an amazing amount of talent to the farm system through international free agency earlier this month. My unofficial tally puts the spending spree at approximately $28.5M total between bonuses and penalties, though I'm sure there have been several deals that were not reported. Most of those players signed 2015 contracts and are not technically Yankees yet, so they are not included in this snapshot of the farm system. I usually wait until international signees show up in the U.S. to rank them anyway.
Two players — righties Dellin Betances and Chase Whitley — have graduated to the big leagues since the pre-draft list was posted late-May. I've been doing these for eight years and this is the very first RAB prospect list without Betances. I'm kinda sad. Another prospect, righty Rafael DePaula, was traded away just this week. Those three departures plus the draft and some stateside debuts have led to a healthy amount of turnover since the last list in May.
I feel like it's clear who the top two prospects are (in whatever order), clear who the next seven prospects are (again, whatever order), and then a total mess after that with no obvious order. As always, this list is my personal opinion and based on how I value things like tools and probability and performance and all that. You're welcome to disagree with the rankings. I'm sure you will. Rankings don't mean anything anyway. They're just fun to look at it. Anyway, the ages listed are as of today, and the levels listed are the player's current level. The fun starts after the jump.
[Read more…]