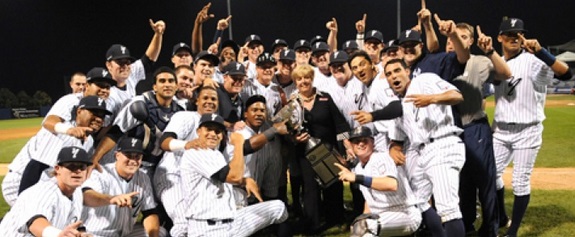 It was going to be next to impossible for the 2011 minor league season to feel like anything but a disappointment after all the success of 2010. Last year was more normal than anything else though, with a typical number of breakouts, steps back, and injuries. The Yankees still boast several high-end prospects and an absurd amount of depth, particularly on the mound. Not everyone is bound for stardom, but the Yankees have a plethora of useful players on the way to fill their roster and/or use in trades.
One thing I've learned over the years is that ranking prospects is not a black-and-white exercise, there's no right or wrong. It's an inexact science, and everyone has their own personal philosophy. Some prefer pure upside while some place more value on probability, and everyone's balancing act is different. I lean slightly towards probability, but I think you're going to see clubs place a much greater emphasis on ceiling given the draft and international spending restrictions put in place by the new Collective Bargaining Agreement. Premium talent will be harder to come buy, especially for a perennial contender like the Yankees.
I won't argue (much) if you think two prospects ranked consecutively should be flip-flopped, in most cases we'd just be splitting hairs. The gap between the number one and number four prospect this year is pretty small, as is the gap between number five and number 15 prospect or so. All the guys after that are pretty interchangeable. Once again, it all comes down to preference. Like everyone else, I use rookie status to determine prospect eligibility. That means anyone with more than 130 at-bats or 50 IP in the big leagues is not eligible for the list, though I ignore the service time cutoff because that stuff is too difficult to track. Two top 30 guys from last year — Ivan Nova and Eduardo Nunez — graduated to the big leagues in 2011 while three others — Jesus Montero, Andrew Brackman, and Hector Noesi — have since moved on to other clubs.
My past preseason lists can be found here: 2007, 2008, 2009, 2010, and 2011. Can't believe this is the sixth list at RAB already. Anyway, the ages listed are as of April 1st. Enjoy.