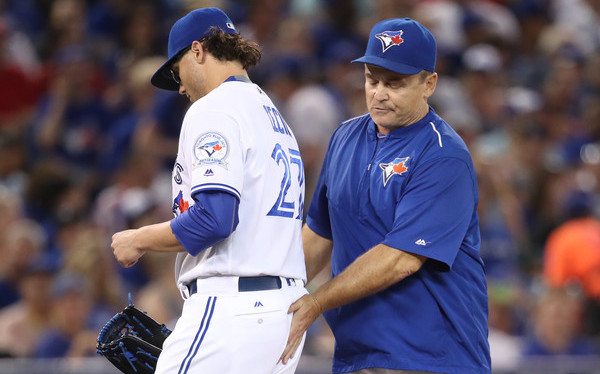 Is this is a big homestand? Yes, this is a big homestand. The Yankees open this ten-game homestand with the first of three against the Blue Jays this afternoon, a team that has completely dominated them since last year's trade deadline. The Bombers are 7-18 against the Blue Jays since last July 31st, including 3-10 at Yankee Stadium. Woof. If the Yankees want to get to the postseason, they have to start beating the Blue Jays and soon. No way around it.
What Have They Done Lately?
The Blue Jays dropped two of three to last place Rays over the weekend, but that doesn't mean anything. They've been playing pretty well for a few months now. Toronto is 77-59 with a +101 run differential on the season. They're one game up on the Red Sox in the AL East and five games up on a postseason spot in general. The Yankees, meanwhile, are 3.5 games back of both the Orioles and Tigers for the second wildcard spot.
Offense & Defense
Toronto's offense isn't quite as dominant as it was last year, but they're still averaging 5.01 runs per game with a team 103 wRC+. They're also second in MLB with 197 home runs. (The O's have 214 homers, far and away the most in baseball.) The Blue Jays are completely healthy on the position player side right now. No one on the DL and no one even day-to-day. Must be nice.
Manager John Gibbons stacks his heavy hitters right at the top of the lineup. RF Jose Bautista (112 wRC+) hits first, 3B Josh Donaldson (161 wRC+) hits second, and DH Edwin Encarnacion (136 wRC+) hits third. Donaldson very well might win MVP again. Lately the molten hot C Russell Martin (106 wRC+) has been hitting cleanup — he's hit nine homers in his last 18 games — with LF Michael Saunders (127 wRC+) and SS Troy Tulowitzki (104 wRC+) behind him in some order. That is a pretty great top six.
1B Justin Smoak (95 wRC+), CF Kevin Pillar (80 wRC+), and 2B Devon Travis (108 wRC+) are the other regulars. For the most part the Blue Jays have a set lineup. They don't platoon much or anything like that. OF Melvin Upton (86 wRC+) is the regular fourth outfielder and IF Darwin Barney (87 wRC+) the regular backup infielder. Ex-Yankees farmhand C Dioner Navarro (59 wRC+) is now the backup catcher. C Josh Thole, IF Ryan Goins, OF Ezequiel Carrera, OF Darrell Ceciliani, and OF Dalton Pompey are the September additions.
The Blue Jays are a very good team defensively. Bautista is the weak link because he's lost a lot of range in right, though he still has a strong arm. Pillar, Donaldson, and Martin are all excellent while Saunders, Tulowitzki, Smoak, and Travis are merely a bit above average. I thought Toronto didn't receive nearly enough attention for being as good as they are defensively last season. All the focus was on the bats and understandably so, but this team catches the ball too.
Pitching Matchups
Monday (1:05pm ET): RHP Masahiro Tanaka (vs. TOR) vs. RHP R.A. Dickey (vs. NYY)
A few years ago the Blue Jays acquired Dickey to be their ace, and now he's their sixth best starter. The 41-year-old has a 4.43 ERA (5.14 FIP) in 27 starts and 160.1 innings, and while his ground ball rate (43.6%) is right where it normally is, his strikeout (17.0%), walk (8.9%), and homer (1.52 HR/9) numbers are much worse than they have been the last few seasons. Dickey has a small platoon split, and right now his knuckleball sits in the mid-70s while his show-me fastball averages 82 mph. He used to throw two knuckleballs with the Mets — a slow one in the low-70s and a harder one in the upper-70s — but not anymore. Not sure what happened there. The Yankees have only seen Dickey twice this season. They scored four runs in 6.2 innings in May, and one run in five innings in August.
Tuesday (7:05pm ET): RHP Luis Cessa (vs. TOR) vs. RHP Aaron Sanchez (vs. NYY)
The Blue Jays are using a six-man rotation right now because they need to keep Sanchez's innings in check. He's thrown 162.1 innings this year, already well beyond his previous career high of 133.1 innings set back in 2014. The 24-year-old Sanchez has a 2.88 ERA (3.36 FIP) in those 162.1 innings, so he's been outstanding. He might finish in the top three of the Cy Young voting. At least top five, I would think. Sanchez is a strikeout (20.1%) and ground ball (56.8%) machine who keeps the ball in the park (0.61 HR/9) and won't kill himself with walks (7.4 BB%). Lefties have more success against him than righties because his changeup, while improved, still lags considerably behind his trademark mid-90s sinker and upper-70s curveball. Sanchez's fastball is ridiculous. He pounds the bottom of the zone with the sinker all day and it's damn near impossible to hit in the air. The Yankees scored two runs (one earned) in six innings against Sanchez way back in April, then he held them scoreless across 6.2 innings in June. Been a while since they've faced each other.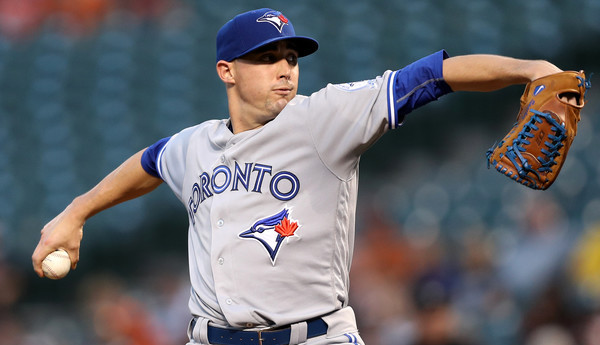 Wednesday (7:05pm ET): TBA vs. RHP Marcus Stroman (vs. NYY)
Stroman, 25, was expected to emerge as the staff ace this season, and instead he has a 4.58 ERA (3.72 FIP) in 27 starts and 173 innings. He's also beyond his previous career high in innings (166.1 in 2014). Stroman has good peripherals (19.7 K%, 5.8 BB%, 61.1 GB%, 0.99 HR/9) and his platoon split isn't huge, yet he has had a hard time keeping runs off the board because he's easier to square up than his stuff would lead you to believe. He legitimately throws six pitches: mid-90s four-seamers and sinkers, low-90s cutters, upper-80s sliders and changeups, and a low-80s curveball. The sinker, cutter, and slider are his three main offerings. Having watched him this year, it Stroman seems to either overthink things or just get too cute by trying to beat hitters with his fifth or sixth best pitch (curve and change) rather than simply going for the kill when ahead in the count. Somehow the Yankees have only seen Stroman once this year and that was way back in April, in the third series of the season. He held them to two runs in eight innings.
As for the Yankees, their starter for Wednesday is still up in the air following Chad Green's injury. It won't be Luis Severino, who threw two innings and 38 pitches yesterday. Bryan Mitchell lines up perfectly to start Wednesday, though Joe Girardi seemed to indicate they don't think he's ready for big league duty yet. They want him to continue working in Triple-A to shake off the rust following the toe injury. That doesn't mean Mitchell can't start Wednesday. It just means the Yankees seem a little hesitant to go to him. I think there's a chance they'll go with a bullpen game now that rosters have expanded. Two innings from one guy, two innings from the next guy, two innings from someone else after that … so on and so forth. We'll see.
Bullpen Status
Earlier this year the bullpen was a major weakness for the Blue Jays, and while I wouldn't go as far as to call it a strength right now, it is improved. Here is the relief crew Gibbons has to work with:
Closer: RHP Roberto Osuna (2.44 ERA/2.93 FIP)
Setup: RHP Jason Grilli (3.02/3.45), RHP Joe Biagini (2.51/2.59)
Middle: RHP Joaquin Benoit (3.18/4.06), LHP Brett Cecil (4.71/4.06), RHP Ryan Tepera (3.38/4.74)
Long: RHP Scott Feldman (3.60/4.80)
Extra: RHP Danny Barnes, LHP Matt Dermody
It's worth noting the Blue Jays used veteran LHP Francisco Liriano (5.35/5.24) out of the bullpen over the weekend, and while they say they intend to give him more starts down the stretch, I suppose we can't rule out seeing him in relief at some point.
Anyway, the 21-year-old Osuna recently became the youngest pitcher in baseball history to record a 30-save season. That's because most pitchers his age are still starters, but still. Impressive. Biagini is a Rule 5 Draft pick who has worked out well, and Grilli just keeps on keepin' on. Benoit and Cecil have had some very nice years in the past, but not this year. They've been shaky.
J.A. Happ didn't make it out of the third inning yesterday, forcing Gibbons to use Barnes (29 pitches), Feldman (17 pitches), Benoit (20 pitches), Grilli (ten pitches), and Osuna (15 pitches). None of those guys have pitched back-to-back days though, so the bullpen's not in terrible shape. Check out our Bullpen Workload page for Joe Girardi's recent reliever usage.