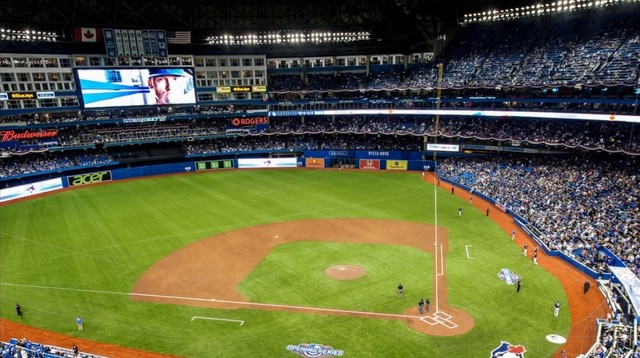 Each of the five AL East teams has won a division title within the last six years. Last year it was the Blue Jays' turn, as they stormed up the standings in the second half and blew by the Yankees. New York was six games up at the trade deadline and six games back at the end of the season. That happened quick. The Yankees and Blue Jays figure to compete for the AL East title again in 2016. They meet for the first time this week with three games at Rogers Centre.
What Have They Done Lately?
The Blue Jays are 3-4 in the early going this season. They split a four-game series with the Rays in Tampa Bay last week, then dropped two of three to the Red Sox at home over the weekend. Toronto has scored 29 runs and allowed 30 so far. Like the Yankees, the Blue Jays had an off-day yesterday. (They didn't get rained out Sunday though.)
Offense & Defense
A year ago the Blue Jays scored 892 runs, by far the most in baseball — the Yankees were second with 764 runs — and the most by any team since the 2009 Yankees scored 915 runs. Most of the lineup returns this year. The only difference is OF Michael Saunders in left field instead of OF Ben Revere. The season is still very young, so I'm going to give you each player's performance to date and their 2016 ZiPS projections. Sound good? Too bad if it doesn't. This ain't no democracy.
2016 Stats to Date
2016 ZiPS
C Russell Martin

2-for-20 (.100), 0 HR, 0 SB, 0 BB, 10 K
.231/.329/.403 (101 wRC+), 15 HR, 5 SB
1B Chris Colabello

1-for-12 (.083), 0 HR, 0 SB, 0 BB, 5 K
.251/.304/.433 (99 wRC+), 18 HR, 1 SB
2B Ryan Goins

6-for-21 (.286), 0 HR, 0 SB, 1 BB, 6 K
.237/.282/.326 (64 wRC+), 5 HR, 3 SB
SS Troy Tulowitzki

3-for-25 (.120), 1 HR, 0 SB, 3 BB, 10 K
.255/.330/.434 (107 wRC+), 16 HR, 1 SB
3B Josh Donaldson

9-for-29 (.310), 4 HR, 0 SB, 2 BB, 11 K
.279/.354/.525 (139 wRC+), 32 HR, 6 SB
LF Michael Saunders

5-for-19 (.263), 1 HR, 0 SB, 1 BB, 5 K
.247/.323/.421 (102 wRC+), 8 HR, 5 RBI
CF Kevin Pillar

6-for-29 (.207), 0 HR, 1 SB, 0 BB, 4 K
.269/.304/.403 (90 wRC+), 11 HR, 21 SB
RF Jose Bautista

6-for-21 (.286), 2 HR, 0 SB, 9 BB, 8 K
.263/.385/.527 (149 wRC+), 29 HR, 5 SB
DH Edwin Encarnacion

8-for-27 (.296), 0 HR, 0 SB, 2 BB, 4 K
.271/.363/.505 (135 wRC+), 27 HR, 4 SB
BENCH
C Josh Thole

1-for-7 (.143), 1 HR, 0 SB, 0 BB, 2 K
.238/.298/.313 (67 wRC+), 3 HR, 0 SB
1B Justin Smoak

1-for-5 (.200), 0 HR, 1 SB, 2 BB, 4 K
.236/.314/.424 (101 wRC+), 16 HR, 1 SB
IF Darwin Barney
3-for-11 (.273), 0 HR, 2 SB, 1 BB, 0 K
.241/.290/.336 (69 wRC+), 6 HR, 5 SB
OF Ezequiel Carrera

1-for-7 (.143), 0 HR, 0 SB, 0 BB, 2 K
.253/.301/.351 (78 wRC+), 6 HR, 19 SB
ZiPS is expecting Tulowitzki to really start to decline, but the Blue Jays still have those three huge bats in Donaldson, Bautista, and Encarnacion. Those dudes are terrifying. For some reason manager John Gibbons insists on batting Pillar leadoff, meaning Donaldson, the No. 2 hitter, will bat with the bases empty and one out in roughly 70% of first innings in 2016.
Colabello is a prime candidate to see his numbers slip back — he hit .321/.367/.520 (142 wRC+) in 2015 — because he had a .411 BABIP last season, and he ain't no true talent .411 BABIP hitter. No one is. Especially not a big, lumbering first baseman. I think it's only a matter of time until Smoak is playing first base everyday, or at least everyday against righties. (He's a switch-hitter, Colabello is a right-handed hitter.)
One aspect of the Blue Jays that got overlooked last year was their defense. This is a very good defensive club. Aside from first base and right field — Bautista doesn't have a ton of range, but he has a rocket arm — they have average or better defenders all over the field. Check out Sean Dolinar's defensive projections visualization: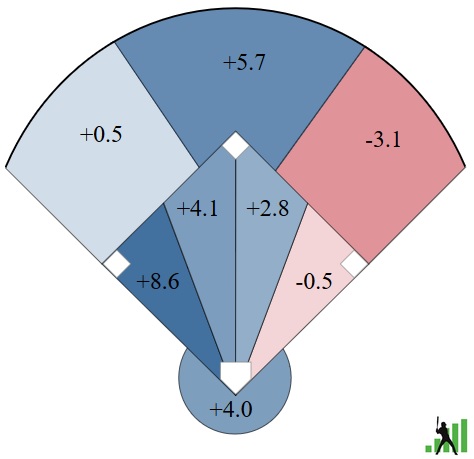 Pretty good defensive club right there. The Blue Jays don't just mash. They catch the ball too. I thought that was a very overlooked part of their team a year ago.
Pitching Matchups
Tuesday (7pm ET): RHP Masahiro Tanaka (vs. TOR) vs. RHP Aaron Sanchez (vs. NYY)
The Blue Jays are giving Sanchez another try in the rotation. The 23-year-old had a 3.55 ERA (5.21 FIP) in eleven starts and 66 innings as a starter last season, and he came out of the gate by firing seven innings of one-run ball against the Rays in his first start of 2016. He struck out eight and walked one in that start, which is way different than the 15.0 K% and 13.2 BB% he had as a starter in 2015. Sanchez sits in the mid-90s with his sinker, and his go-to offspeed pitch is low-80s slider. He's working on a changeup, and the pitch has shown some ridiculous movement in the past: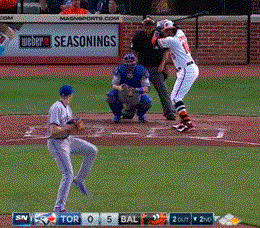 Sanchez threw 15 changeups in his first start last week, the second most he's ever thrown in an outing in his career. I'm guessing he'll go back to that well given all the lefties the Yankees have in the lineup.
Wednesday (7pm ET): RHP Michael Pineda (vs. TOR) vs. LHP J.A. Happ (vs. NYY)
Happ is essentially replacing David Price in the rotation. Price is gone and Happ is the guy they signed to fill the rotation spot. He had a 3.61 ERA (3.41 FIP) in 172 innings a year ago, though he was way better with the Pirates in the second half (1.85 ERA and 2.19 FIP) than he was with the Mariners in the first half (4.64 ERA and 4.12 FIP). Pittsburgh got Happ to throw his low-90s four-seam heater more often, and he located it better than ever before, but in his first start of this season he threw it only 34.8% of the time. He again shelved it in favor of his low-90s sinker for at least that one start. Happ also throws a lot of upper-80s cutters. A mid-80s changeup is his primary offspeed pitch, and he'll flip a few upper-70s curves per start as well. Last week Happ, 33, held the Rays to two runs in six innings. He walked one and fanned four.
Thursday (7pm ET): RHP Nathan Eovaldi (vs. TOR) vs. RHP Marcus Stroman (vs. NYY)
Stroman, 24, is now the staff ace with Price gone. A torn ACL limited him to four starts last season (1.67 ERA and 3.54 FIP), and at this point it's pretty clear he's a ground ball guy (career 56.0 GB%) and not so much a strikeout guy (19.9%). Stroman will throw six different pitches but he leans on four the most: low-90s sinker, upper-80s cutter, mid-80s changeup, and mid-80s curve. He'll throw a handful of straight low-90s four-seamers and loopy upper-70s curveballs per start. That deep repertoire has allowed him to avoid a significant platoon split early in his young career. Stroman gets himself into trouble when he tries to get cute and put guys away with his fourth or fifth (or sixth) best pitch. He was excellent in his first start (three runs in eight innings, but two runs came super late) and pretty bad in his second start (five runs in 5.1 innings) last week.
Bullpen Status
The Blue Jays are without three of their best relievers from last season. Sanchez was moved into the rotation, RHP Mark Lowe left as a free agent, and RHP Liam Hendriks was traded to the Athletics for RHP Jesse Chavez. Those three combined to allow 36 earned runs in 110 innings. That's a 2.95 ERA. Here is the current bullpen:
| | 2016 Stats to Date | 2016 ZiPS |
| --- | --- | --- |
| RHP Roberto Osuna | 4 IP, 2 H, 0 R, 0 ER, 0 BB, 6 K, 0 HR | 3.13 ERA (3.22 FIP), 27.5 K%, 7.6 BB% |
| RHP Drew Storen | 2.1 IP, 4 H, 2 R, 2 ER, 1 BB, 2 K, 0 HR | 3.10 ERA (3.21 FIP), 9.1 K/9, 2.3 BB/9 |
| LHP Brett Cecil | 2 IP, 3 H, 2 R, 2 ER, 0 BB, 2 K, 1 HR | 2.96 ERA (2.72 FIP), 31.0 K%, 8.4 BB% |
| RHP Jesse Chavez | 2 IP, 3 H, 1 R, 1 ER, 1 BB, 4 K, 1 HR | 4.33 ERA (3.93 FIP), 20.6 K%, 6.8 BB% |
| RHP Gavin Floyd | 2.1 IP, 2 H, 2 R, 2 ER, 0 BB, 2 K, 0 HR | 5.62 ERA (5.33 FIP), 16.9 K%, 7.3 BB% |
| RHP Arnold Leon | 2.1 IP, 3 H, 2 R, 2 ER, 1 BB, 2 K, 1 HR | 5.52 ERA (5.09 FIP), 6.3 K/9, 2.8 BB/9 |
| RHP Joe Biagini |  2 IP, 1 H, 0 R, 0 ER, 1 BB, 2 K, 0 HR | N/A |
Osuna, who was the youngest player on an Opening Day roster this year at 21 years and 65 days, was dynamite last season. So was Cecil, who flew under the radar. Storen has had some great years in the past, but his meltdowns are becoming more and more frequent. Gibbons has already shown a quick hook with him this year.
The rest of the bullpen is pretty sketchy. Biagini is a Rule 5 Draft pick who was in Double-A with the Giants last year. ZiPS didn't even bother spitting out a projection for him. Chavez is an Adam Warren-esque swingman — he's not as good as Warren, but that's his role — and Floyd's trying to come back from a series of elbow injuries. Leon is an out of options scrap heap arm the Blue Jays are not ready to cut ties with just yet. Cecil and Osuna are pretty formidable. The rest of the 'pen can get got.