So this is kind of a big series. The Yankees and Blue Jays are essentially tied in the standings and chasing the same AL East title/second wildcard spot. The Jays have lost 16 (!) consecutive games in Yankee Stadium dating back to 2012. That includes a three-game sweep earlier this year. The Yankees are 6-3 against Toronto overall this year.
What Have They Done Lately?
The Blue Jays just won three straight at home against the Red Sox and they've won five times in seven tries in the second half. At 54-49 with a +22 run differential, Toronto is percentage points behind the Yankees in standings. Like I said, big series.
Offense
Manager John Gibbons' team averages 4.54 runs per game with a team 107 wRC+ this year, so they've been solidly above-average overall. Their lineup is decimated by injuries, however. 1B Edwin Encarnacion (161 wRC+), DH Adam Lind (142 wRC+), and 3B Brett Lawrie (96 wRC+) are currently on the disabled list with quad, foot, and finger injuries, respectively. None are expected back this weekend. IF Maicer Izturis, OF Nolan Reimold, and OF Cole Gillespie are hurt as well.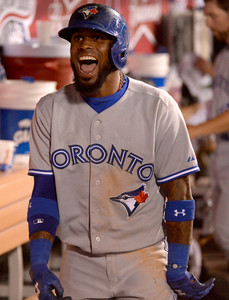 Even with all those injuries, Gibbons still trots out an upper third of the lineup with SS Jose Reyes (106 wRC+), OF Melky Cabrera (129 wRC+), and OF Jose Bautista (151 wRC+). Those three are as dangerous as it gets and the key to this weekend for New York is keeping them in check. The lineup really softens after that. OF Colby Rasmus (96 wRC+), C Dioner Navarro (88 wRC+), and the just called up DH Dan Johnson (93 wRC+ in very limited time) have been hitting in the middle third of the lineup, for example.
IF Juan Francisco (128 wRC+) has power as big as the holes in his swing. OF Anthony Gose (78 wRC+), IF Steve Tolleson (99 wRC+), IF Ryan Goins (33 wRC+ in limited time), and IF Munenori Kawasaki (78 wRC+) rotate in and out of the lineup on a daily basis. C Josh Thole (94 wRC+ in limited time) backs up Navarro and is on the roster primarily because he is knuckleballer R.A. Dickey's personal catcher. They've been paired together since their days with the Mets. The Yankees are catching a huge break with Encarnacion, Lind, and Lawrie out.
Pitching Matchups
Friday: RHP Hiroki Kuroda (vs. TOR) vs. LHP Mark Buehrle (vs. NYY)
Buehrle was an All-Star for the first time in five years a few weeks ago thanks to his excellent start to the season. The 35-year-old has a 2.86 ERA (3.68 FIP) in 20 starts and 132.1 innings this year, and he's been outperforming his FIP for about a decade now. No reason to think it'll stop anytime soon. Buehrle' strikeout (5.30 K/9 and 14.1 K%), walk (2.38 BB/9 and 6.3 BB%), and ground ball (40.9%) rates are the same as they always been, though his homer rate (0.61 HR/9 and 5.8 HR/FB%) is his lowest in a long, long time. It was lower earlier in the year and it's started to correct in recent starts. Lefties (.327 wOBA) have hit Buehrle slightly harder than righties (.311 wOBA). As always, he works in the mid-80s with his four-seamer, two-seamer, and cutter, mixing in some upper-70s changeups and low-80s curves to keep hitters (even more) off balance. The Yankees have faced Buehrle twice this season, scoring three runs in six innings at Yankee Stadium and four runs in 6.2 innings at Rogers Centre, both back in June.
Saturday: RHP Shane Greene (No vs. TOR) vs. RHP Drew Hutchison (vs. NYY)
Hutchison, 23, has made 20 starts and thrown 113 innings this year, his first following Tommy John surgery. There's been some talk of shutting him down or at least easing up on his working in the coming weeks. Hutchison has a 4.54 ERA (3.80 FIP) in those 20 starts with a very good strikeout rate (8.12 K/9 and 20.9 K%) and solid walk (3.03 BB/9 and 7.8 BB%) and homer (0.96 HR/9 and 8.2 HR/FB%) numbers, though he doesn't get any grounders (34.9%). Lefties (.347 wOBA) have hit him a ton harder than righties (.299 wOBA), and it's worth noting he's been much better on the road (.279 wOBA) than at home (.407 wOBA). A low-90s fastball is Hutchison's main pitch, and he throws it a lot, more than 60% of the time. Sliders and changeups in the mid-80s round out the repertoire. The Yankees have faced him three times this year and he's been progressively better: six runs in 3.1 innings in April, four runs in 4.1 innings in mid-June, and four runs in six innings in late-June.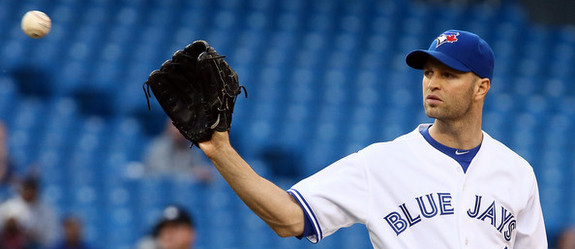 Sunday: RHP Chase Whitley (vs. TOR) vs. LHP J.A. Happ (vs. NYY)
These teams have played three series this year and yet somehow the Yankees have not seen Happ. The 31-year-old has a 4.55 ERA (4.18 FIP) in 83 innings across 14 starts and four relief appearances this year, with mostly mediocre peripherals: 7.37 K/9 (18.5 K%), 3.69 BB/9 (9.3 BB%), 0.98 HR/9 (8.9 HR/FB%), and 41.9% grounders. Happ's platoon split is tiny. He throws a lot of fastballs, using his low-90s two and four-seamers more than 70% of the time combined. A mid-80s changeup is his top offspeed pitch and he'll also mix in a few low-80s sliders and low-70s curveballs.
Bullpen Status
The Jays blew out the Red Sox yesterday and rookie righty Marcus Stroman went seven innings, so Gibbons was able to rest his key late-inning relievers. Only RHP Todd Redmond (3.05 FIP) and LHP Rob Rasmussen (4.96 FIP in limited time) pitched, and they threw an inning apiece. Closer RHP Casey Janssen (2.69 FIP) has pitched three times in the last five days, just not yesterday.
As they've been doing just about all year, the Jays are currently carrying eight relievers. RHP Dustin McGowan (5.02 FIP), LHP Brett Cecil (2.56 FIP), and LHP Aaron Loup (3.54 FIP) are Janssen's primary setup crew these days. Top prospect RHP Aaron Sanchez (1.14 FIP in two innings) was just called up and will be given high-leverage work right away. They aren't going to be shy with him. RHP Esmil Rogers (5.41 FIP) is the last guy in the 'pen. Check out our Bullpen Workload page for the status of Joe Girardi's relievers, then check out Drunk Jays Fans for everything you need to know about the Blue Jays.