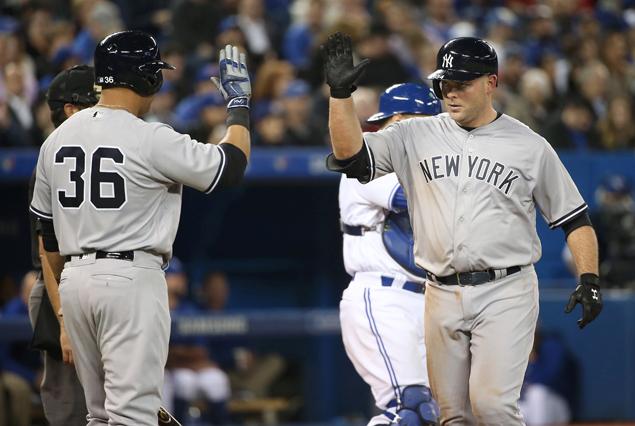 Blast + bloop = win
The Yankees struck first in their 19-game battle with the Blue Jays, grinding out a 3-2 win on Tuesday night. It also was their best run prevention game of the young season as it marked the first time in 2016 they held their opponent under four runs. The only other seasons in the last 65 years that the Yankees allowed four-or-more runs in each of their first five games were 1998 and 2007.
Brian McCann's hot bat fueled the come-from-behind win with a game-tying homer in the sixth inning. That was the 10th run he scored this season, joining Yogi Berra (1950) as the only Yankee catchers with than many runs scored through the team's first six games.
Jacoby Ellsbury delivered the game-winner with an RBI bloop single in the seventh frame. He's now already matched the number of go-ahead hits in the seventh inning or later that he had in the entire 2015 season. The last Yankee centerfielder with a tie-breaking hit in the seventh inning or later in Toronto was Bernie Williams on the final day of the 2004 season.
Masahiro Tanaka battled through five innings, and was dominant at times (six strikeouts) while also struggling to command his pitches (four walks).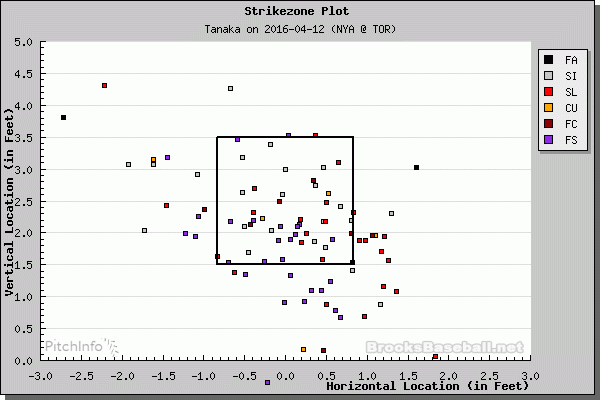 Despite his inefficiency, that effort continued a string of solid starts at the Rogers Centre for Tanaka. He's now allowed no more than two earned runs and struck out at least six batters in three straight road outings against the Blue Jays. Just two other Yankee pitchers have done that: David Cone (1997-99) and Andy Pettitte (1996-98).
Super-Nova meltdown
Based on his implosion in Wednesday's 7-2 loss, it seems like Ivan Nova is still trying to figure out this whole bullpen thing. After throwing four scoreless innings in his first relief appearance last week, Nova did a complete-180 and suffered through a disaster outing in his second try.
This was the damage: five hits, four runs, one wild pitch, one hit batter. Seems hard to cram all of that in one inning pitched, eh? Yup. Nova became the only Yankee pitcher since at least 1913 to plunk a guy, throw a wild pitch and give up at least five base-hits while getting three outs or fewer in a game.
Pineda's results – three runs allowed (two earned) in six innings – were good, not great, but the most troubling takeaway was his three walks. The 27-year-old had never walked more than two batters in a Yankee uniform and his last appearance with three-plus walks was August 15, 2011 with the Seattle Mariners.
His streak of 41 straight starts with the Yankees allowing two walks or fewer was the longest by any pitcher in franchise history over the last 100 seasons. And his streak of 46 straight starts overall with no more than two walks was the seventh-longest by any major-league pitcher in that span.
A-Rod wasn't the only Yankee to go hitless on the night, but his 0-fer performance might be the most notable — though it should have hardly been surprising given who was on the mound for Toronto. He is now 0-for-12 against Blue Jays starter J.A. Happ, his most at-bats (12) and plate appearances (15) without a hit against any pitcher he's faced in his career.
Nate the Not-So-Great
So maybe the Yankees left their bats at border control. For the third time in this three-game series, the Yankees offense went into hibernation as they were held to two runs on three hits in the 4-2 loss. They are now 4-4 this season, and have scored a total of seven runs in their four losses compared to 35 runs in their four wins.
Nathan Eovaldi started strong, allowing just two hits and no runs the first two times through the Blue Jays order. Then it all fell apart. Five of the final 11 batters he faced reached base, tagging him for four runs on five hits (three doubles, two homers) before he was pulled in the seventh inning.
On the other hand, Eo-nigma (?) did strike out eight batters, his sixth straight start with seven-or-more punch outs dating back to August of last year. The only longer streaks in franchise history are by CC Sabathia (twice, in 2011 and 2009), Mike Mussina (2003) and Ron Guidry (1978).
Blue Jays designated hitter (and Yankee killer) Edwin Encarnacion also etched his name in the pinstriped record books. He's now reached base safely in 26 straight games versus the Yankees, tied with Alex Rios (2006-08) for the best such mark by any Blue Jays hitter ever against the team.