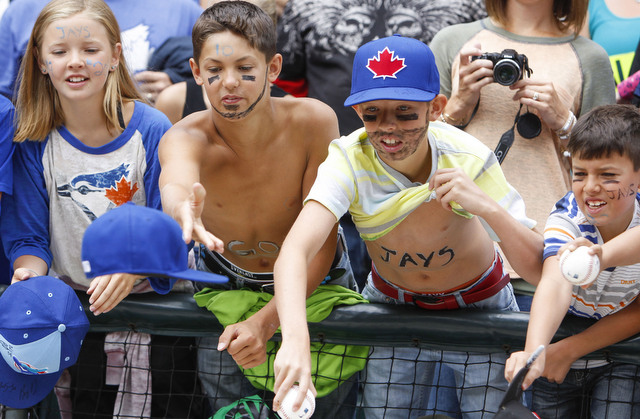 So this is a pretty big series, eh? Much bigger for the Blue Jays than the Yankees, of course. They're the team doing the chasing. The new-look Jays are coming to the Bronx for a three-game weekend set as they look to cut into New York's division lead. The Yankees dropped two of three in each of the first two series of the season between these clubs, though they were way back in April and May.
What Have The Blue Jays Done Lately?
Win and score runs, mostly. The Jays just wrapped up an 8-2 homestand in which they outscored their opponents 59-34. They're 13-6 in the second half. Toronto is 58-52 with a +120 run differential overall, which is the best in baseball. They are sitting in the second wildcard spot and are 4.5 games back of the Yankees in AL East, six in the loss column.
Offense & Defense
As you surely know, the Blue Jays have the best offense in baseball. They're averaging an insane 5.34 runs per game — the Yankees are averaging 4.93 runs per game, second best in baseball — with a team 114 wRC+. (The Yankees have a 111 wRC+.) Toronto is currently without 2B Devon Travis (shoulder), OF Michael Saunders (knee), and IF Maicer Izturis (shoulder), none of whom will return anytime soon.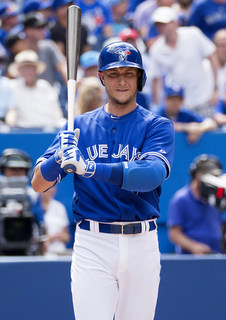 The top of Toronto's lineup reads like an All-Star Game lineup: SS Troy Tulowitzki (113 wRC+) has been batting leadoff since coming over in last week's trade, 3B Josh Donaldson (155 wRC+) bats second, and OF Jose Bautista (135 wRC+) bats third. Ridiculous. 1B Edwin Encarnacion (127 wRC+) bats cleanup. That top four is a nightmare. You kinda have to hope they only score one run each time through that portion of the lineup.
1B/OF Chris Colabello (135 wRC+) and 1B Justin Smoak (111 wRC+) are platooning at first with Encarnacion at DH. Ex-Yankee C Russell Martin (120 wRC+) is the everyday catcher. LF Ben Revere (94 wRC+) just came over from the Phillies and OF Kevin Pillar (85 wRC+) and 2B Ryan Goins (73 wRC+) are the rest of the regulars. C Dioner Navarro (69 wRC+) is the backup backstop and IF Munenori Kawasaki (45 wRC+) is the backup infielder. These Blue Jays … they can hit.
In the field, Toronto has top notch defenders at short (Tulo), third (Donaldson), center (Pillar), and behind the plate (Martin). Bautista and Revere are good in the outfielder corners for different reasons — Bautista for his arm, Revere for his range — and Goins/Smoak is a solid right side of the infield. Obviously the offense gets most of the attention and deservedly so, but the Jays can field too.
Pitching Matchups
Friday (7pm ET): RHP Nathan Eovaldi (vs. TOR) vs. RHP R.A. Dickey (vs. NYY)
The Blue Jays are probably throwing their three best starters this weekend. Dickey, 40, has a 4.06 ERA (4.59 FIP) in 22 starts and 144 innings overall this season but has been much better of late, with a 2.70 ERA (3.73 FIP) in his 12 starts and 80 innings. His rate stats are knuckleballer-esque, with a slightly below-average number of strikeouts (14.9%), a few too many walks (8.1%), lots of fly balls (42.7% grounders), and lots of homers (1.06 HR/9). Righties (.316 wOBA) have hit him ever so slightly harder than lefties (.309 wOBA). Dickey has added velocity as the season has progressed — he recently attributed that to simply being old and needing more time to get up to full speed — and his knuckler now sits in the 77-79 mph range. He throws the pitch roughly 85% of the time with a show-me low-80s heater his only other pitch. The Yankees faced Dickey twice this season and scored one run both times, first in 6.1 innings in April and then in eight innings in May.
Saturday (1pm ET): RHP Ivan Nova (vs. TOR) vs. LHP David Price (vs. NYY)
The Yankees and Blue Jays have four series left this season including this one, and I'm guessing the Yankees will see Price in all four. The 29-year-old has a 2.45 ERA (3.00 FIP) in 22 starts and 154 innings this year with a ton of strikeouts (24.0%) and very few walks (5.0%). He is fly ball prone (39.8%) but does keep the ball in the park (0.82 HR/9). Price gets a lot of weak pop-ups. Always has. Believe it or not, lefties (.284 wOBA) have had slightly more success against the southpaw than righties (.279 wOBA). I say this every series preview: Price is the ultimate combination of power and precision. He locates his mid-90s two and four-seamers to both sides of the plate with ease and he back doors his upper-80s cutter to righties on the regular. It's an unhittable pitch. It looks like it's going to be in the other batter's box then boom, it cuts the corner. It's filthy. Price also throws a mid-80s changeup and a handful of upper-70s curves per start. The Yankees have historically had quite a bit of success against Price — they scored eight runs in 2.1 innings when they faced him earlier this year — but that doesn't make me feel much better. He's a top ten pitcher and a super tough assignment.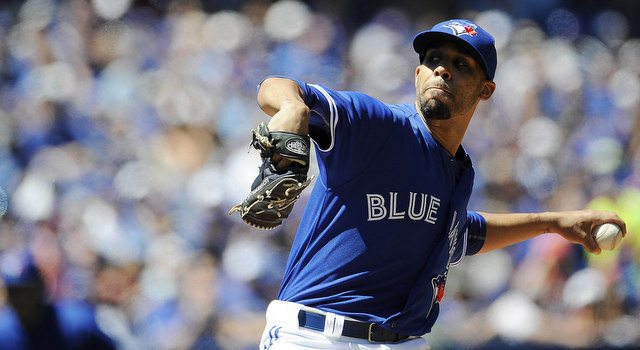 Sunday (1pm ET): RHP Masahiro Tanaka (vs. TOR) vs. RHP Marco Estrada (vs. NYY)
Estrada, 32, started the season as the long man before moving into the rotation in May. He has a 3.40 ERA (3.83 FIP) in 111.1 innings overall, including a 3.67 ERA (4.82 FIP) in 100.2 innings as a starter. Estrada's strikeout (18.9%) and walk (7.5%) rates are actually his worst in years, and he's always been incredibly fly ball (32.2% grounders) prone. His dinger rate (0.89 HR/9) is way below his career norm (1.32 HR/9) and he has a very slight reverse split (.289 vs. .274 wOBA in favor of righties). Estrada is a three-pitch guy who throws his upper-80s fastball less than 60% of the time. He uses his upper-70s changeup and upper-70s curveball a ton, the change moreso than the curve. The Yankees did see as Estrada as a starter earlier this year, scoring five runs in 4.2 innings in May.
Bullpen Status
The bullpen has been something of an Achilles heel for the Blue Jays this season but they have taken some steps to improve it, including acquiring RHP LaTroy Hawkins (3.08 ERA/3.29 FIP) and RHP Mark Lowe (1.64/2.21) at the deadline. Not the sexiest moves but they were upgrades over the guys they had been running out there. Also, RHP Aaron Sanchez (3.39/4.91) was recently moved back into the bullpen, where he's been dominant.
Rookie RHP Roberto Osuna (2.22/2.52) has taken over as closer — he's the youngest pitcher in MLB this season — with Sanchez setting him up. LHP Brett Cecil (3.79/3.43) and RHP Aaron Loup (5.19/4.02) are the two lefties, RHP Liam Hendriks (2.47/2.04) and RHP Bo Schultz (2.25/4.00) the other two righties. Schultz was the only reliever to pitch yesterday and he threw 35 pitches in two innings. Sanchez is currently serving a suspension for throwing at some Royals last week and will be out tonight. He is eligible to return tomorrow. Check out our Bullpen Workload page for the status of Joe Girardi's bullpen and then check out Andrew Stoeten's site for the latest on the Blue Jays.