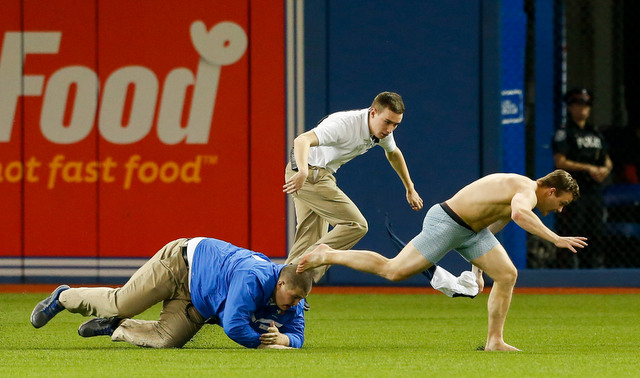 The Blue Jays again? The Blue Jays again. These two teams met in New York last week and now they'll play three games in Toronto. This is their third series of the season overall and their second at Rogers Centre. The Yankees won the first game and dropped the next two in each of the first two series against the Blue Jays this year. Stop that. Win this series, please.
What Have They Done Lately?
While the Yankees were winning two of three in Tampa, the Blue Jays took two of three from the Red Sox at home. They did drop the series finale yesterday though. The Blue Jays have won seven of their last ten games overall and are 26-26 on the season with a +3 run differential. They're in third place and the Yankees are a half-game back despite having one fewer loss.
Offense & Defense
Toronto is getting hot, folks. It was bound to happen eventually. They've scored 31 runs in their last five games, raising their season averages to 4.17 runs per game and a team 97 wRC+. SS Troy Tulowitzki (81 wRC+) is on the DL with a quad strain he suffered at Yankee Stadium last week, so he won't be back this series. 1B Chris Colabello is out too. He's still serving his performance-enhancing drug suspension.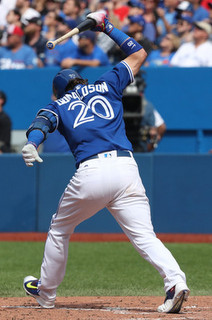 As we saw last week, the Blue Jays have rearranged their lineup in an effort to generate more offense. RF Jose Bautista (138 wRC+) now bats leadoff with 3B Josh Donaldson (141 wRC+) and DH Edwin Encarnacion (105 wRC+) right behind them. They don't wait around. They throw the thunder right at you. No sense in forcing a speedy leadoff hitter when you don't have one, right? Right. LF Michael Saunders (148 wRC+) and 1B Justin Smoak (122 wRC+) back up the big bats as the No. 4 and 5 hitters.
2B Devon Travis (56 wRC+) came off the DL in New York last week and effectively replaces Tulowitzki in the lineup. IF Ryan Goins (15 wRC+) slid over from second to short. C Russell Martin (43 wRC+) is having a poor season despite those two homers he hit in the Bronx last week. CF Kevin Pillar (67 wRC+) is the other regular. C Josh Thole (24 wRC+), IF Darwin Barney (122 wRC+), OF Ezequiel Carrera (159 wRC+), and UTIL Jimmy Paredes (141 wRC+) are the bench players.
Even with Tulowitzki out, the Blue Jays have a strong team defense, with top notch defenders at third (Donaldson), short (Goins), center (Pillar), and catcher (Martin). Smoak, Travis, and Saunders are solid glovemen as well. Bautista is the weak link in the field and he's not exactly Carlos Beltran out there. His arm his strong but his range is a little limited. Overall, this team can really catch the ol' baseball.
Pitching Matchups
Monday (7pm ET): RHP Ivan Nova (vs. TOR) vs. RHP Marco Estrada (vs. NYY)
The 32-year-old Estrada is one of the most unconventionally effective pitchers in the game. He has a 2.76 ERA (3.85 FIP) in nine starts and 58.2 innings despite sitting around 88 mph with his fastball. Estrada disrupts timing expertly with an upper-70s changeup that he throws with the same arm action as his heater. By time you're able to tell the two pitches apart, it's too late. You've started your swing already. Estrada has a good strikeout rate (22.0%) and not so good walk (9.8%) and grounder (37.6%) rates. Most of his fly balls are weak pop-ups though, which is why his homer rate (0.92 HR/9) is roughly league average. Estrada will throw some upper-80s cutters and mid-70s curves per start, and he's typically more effective against righties than lefties. Last week he held the Yankees to three runs in seven innings.
Tuesday (7pm ET): LHP CC Sabathia (vs. TOR) vs. LHP J.A. Happ (vs. NYY)
There is growing evidence that when Pirates pitching coach Ray Searage fixes a pitcher, he stays fixed. Francisco Liriano and Edinson Volquez were dynamite under his watch — Volquez left the Pirates and he's still very good — and last year Happ was outstanding following a midseason trade to Pittsburgh. He's continued to be outstanding with the Blue Jays this year. Happ, 33, had a 3.20 ERA (4.29 FIP) in ten starts and 64.2 innings this season despite middling peripherals: 16.3% strikeouts, 7.8% walks, 44.4% grounders, and 0.97 HR/9. He's been better against lefties than righties, as expected. Happ throws low-90s four-seamers, low-90s sinkers, mid-80s changeups, and upper-70s curves. Last week the Yankees scored just one run in seven innings against the veteran southpaw.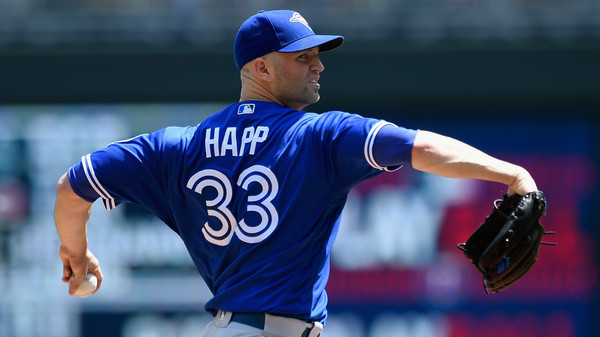 Wednesday (7pm ET): RHP Masahiro Tanaka (vs. TOR) vs. RHP Aaron Sanchez (vs. NYY)
The 23-year-old Sanchez is starting to get the hang of this starting pitcher thing. He has a 3.29 ERA (3.24 FIP) in ten starts and 65.2 innings this season, and he's done it by combining strikeouts (21.5%) and grounders (59.7%). His walk rate (8.5%) is okay and he keeps the ball in the park (0.55 HR/9). Sanchez lives off his mid-90s sinker and he backs it up with an upper-70s curveball and an improving upper-80s changeup. The changeup is still a work in progress, but it is getting better. Lefties still give him trouble when he can't keep the change down. Sanchez held New York to two runs (one earned) in six innings back in April. He did not face them in the Bronx last week.
Bullpen Status
The Red Sox did the Yankees a real solid this weekend by taxing Toronto's bullpen. They played eleven innings yesterday and manager John Gibbons had to get 11.2 total innings out of his bullpen in the three games, and most of them were high-leverage innings. Here is the status of their relief crew and the number of pitches they threw against the BoSox:
| | Role | ERA | FIP | Sunday | Saturday | Friday |
| --- | --- | --- | --- | --- | --- | --- |
| RHP Roberto Osuna | Closer | 1.17 | 2.20 | 19 | 0 | 13 |
| RHP Gavin Floyd | Setup | 3.91 | 4.46 | 18 | 15 | 0 |
| RHP Jesse Chavez | Middle | 3.36 | 5.42 | 24 | 9 | 0 |
| RHP Drew Storen | Middle | 7.02 | 4.97 | 14 | 17 | 0 |
| LHP Aaron Loup | LOOGY | 0.00 | -2.89 | 0 | 9 | 0 |
| LHP Chad Girodo | LOOGY | 4.82 | 7.91 | 7 | 0 | 0 |
| RHP Joe Biagini | Long | 0.91 | 2.51 | 26 | 0 | 20 |
(Don't read to much into Loup's stats. He recently came off the DL and has thrown two-thirds of an inning this season.)
Osuna has pitched four times in the last five days. This is a 21-year-old kid we're talking about. I can't imagine he will be available tonight. The Blue Jays want to protect his arm and sending him out there five times in the span of six days is just … no. No. Not happening. Biagini has pitched four times in the last six days as well.
Estrada is mighty good, but, given the status of Toronto's bullpen, the Yankees have to be patient tonight and get Estrada's pitch count up. Gibbons' only two fresh relievers are lefty specialists. Getting to the bullpen as early as possible will help the Yankees tonight and over the rest of the series as well. This bullpen is capital-T Taxed. I wouldn't be surprised if they made a roster move to add a fresh long man before tonight's game.
As for the Yankees, their bullpen is in pretty good shape. Joe Girardi should have his three big end-game arms tonight if necessary. Head on over to our Bullpen Workload page to see how many pitches each of New York's relievers have thrown over the last ten days.