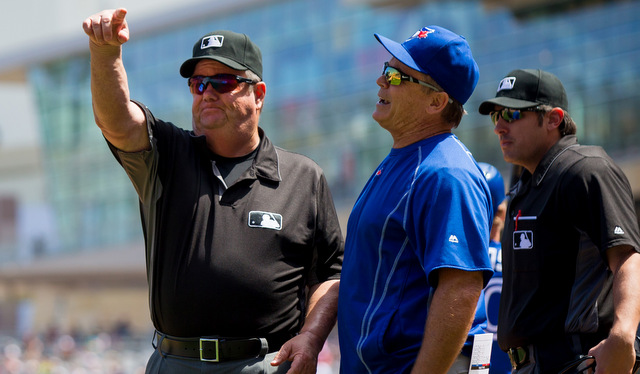 The Yankees are back home from the West Coast but only temporarily. They'll play three games against the Blue Jays at Yankee Stadium this week before heading back out on the road for a ten-game trip. Also of note: the Yankees will play their next four series against AL East rivals. Time to make up some ground in the division. The Yanks lost two of three to the Jays in Toronto last month.
What Have They Done Lately?
The Blue Jays took three of four from the lowly Twins over the weekend, but they were struggling pretty hard before that. Like five straight losses and eight losses in eleven games hard. Toronto is 22-24 with a +2 run differential overall in 2016. They occupy the AL East cellar at the moment, a spot the Yankees occupied for far too long this season.
Offense & Defense
Last season the Blue Jays scored more runs than any team since the 2009 Yankees. This year they're averaging only 4.04 runs per game with a team 97 wRC+. Can't say I saw that coming! The Blue Jays are still without 2B Devon Travis, who is currently on a minor league rehab assignment after having shoulder surgery last year. Over the weekend manager John Gibbons told Arden Zwelling he "wouldn't expect" Travis to be back this series. Also, 1B Chris Colabello is currently out serving a performance-enhancing drug suspension.
Toronto has been struggling offensively so much this month that last week the players got together, held a team meeting to talk things out, and then made some lineup suggestions to Gibbons. As a result, RF Jose Bautista (139 wRC+) now bats leadoff. Yes, really. 3B Josh Donaldson (137 wRC+) and DH Edwin Encarnacion (106 wRC+) bat second and third with 1B Justin Smoak (132 wRC+) settling in as the cleanup hitter. SS Troy Tulowitzki (83 wRC+) and LF Michael Saunders (164 wRC+) follow as the five-six hitters.
The bottom of the lineup has been wholly unproductive for the Blue Jays. C Russell Martin (14 wRC+) is having a miserable season, which means he's going to hit like five homers with a .750 OBP this series. CF Kevin Pillar (76 wRC+) and 2B Ryan Goins (12 wRC+) round out the regulars. C Josh Thole (30 wRC+), UTIL Jimmy Paredes (11 PA), IF Darwin Barney (127 wRC+), and OF Ezequiel Carrera (136 wRC+) are the four bench players, though they don't play a whole lot. Gibbons tends to stick with his regulars.
The Blue Jays have a sneaky good team defense. That part of their game gets overlooked because their offense was so dynamic last season. Pillar, Martin, Donaldson, and Goins are all excellent defenders while Tulowitzki, Smoak, and Saunders are all above-average as well. Bautista doesn't have much range these days but his arm is a cannon. He'll shut down the running down without even having to make a throw a la Aaron Hicks.
Pitching Matchups
Tuesday (7:05pm ET): RHP Nathan Eovaldi (vs. TOR) vs. RHP R.A. Dickey (vs. NYY)
What better way to start the series than against the knuckleballer? (Note: There are many better ways to start a series.) Dickey, 41, has a 4.50 ERA (4.45 FIP) in nine starts and 54 innings this year. His peripherals look like the peripherals of every other knuckleballer in history: 17.5% strikeouts, 7.4% grounders, 45.0% grounders, and 1.33 HR/9. He's also been hammered by lefties this year but historically has a small platoon split. Dickey's knuckler sits in the mid-70s and he throws it roughly 90% of the time. Back in the day with the Mets he threw two knuckleballs, a hard one in the upper-70s and a softer one in the upper-60s, but that is no longer the case. A low-80s fastball is his get-me-over pitch. The Yankees did not see Dickey when these two clubs met in April.
Wednesday (7:05pm ET): RHP Ivan Nova (vs. TOR) vs. RHP Marco Estrada (vs. NYY)
I have to say, I did not expect Estrada to repeat the success he had last year at all. He didn't add a new pitch, didn't change his pitch selection, nothing. I don't want to say his success was a fluke, but it didn't seem repeatable. Boy was I wrong. The 32-year-old Estrada has a 2.61 ERA (3.24 FIP) in eight starts and 51.2 innings this year, which is actually better than what he did last year (3.13 ERA and 4.40 FIP). His strikeout (24.2%) and homer (0.70 HR/9) rates are strong while his walk (9.2%) and grounder (40.7%) rates leave something to be desired. Estrada is a proven FIP beater because he's adept at getting pop-ups and weak fly balls. He does it with a dynamite upper-70s changeup that he throws with the same arm action as his upper-80s fastball. It's impossible to tell the two pitches apart until it's too late. Estrada screws up the hitter's timing as well as any pitcher in the game. He also throws some upper-80s cutters and mid-70s curves, but the fastball/changeup combo is his bread and butter. Like Dickey, the Yankees did not face Estrada in the series last month.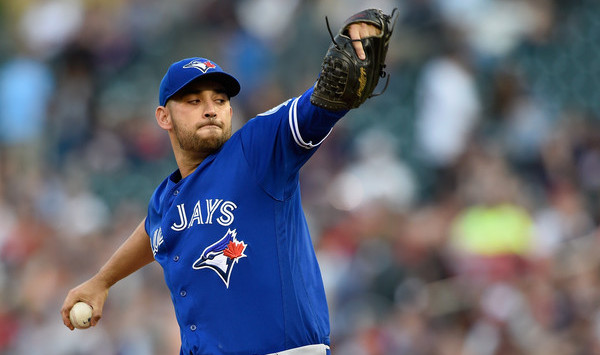 Thursday (4:05pm ET): LHP CC Sabathia (vs. TOR) vs. RHP Aaron Sanchez (vs. NYY)
Don't ask me why this is a 4:05pm ET start. It just is. Anyway, it seems young Mr. Sanchez is starting to find his way as a starting pitcher in this league. The 23-year-old has a 3.20 ERA (3.30 FIP) in nine starts and 59 innings by pairing an above-average strikeout rate (21.4%) with an excellent ground ball rate (58.1%). He walks a few too many (8.6%) and keeps the ball in the park (0.61 HR/9) with his heavy mid-90 sinker. Sanchez backs the sinker up with an upper-70s curveball and an improving upper-80s changeup. The changeup is still a work in progress, but it is getting better. Lefties still give him trouble when he can't keep the change down. Sanchez held the Yankees to two runs (one earned) in six innings last month.
Bullpen Status
The bullpen has been a big problem for the Blue Jays all season. Their relievers have a 3.79 ERA (4.29 FIP) overall and they've been extremely home run prone (1.32 HR/9). Who knows what will happen in any given game, but, generally speaking, this is not a shutdown bullpen. Here are the relievers Gibbons has at his disposal:
Closer: RHP Roberto Osuna (1.40 ERA/2.24 FIP)
Setup: RHP Gavin Floyd (3.05/3.84)
Middle: RHP Drew Storen (7.80/5.40), RHP Joe Biagini (0.59/2.80), LHP Chad Girodo (3.38/6.07)
Long: SwP Pat Venditte (4.50/4.57)
Toronto had an off-day yesterday, so everyone is fresh. Storen has had some rather big meltdowns this season (what else is new?) so these days he gets lower leverage innings rather than setup work. Floyd is handling eighth inning duties for the time being. It's worth noting Girodo has been in the big leagues for about three weeks, so the Blue Jays don't have an established left-on-left reliever.
The Yankees, like the Blue Jays, had an off-day yesterday, so their bullpen is as rested as it's going to get. Check out our Bullpen Workload page either. I know the Blue Jays have not been tearing the cover off the ball like they did last year, but these intra-division games are never easy. The Yankees are going to need their bullpen to win them some games this week.