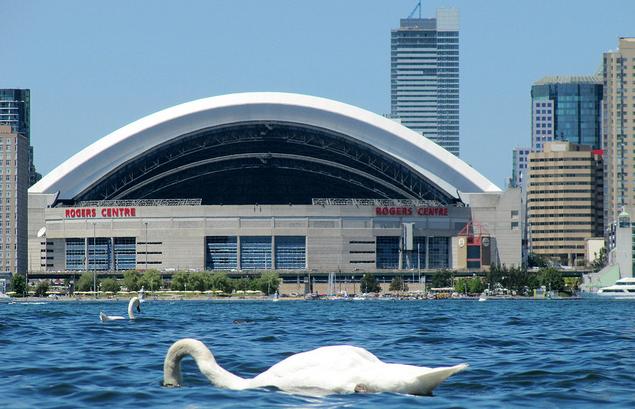 We've reached the final road series of the season. Crazy, huh? This season flew by. The Yankees are in Toronto for a four-game series against the Blue Jays, a team they are kinda sorta chasing in the wildcard race. At this point it doesn't matter who the Yankees play. They need wins. The Yankees are 6-9 against the Blue Jays this season, including 1-5 at Rogers Centre. They did sweep three games from them at Yankee Stadium two weeks ago though.
What Have They Done Lately?
The Blue Jays just wrapped up a late-season West Coast trip through Anaheim and Seattle. They split four games with the Angels and took two of three from the Mariners, though they lost the series finale on a Robinson Cano walk-off sacrifice fly Wednesday. Overall, the Blue Jays are 83-69 with a +83 run differential. They're sitting in the top wildcard spot at the moment.
Offense & Defense
It's not the devastating offense we saw last season, but the Blue Jays are still averaging 4.75 runs per game with a team 102 wRC+, so they're going to score and score a lot. They're much better at home (5.04 R/G and 109 wRC+) than on the road too (4.47 R/G and 96 wRC+). Manager John Gibbons' team is completely healthy on the position player side too. No one hurt or even day-to-day.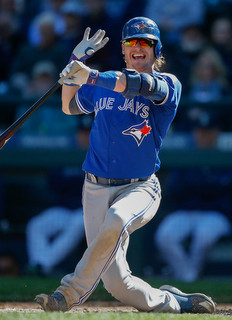 Gibbons changed his lineup a tad after getting swept in Yankee Stadium two weeks ago. 2B Devon Travis (111 wRC+) moved to the leadoff spot, so the three-headed monster of 3B Josh Donaldson (154 wRC+), DH Edwin Encarnacion (137 wRC+), and RF Jose Bautista (115 wRC+) hits 2-3-4. C Russell Martin (101 wRC+) and SS Troy Tulowitzki (101 wRC+) follow as the No. 5 and 6 hitters. Scary lineup is scary. It feels like a miracle whenever a pitcher gets through that top six without allowing a run.
1B Justin Smoak (92 wRC+) and CF Kevin Pillar (81 wRC+) are the other regulars, and lately LF Michael Saunders (120 wRC+) has been platooning with OF Melvin Upton Jr. (85 wRC+). C Dioner Navarro (57 wRC+), IF Darwin Barney (85 wRC+), and OF Ezequiel Career (82 wRC+) are the other regular bench players. They don't play a whole lot. C Josh Thole, IF Ryan Goins, OF Darrell Ceciliani, and OF Dalton Pompey are the extra September players. Pompey is the designated pinch-runner.
The Blue Jays are a very good defensive team — they're second in baseball with a 0.716 Defensive Efficiency, which means they turn 71.6% of batted balls into outs — with Bautista their only below-average defender. He's got a great arm but doesn't cover as much ground as he once did. Playing on turf all those years isn't good for the knees. Pillar, Donaldson, and Martin are among the elite defenders at their positions.
Pitching Matchups
Friday (7:07pm ET): RHP Bryan Mitchell (vs. TOR) vs. LHP Francisco Liriano (vs. NYY)
The Pirates, who I'm told can fix any pitcher, were so desperate to unload Liriano at the trade deadline that they had to give the Blue Jays two legitimate prospects to take him. All they got back was Drew Hutchison too. Anyway, Liriano has a 5.08 ERA (5.17 FIP) in 150.2 total innings this season, including a 3.89 ERA (4.86 FIP) in 37 innings with Toronto. His strikeout (22.3%) and ground ball (52.0%) rates are very good as always, though he walks too many (12.0%) and can't keep the ball in the park (1.55 HR/9). Righties have had a little more success against him than lefties. Liriano has nasty stuff. He still sits in the mid-90s with his sinker and both his mid-80s slider and mid-80s changeup can miss bats, at least when he's locating. When he's on, Liriano can dominate. The Yankees saw him in relief two weeks ago and mustered nothing in two innings.
Saturday (4:07pm ET): LHP CC Sabathia (vs. TOR) vs. RHP Marcus Stroman (vs. NYY)
It seemed like a lot of people viewed Stroman as an ace coming into the season, didn't it? I never understood that. The 25-year-old has a 4.50 ERA (3.74 FIP) in 30 starts and 190 innings, and his success is built on limiting walks (6.1%) and keeping the ball on the ground (60.4%). His strikeout (19.7%) and homer (0.99 HR/9) numbers are average. Stroman's platoon split is small because he throws six pitches: mid-90s four-seamers and sinkers, low-90s cutters, upper-80s sliders and changeups, and a low-80s curveball. The sinker, cutter, and slider are his three main offerings. He tends to get cute and try to beat hitters with his fifth and sixth best pitch, which has hurt him a bunch of times this year. The Yankees have seen Stroman only twice this year: two runs in eight innings in April, and two runs in five innings in September. I thought they hit him harder than that two weeks ago. Huh.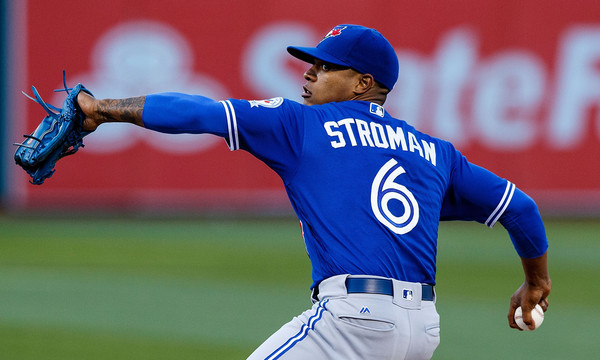 Sunday (1:07pm ET): RHP Michael Pineda (vs. TOR) vs. RHP Marco Estrada (vs. NYY)
I have no idea if this has any effect on the field, but I like that the Blue Jays have all different looks in their rotation. Their starters are all different. The Yankees have a bunch of hard-throwing fastball/slider guys. Toronto's rotation mixes it up. Estrada, a finesse guy, has a 3.62 ERA (4.19 FIP) in 27 starts and 164 innings this year. His peripherals don't jump out at you (22.9 K%, 9.1 BB%, 33.3 GB%, 1.21 HR/9) but his ability to generate weak pop-ups means very few balls fall in for hits. Estrada has a .236 BABIP this year, up from .216 last year. It's not a fluke. It's the result of all the pop-ups. The 33-year-old righty uses an upper-80s fastball and an upper-70s changeup to keep hitters off balance. The changeup is why he has a reverse split this year. He'll also throw a few upper-80s cutters and mid-70s curves per start, but the fastball/changeup combo is his bread and butter. Estrada has made three starts against New York in 2016: three runs and seven innings in May, eight scoreless innings later in May, and five runs in four innings in August.
Monday (7:07pm ET): TBA vs. LHP J.A. Happ (vs. NYY)
Happ, 33, is going to get a bunch of Cy Young votes this year thanks to his 20-4 record. His 3.28 ERA (3.92 FIP) in 30 starts and 181.1 innings is really good, don't get me wrong, but those 20 wins are going to get the most attention. Happ is another contact manager like Estrada — the underlying numbers: 21.7 K%, 7.3 BB%, 42.1 GB%, 1.09 HR/9, .273 BABIP — though not to the same extreme. Righties hit him harder than lefties. Happ throws low-90s four-seamers, low-90s sinkers, mid-80s changeups, and upper-70s curves. Nothing sexy there. The Yankees have seen him four times this season: one run in six innings in April, one run in seven innings in May, one run in six innings later in May, and four runs in 7.1 innings in August.
Bullpen Status
The bullpen outside the ninth inning was a real weakness for the Blue Jays earlier this season. They were able to overhaul the bullpen on the fly through minor trades, and it's worked well. Their middle relief is much more reliable now. Here is the relief unit Gibbons has at his disposal:
Closer: RHP Roberto Osuna (2.42 ERA/2.98 FIP)
Setup: RHP Joaquin Benoit (2.93/3.94), RHP Jason Grilli (3.36/3.74)
Middle: RHP Joe Biagini (2.84/3.09), LHP Brett Cecil (4.05/3.64)
Long: RHP R.A. Dickey (4.46/5.01), RHP Scott Feldman (3.97/4.22)
Extra: RHP Danny Barnes, LHP Matt Dermody, LHP Aaron Loup, RHP Bo Schultz, RHP Ryan Tepera
It's crunch time now, so Gibbons has used Osuna for some four-out saves recently, and he's even brought him into tie games on the road. No one does that. Benoit and Grilli have turned back the clock in the seventh and eighth innings. Biagini has been a nice Rule 5 Draft find too. Seems like teams are doing a better job finding gems in the Rule 5 Draft the last few years.
The Blue Jays had an off-day yesterday as they returned from their West Coast trip, so the bullpen is as fresh as it's going to get. It's worth noting Osuna has worked a lot in the last week though. He's thrown multiple innings three times in the last seven days. Fatigue could be a factor this weekend. Head on over to our Bullpen Workload page for the status of Joe Girardi's bullpen.