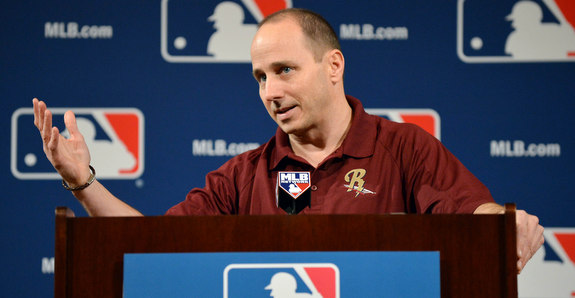 Brian Cashman held his annual end-of-season press conference on Tuesday afternoon and, unsurprisingly, there were no announcements made. Not even a minor one. He fielded questions for about an hour and in typical YankeeSpeak, the GM said a lot of words that had little substance. The team's higher-ups have a knack for dodging questions and giving vague answers while talking a whole bunch. Anyway, let's recap the presser:
On Joe Girardi
Cashman confirmed he met with Girardi "for a while" yesterday and will meet with agent Steve Mandell tomorrow to continue talks. "After tomorrow, I think I'll get a real good feel for where we're at," he said. "I think he likes it here. We're going to give [Girardi] a real good reason to stay."
"His effort and his efforts in pre-game preparation for each series and how he runs Major League Spring Training … he's been consistently tremendously at it," said the GM while also crediting Girardi for working with such a poor roster this season. "[His] job as a manager is to make sure these guys compete on a daily basis … I thought he did a great job, him and his staff."
Cashman would not comment when asked if the Cubs (or any other team, for that matter) had contacted the team to ask for permission to speak to Girardi. His contract expires November 1st.
Cashman closed the press conference with a preemptive "no comment" about how things go (went?) with Mandell tomorrow. He told the media not to bother to reach out for an update because he won't give one. It was kinda funny.