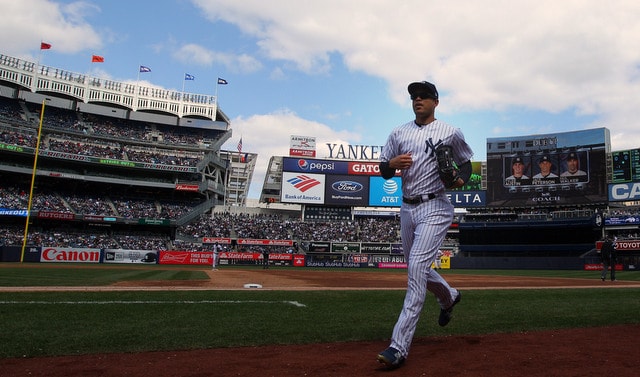 After back-to-back rainouts in Detroit, and despite heavy rain in New York this morning, the Yankees are finally back in action tonight. It's still chilly and very windy in New York, but the rain has stopped, and that's the most important thing. The Yankees haven't played since Friday and they'll be back at it tonight, thankfully.
Derek Jeter's Marlins are in town for a quick two-game series — Jeter didn't make the trip because he said it would be awkward — and with the Yankees looking to get on some kind of hot streak, two games against a team that has won four times in 15 games, and been outscored by 35 runs in the process, could be just what the baseball doctors order. Taking care of business against the Marlins tonight and tomorrow sure would be swell. Here are the lineups:
New York Yankees
1. LF Brett Gardner
2. RF Aaron Judge
3. DH Giancarlo Stanton
4. SS Didi Gregorius
5. C Gary Sanchez
6. CF Aaron Hicks
7. 1B Tyler Austin
8. 3B Miguel Andujar
9. 2B Ronald Torreyes
RHP Luis Severino
Miami Marlins
1. LF Derek Dietrich
2. SS Miguel Rojas
3. 2B Starlin Castro
4. 1B Justin Bour
5. 3B Brian Anderson
6. DH Tomas Telis
7. CF Cameron Maybin
8. RF J.B. Shuck
9. C Bryan Holaday
LHP Caleb Smith
The rain has cleared out but, like I said, it's still cold and windy in the Bronx. Not a great night to sit in the ballpark, really. Tonight's game will begin at 6:35pm ET — the Yankees are testing out some early start times this month — and you can watch on YES. Enjoy the game.
Roster Move: Welcome back, Jace Peterson. Sunday he cleared waivers and elected free agency rather than accept his outright assignment to Triple-A Scranton, then this afternoon the Yankees re-signed him to a new contract, the team announced. Peterson is on the MLB roster. He replaces Luis Cessa, who was sent down yesterday. The Yankees have a four-man bench for the first time this season.
Injury Updates: Brandon Drury (migraines) still has headaches and blurred vision, and it gets worse during physical activity. He did take batting practice today though. Drury has been prescribed medication by a specialist, and has more tests pending. When asked whether he's ever gone up to the plate with blurred vision, Drury said "all the time." Okie dokie … Jacoby Ellsbury (oblique, hip) also has plantar fasciitis now. He hurt his foot while rehabbing his hip, which he hurt while rehabbing his oblique … Greg Bird (ankle) played catch and took ground balls today. He had his stitches removed last week and this is the first time we've heard about him doing any sort of baseball work. Aaron Boone said the Yankees are optimistic Bird will return "on the shorter side" of his 6-8 week timetable.
Suspension Update: Tyler Austin is expected to have his appeal heard later this week, likely Thursday. He received a five-game suspension for last week's brawl with the Red Sox. It might get knocked down a game or two, but the suspension won't be wiped away. Austin did charge the mound, after all. The Yankees will have to play with a 24-man roster during the suspension.
Site News: More information is coming, but we're having an RAB Day at Yankee Stadium next month (May 12th vs. Athletics). Here are some of the details. We'll post more info in a day or two. I just wanted to get that on everyone's radar.