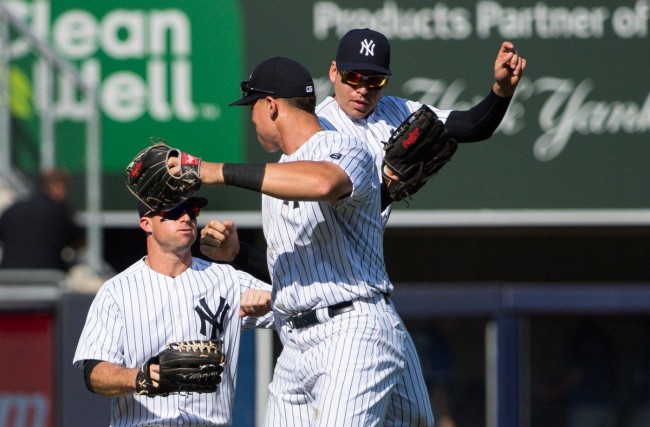 Tanaka's milestone, Ellsbury's surprising power
Backed by another solid outing from Ace Tanaka plus a couple key hits from Jacoby Ellsbury and Tyler Austin, the Yankees kept pace in the playoff chase with a critical 5-3 series-opening victory over the Blue Jays on Labor Day afternoon.
Jacoby Ellsbury, in an unlikely performance from the struggling center fielder, sparked the offense with a two-run homer in the first inning and an RBI single in the third. It was just the second time he went deep at home this year. Entering the week, his 190 at-bats at Yankee Stadium were nearly three times as many as any other player who had one or fewer homers at the ballpark (Austin Romine was next with 66 at-bats).
Tyler Austin also had a huge day at the plate, breaking out of a deep slump with a pair of doubles and two RBI. Only three other Yankee first baseman under the age of 25 have hit at least two doubles and drove in at least two runs in a game: Don Mattingly, Ron Blomberg and Lou Gehrig.
Masahiro Tanaka was hit hard early, but settled down and finished with a solid pitching line of two runs allowed on seven hits across six-plus innings. It was his 19th start this season giving up no more than two earned runs, which was tops among all American League pitchers through Monday's games.
The Japanese star also earned his 12th win of the season, matching last year's mark and one shy of his career-best in 2014. Yes, pitcher wins is a flawed stat, but its still a significant milestone for Tanaka. He is the fifth Yankee to win at least 12 games in each of his first three major-league seasons, along with Orlando Hernandez, Andy Pettitte, Hank Borowy and Johnny Brocoa.
Adding in Tanaka's impressive strikeout numbers puts him in even more exclusive company. Among all major-league players to debut since the end of World War II, only six others have reached at least 12 wins and 135 strikeouts in each of their first three seasons: Ricky Romero, CC Sabathia, Hideo Nomo, Dwight Gooden, Dennis Eckersley and Tom Seaver.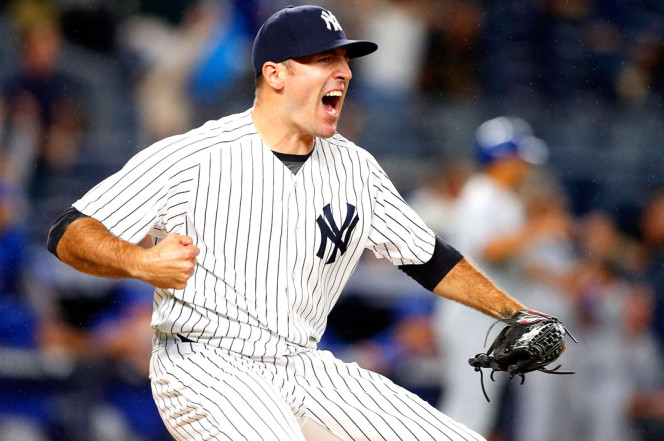 Birthday bombs and snow cone catches
Tuesday's crazy win was a harrowing roller-coaster ride of emotions, filled with a ton of wild swings in win probability and a bevy of tense moments, resulting in yet another season-saving victory for the Yankees. Let's recap the emotional victory in the only way that we know how, Yankeemetrics-style:
Tyler Austin delivered the first game-changing highlight, celebrating his 25th birthday with a monster two-run homer in the bottom of the seventh for a 3-2 lead. The list of Yankee first baseman to hit a homer on their birthday is a fun one: Austin, Shelley Duncan, Don Mattingly and Lou Gehrig. Austin also became the first Yankee to homer on his 25th birthday since Tom Tresh in 1963.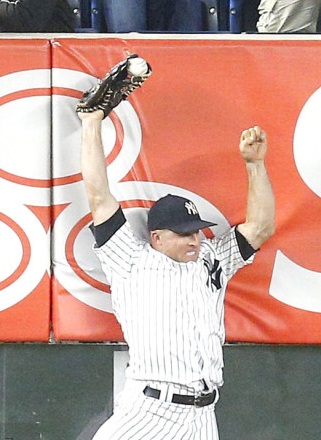 The Yankees are now 38-10 when a player homers on their birthday (since 1913) and have won their last 15 (!) such games. The last time they lost was May 29, 1992 when Charlie Hayes went deep in a 8-3 loss to the Brewers on his 27th birthday.
After the Blue Jays snatched the lead back in the top of the eighth, the Yankees quickly erased the deficit when Didi Gregorius smoked a triple to deep center, tying the game at 4-4. Before Didi, the last Yankee with a game-tying triple in the eighth inning or later at Yankee Stadium was Mariano Duncan in 1996.
Castro capped the rally with a sac fly to make it 5-4. It was the third go-ahead sac fly by a Yankee in the eighth inning or later this year, matching their total from the past three seasons (2013-15) combined. Castro is responsible for two of those three sac flies, and is the only player in the majors this season with multiple go-ahead sac flies in the eighth or later.
Finally, with the bases full and two outs in the ninth, Brett Gardner made an incredible leaping catch at the wall to seal the victory. With that ridiculous grab, Gardner increased his defensive Plus-Minus rating — a fielding stat devised by Bill James that estimates the number of plays the player made above/below the number that an average fielder would make, according to the video scouts — to +16, which ranked second among all left fielders this season (Adam Duvall, +22).
Aaron Judge kept the seventh inning comeback bid alive with a key single ahead of Austin; however, his monumental struggles to make contact continued as he struck out twice, extending his run of multiple-strikeout games to nine. That's the longest such streak by any major-league player over the last 100 seasons.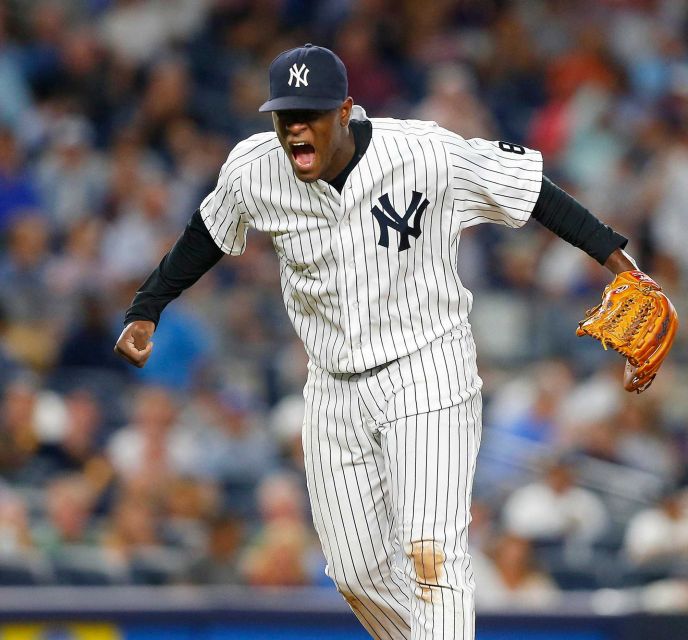 Three times a charm
The long pinstripe nightmare is finally over as the Yankees completed their first three-game sweep of the season with a 2-0 shutout in the series finale. Before Wednesday's momentum-building victory, they were 0-7 in the third game of a three-game set after taking games one and two. It was also their first sweep of a team with a winning record; their only other sweeps were four-gamers against the A's and Angels.
Starlin Castro staked the Yankees to an early lead with a bullet line drive that just barely cleared the fences in left field. It was his 20th home run of the season, joining Robinson Cano, Alfonso Soriano and Joe Gordon as the only Yankee second basemen to hit 20-plus homers in a season.
Tyler Clippard sealed the win with a 1-2-3 ninth inning for his first save with the team this year. He is the eighth Yankee to record a save in 2016, matching the 1979 and 1980 clubs for the most players with a save on any Yankee pitching staff since the save rule became official in 1969.
Luis Severino continued his dominance out of the bullpen with three more brilliant shutout innings after replacing Bryan Mitchell in the sixth. Here are his video-game-like numbers as a reliever: 14 ? innings pitched, 51 batters faced, zero earned runs and two hits allowed. Yup, opponents are "hitting" .044 (2-of-45) against Severino The Reliever. That's easily the lowest batting average allowed by any relief pitcher that's faced a minimum of 15 batters this season.