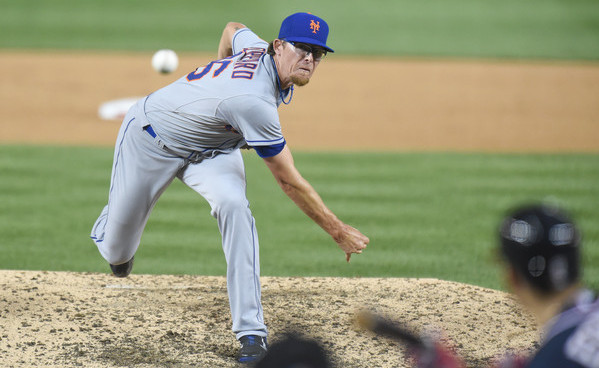 It is now the middle of January, and several big name free agents remain unsigned. The market has picked up in recent days (Justin Upton, Chris Davis, Ian Kennedy, etc.) but there are still several quality players on the board. Thirteen of MLBTR's top 50 free agents are still unsigned as of this writing, including three of the top 20.
One of those 13 players is former Yankee Tyler Clippard, who was involved in one of the most lopsided trades in recent memory. The Yankees shipped him to the Nationals for Jonathan Albaladejo in December 2007. Clippard went on to become an elite reliever while Albaladejo gave the Yankees 59.1 replacement level innings before being released in 2010. Not Brian Cashman's finest moment.
The Yankees improved the back-end of their bullpen by replacing Justin Wilson with Aroldis Chapman, but the middle innings did take a hit with the trade of Adam Warren. The club has a ton of internal candidates for the open bullpen spots, though outside of Chasen Shreve, none have had much MLB success in their careers. Could Clippard be part of the middle innings solution? Let's look.
The Performance
Clippard, now 30, spent the 2008 season in the minors with the Nationals before breaking out as a reliever in 2009. From 2009-14 he led all relievers in innings (by a lot) and ranked sixth in WAR. Clippard was a high-leverage workhorse. Here's what he's done the last three years:
| | IP | ERA | FIP | K% | BB% | HR/9 | RHB wOBA | LHB wOBA |
| --- | --- | --- | --- | --- | --- | --- | --- | --- |
| 2013 | 71.0 | 2.41 | 3.82 | 26.6% | 8.7% | 1.14 | .240 | .232 |
| 2014 | 70.1 | 2.18 | 2.75 | 29.5% | 8.3% | 0.64 | .191 | .292 |
| 2015 | 71.0 | 2.92 | 4.28 | 21.3% | 10.3% | 1.01 | .327 | .211 |
Clippard is a proven FIP beater. Since becoming a full-time reliever in 2009 he has a 2.68 ERA and a 3.52 FIP in 524.2 innings. It's not an accident. Clippard has demonstrated the ability to outperform his peripherals over a period of several years now.
How has he done it? By being an extreme fly ball pitcher who excels at getting hitters to pop the ball up on the infield. Clippard's career ground ball rate is 27.9%, the second lowest among pitchers who've thrown at least 500 innings since batted ball data started being recorded in 2002. (Chris Young is the lowest at 26.4%.) His 15.6% infield pop-up rate is third highest during that time, behind Mariano Rivera (16.1%) and Al Leiter (15.7%).
Infield pop-ups are as close to an automatic out as it gets for balls in play. For much of his career Clippard has had an excellent strikeout rate and an excellent pop-up rate. Those are the two best possible outcomes for a pitcher. It's no wonder why he's been so successful. That's a great formula.
Now, that said, Clippard's strikeout rate took a big step back last season. He struck out close to 30% of batters faced the last few years before dropping down to a league average-ish strikeout rate in 2015. That's kinda scary. Furthermore, his fly ball and pop-up rate declined as well.
| | BABIP | GB% | FB% | LD% | IFFB% | HR/FB% |
| --- | --- | --- | --- | --- | --- | --- |
| 2013 | .170 | 27.9% | 55.8% | 16.3% | 18.8% | 9.4% |
| 2014 | .251 | 36.9% | 49.4% | 13.7% | 19.3% | 6.0% |
| 2015 | .211 | 21.2% | 60.6% | 18.2% | 13.3% | 6.7% |
The super low BABIP is the result of all the pop-ups. (His career BABIP is .232.) Last season Clippard posted a career high fly ball rate and his lowest pop-up rate in five years, which means more of those fly balls were traveling to the outfield. His HR/FB% didn't spike, but he was giving up way more fly balls, hence the jump from a 0.64 HR/9 in 2014 to a 1.01 HR/9 in 2015.
There are some definite red flags here. Clippard's strikeout and infield pop-up rates dropped while his walk rate increased. That's bad, especially for a guy who's endured such a big workload. It suggests Clippard wasn't fooling hitters as well as he has the last few seasons. Right now this is just a one year sample. Whoever signs him will hope it isn't the start of a trend.
The Stuff
Clippard has more or less shelved his little cutter/slider in recent years, so he's now basically a two-pitch pitcher: low-90s heater and a split-changeup hybrid right around 80 mph. That split-change has helped him neutralize lefties throughout his career. No one has bothered to make a 2015 Clippard highlight video, so here's a really short video from late-July:
It's important to note Clippard has tremendous deception in his delivery, which helps his stuff play up. You can see it in the video — he's all arms and legs (he's listed at 6-foot-3 and 200 lbs.), and he hides the ball very well. The radar gun says 91-92 mph but hitters seem to react like it's 95-96. That deception is a big reason why he's been so good.
The only significant red flag in Clippard's stuff is the swing-and-miss rate on his split-change, which dropped to 15.3% last season after sitting around 21.0% from 2012-14. That's still an above-average whiff rate — the average whiff rate on changeups is 14.9% — but it's not nearly as good as before. Clippard's velocity has held fairly steady over the years too.
Watching him pitch over the years, I think Clippard's biggest problem last season was his location. His stuff seemed good enough, he just had trouble throwing to the desired target. His first pitch strike rate dropped to 55.8% after sitting closer to 63.0% for a few years, so he was behind in the count more often, which could explain the diminished the effectiveness of his split-change.
Injury History
This will be short: Clippard has never been on the DL. He missed one game with lower back tightness in September, and way back in 2011 he missed three games with what was described as shoulder fatigue. Clippard's had no arm problems since and he's never had any kind of significant injury in general.
Contract Projections
I have to think Clippard and his agent came into the offseason hoping for an Andrew Miller contract. Clippard's been an elite reliever for a few years now, so he has the track record, and he's been durable. That's probably the best case scenario, but the free agent reliever market stunk this winter, and Clippard was arguably the biggest name.
The only contract estimate we have for Clippard comes from MLBTR. They pegged him for three years and $18M. Five relievers have signed contracts of at least three years this offseason: Shawn Kelley (three years, $15M), Tony Sipp (three years, $18M), Ryan Madson (three years, $22M), Joakim Soria (three years, $25M), and Darren O'Day (four years, $32M). I have to think Clippard's holding out for at least three years, right?
Things have been extremely quite around Clippard this winter. His archive at MLBTR includes only six posts since the start of November, and three are blurbs mentioning the Mets are open to re-signing him to a one-year contract. That's all. I'm sure there's plenty going on behind the scenes, but geez, very little public interest in Clippard.
Wrapping Up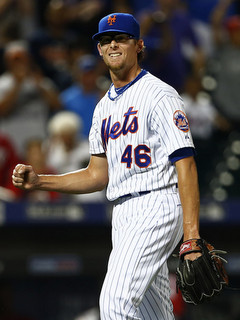 I'm mentioning Clippard as a possible target because there has been so little interest in him this offseason. Spring Training is only a month away and he might be more open to a one or two-year contract. The Yankees aren't going to spend big on a free agent, that much is clear, but what if Clippard will take a one-year deal at $5M or so? Or a two-year deal at $10M with an opt-out?
The Yankees do have three open bullpen spots as it is — it could be four come Opening Day if Aroldis Chapman is suspended — and Clippard would give the team some quality middle relief depth. I do think the declining strikeout, walk, and pop-up rates are a sign of decline more than a one-year blip, but on a low cost contract, it's worth the chance. Clippard could be a real difference maker.
At the same time, if Clippard is open to a low cost deal, why would he come to the Yankees? Yankee Stadium and the AL East is not a place for pitchers looking to build value on short-term deals, especially not fly ball pitchers. And Clippard's not oblivious, he knows he would be no better than fourth on the bullpen depth chart behind Chapman, Miller, and Dellin Betances.
Clippard is a potential fit for the Yankees but the Yankees are not a fit for Clippard. If he's going to take a relatively small contract, he's going to go somewhere with a big ballpark and where he'd be no worse than the primary setup man. There are still way too many clubs in need of bullpen help right now to think Clippard's price has dropped so low that he'd settle for an undesirable situation in the Bronx.