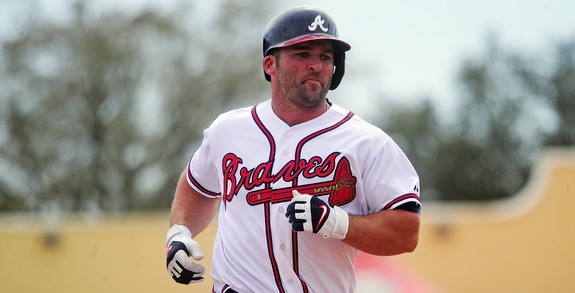 I'm about to jinx the hell out of it, but this has been a very quiet Spring Training for the Yankees. Last spring was an injury filled nightmare, as I'm sure you remember. This year though? No complaints so far. Knock on wood.
That is not the case with the Braves. Their pitching staff has been hit hard by injuries, with Kris Medlen (elbow), Mike Minor (shoulder), and Brandon Beachy (biceps) all going down and questionable at best for Opening Day. Medlen's injury sounds rather serious too. Things are getting so bad that manager Fredi Gonzalez said "thank God we sign Freddy Garcia" the other day. Imagine that.
The Braves signed Ervin Santana to a one-year deal this morning, but one pitcher does not replace three. You can be sure Atlanta is still seeking depth arms. The Yankees have four pitchers competing for their final rotation spot, so they're one of the few teams that could trade a starter for help elsewhere. Do David Phelps, Adam Warren, or Vidal Nuno interest the Braves (I assume Michael Pineda is off limits)? Who knows. What does Wren have to offer? Let's look.
2B/SS Tyler Pastornicky
Pastornicky, 24, has hit .251/.292/.327 (84 wRC+) in 221 plate appearances over the last two seasons, only 33 of which came last year. He's been pushed aside by Andrelton Simmons and is currently competing with former Yankee Ramiro Pena for a bench job. Pastornicky managed a .292/.354/.392 (111 wRC+) batting line with four homers and nine steals in 320 plate appearances in Triple-A last summer.
Baseball America (subs. req'd) ranked Pastornicky as the team's seventh best prospect prior to the 2012 season, saying he "has a good feel for hitting and makes consistent line-drive contact … He has above-average range at shortstop, and he could get more out of his average arm with a more consistent arm slot." Some of the bloom has come off the rose the last two years as his bat has failed to develop, but Pastornicky can legitimately play short (he spent more of last year at second because Simmons isn't going anywhere) and the Yankees are in need of young infield help.
2B Dan Uggla
This is an automatic no for me. Has to be, right? We've already lived through the Vernon Wells experiment, no need to take on the infield version*. The 34-year-old Uggla hit .179/.309/.362 (91 wRC+) with 22 homers last season, struggling so much in the second half that he was benched in favor of Pena and Elliot Johnson at times, and was left off the postseason roster completely. He's also not much of a second baseman anymore and he's owed $26M through 2015. We heard the Yankees had no interest in Uggla in December and there's no reason to have interest in him now, no matter what the infield looks like.
* Okay, fine. Uggla has not been Vernon bad, but he's been bad. I'm not interested in seeing if he can recapture past magic.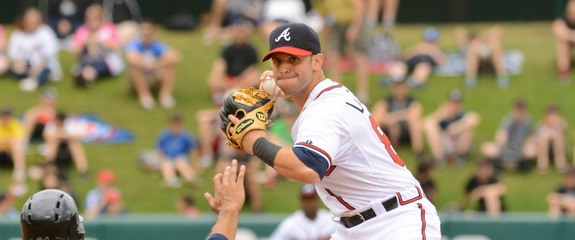 2B Tommy La Stella
La Stella, 25, is local kid from New Jersey and the Braves' top middle infield prospect. He's expected to replace Uggla at second, perhaps as soon as Opening Day. La Stella managed a .356/.444/.492 (174 wRC+) batting line with five homers and eight steals in 352 plate appearances at (mostly) Double-A last summer, though he was obviously a bit old for the level. Here's what Baseball America (subs. req'd) had to say when they ranked him as the team's ninth best prospect a few weeks ago:
La Stella has hit at every level thanks to great hand-eye coordination and above-average bat speed. He has an excellent approach and exceptional feel for the strike zone, which helps him rack up more walks than strikeouts. La Stella also shines as a situational hitter with his ability to advance runners via the hit-and-run or by bunting. He runs the bases well and with intelligence despite not being blessed with great quick-twitch athleticism. Defensively, he makes all of the routine plays at the keystone and has an average arm. Nagging injuries, including an elbow issue this season, have kept him from playing even 100 games in a season.
The numbers are great and the scouting report indicates a classic number two hitter profile, though that might equal a number eight or nine hitter in a good lineup. La Stella's appeal is obvious given the Yankees' need for long-term infield solution, but I'm pretty sure the Braves would make him off limits while discussing back-end starters. This one ain't happening.
* * *
The Yankees don't need any outfielders and trading a potential starter for a reliever doesn't make a whole lot of sense, so it's infield or bust with the Braves. With La Stella off the table, it's Pastornicky or Uggla. With Uggla being awful, it's basically Pastornicky, and there have been no indications he is actually available. The Santana signing removed any real sense of urgency.
This is not a similar situation as potentially trading a spare catcher to the Diamondbacks for one of their young infielders. Not only do those infielders have more ceiling than Pastornicky, who looks more like a utility man than anything at this point, but dealing Phelps or Warren or Nuno would directly impact New York's big league roster. Nuno might be the low man in the fifth starter competition, but we're still going to see him in the show this summer, either in relief or making a start or ten.
Unless the Braves put La Stella on a table, I don't see much of a trade match between them and the Yankees. Nuno for Pastornicky might make some sense, but the Bombers are chock full of fringy infielders already and I'd rather have the extra arm at this point. Atlanta doesn't have an obvious short or long-term infield upgrade to offer, so the Yankees' best move here is to just stand pat. They're under no obligation to make a move just between they have what the other team needs.