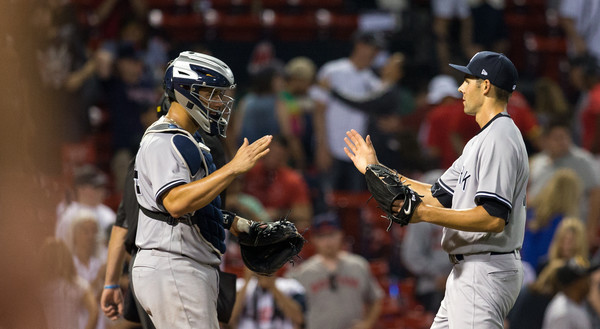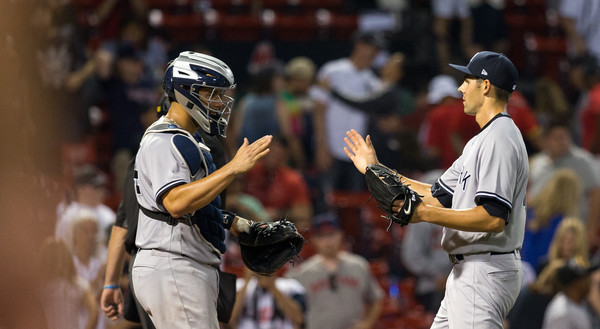 Every season, without fail, teams cycle through a parade of relievers as injuries and poor performance force roster changes. The average MLB team used 22 different relief pitchers this year. The Mariners led the way with 34. The Yankees used 18, third fewest in baseball, if you can believe that. Only the Nationals and Indians used fewer relievers this year. They used 17 apiece.
This season the Yankees put an end to the bullpen shuttle they'd used so extensively from 2015-16. The days of calling up reliever, using him for an inning or two, then sending him down the next day for a fresh arm came to an end. We saw relievers stick around even after extended outings, the type of outings that usually land them back in Triple-A. It was a refreshing in a way. Here are the miscellaneous relievers the Yankees used this season. Weirdly enough, three of these dudes were on the Opening Day roster.
Gio Gallegos
A dominant minor league season in 2016 earned Gallegos a spot on the 40-man roster last winter, and he received his first MLB call-up in mid-May. He had one great three-inning outing against the Astros on May 14th, allowing just one unearned run and striking out three, but he then allowed seven runs in his next six appearances and 7.1 innings.
On June 15th, in the tenth inning of a game in which Joe Girardi had already used all his top relievers, Gallegos was brought in to protect a one-run lead in Oakland. The inning went ground out, strikeout, single, double, intentional walk, two-run walk-off bloop single. You remember that one, don't you?
Gallegos had four different big league stints this season, during which he threw 20.1 innings with a 4.87 ERA (3.65 FIP) and 25.0% strikeouts. He also threw 43.1 innings with a 2.08 ERA (2.18 FIP) and 40.8% strikeouts in Triple-A. Gallegos did survive the 40-man roster purge last month, though I'd say his grip on a spot is tenuous. There's no guarantee he makes it through the offseason on the roster.
Domingo German
Little Sunday (Domingo Acevedo is Big Sunday) made his MLB debut on June 11th under unusual circumstances. He was pitching well in Triple-A and lined up perfectly to make the spot start when the Yankees decided to push Masahiro Tanaka back a day, but they gave the start to Chad Green, who wasn't stretched out. German wound up pitching in long relief anyway. Weird.
German, who returned to the 40-man roster last offseason after completing his Tommy John surgery rehab, made seven relief appearances with the Yankees this season, throwing 14.1 innings with a 3.14 ERA (3.44 FIP). Those 14.1 innings featured lots of strikeouts (29.0%) and lots of ground balls (54.5%). German also had a 2.83 ERA (3.17 FIP) in 76.1 Triple-A innings and was especially great down the stretch, as the RailRiders made their postseason run.
It seems German is in position to take on a larger role next season, either as a Green-esque multi-inning reliever or spot starter. He's shown he can handle Triple-A and his stuff is quite good. I think he's got a chance to have a real impact in 2018. The Yankees acquired German in the Nathan Eovaldi-Martin Prado trade three years ago and he's on the cusp of paying dividends.
Ben Heller
Heller is a personal favorite. He came over in the Andrew Miller trade and he made his MLB debut last season, and going into Spring Training, I thought he had a chance to win a bullpen spot. Instead, he went to Triple-A, and it wasn't until mid-June that he was was called up. And that was for only one appearance. In that one appearance, Heller allowed a walk-off single off his butt.
Heller was called back in mid-July and again, it was only one appearance. That one appearance was memorable for a good reason, thankfully. Remember the 16-inning game at Fenway Park? When Matt Holliday took Craig Kimbrel deep to tie it up in the ninth? Heller was the last guy out of the bullpen. He tossed a scoreless 15th inning, the Yankees scored three runs to take the lead, then he closed it out with a 1-2-3 16th inning.
The Yankees brought Heller back in September and he was the one September call-up reliever who got regular work, appearing in seven games and throwing 8.2 innings in the season's final month. He was great too, allowing just one run in those 8.2 innings. All told, Heller, had a 0.82 ERA (3.16 FIP) with 20.9% strikeouts in eleven big league innings and a 2.88 ERA (3.09 FIP) with 36.8% strikeouts in 56.1 Triple-A innings in 2017.
Heller is in the same camp as German for me. I think he's in position to take on a larger role next season and have a real impact. He has some of the best stuff on the 40-man roster. His fastball sits in the upper-90s and the ball runs all over the place, and his slider has been a wipeout pitch at times. It's tough to see where Heller (and German) fit right now, but like I said, the average team used 22 relievers this year. The opportunity will come.
Ronald Herrera
Boy, that series in Anaheim did not go well. That's when Holliday first came down with his illness, Heller allowed the walk-off single off his rear-end, then Herrera made his MLB debut in the seventh inning of a tie game. The first batter he faced? Albert Pujols. One of best hitters in history. Herrera allowed a solo home run to Andrelton Simmons that inning and wound up taking the loss. Womp womp.
Herrera made one more big league appearance later in June, then he went to the minors and dealt with a nagging shoulder injury most of the rest of the season. He did get healthy in time for the Triple-A postseason, though the Yankees did not give Herrera a September call-up. That was a good indication he wouldn't be around much longer. Sure enough, the Yankees traded him to the Rangers for a pitching prospect last month. Herrera allowed two runs in three big league innings this year, and had a 1.91 ERA (3.20 FIP) in 75.1 minor league innings.
Jonathan Holder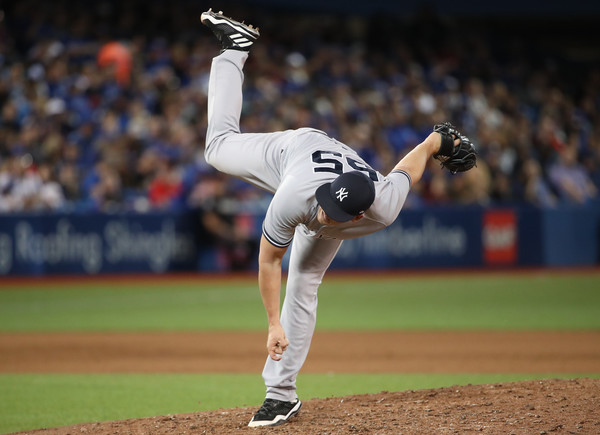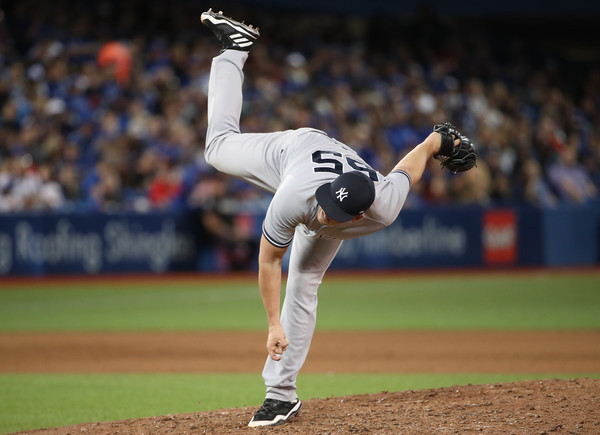 Holder is the first of the three relievers in this post who was on the Opening Day roster. He pitched in low-leverage situations and did see some sixth and seventh inning worth when the top relievers weren't available, and for the first few weeks, things went fine. Holder then allowed ten runs on 19 hits (including five homers) and five walks in 14.2 innings from May 23rd to June 26th, earning a demotion to Triple-A. Opponents hit Troutian .322/.385/.644 against him during that time. Ouch.
The demotion to Triple-A was more or less permanent. Holder returned for a quick stint in mid-July and again as a September call-up, otherwise he was a RailRider in the second half. He threw 39.1 innings with a 3.89 ERA (3.62 FIP) and 23.4% strikeouts with the Yankees, though his performance was uneven. He was great for the first few weeks before things collapsed. It should be noted Holder had two appearances of three shutout innings. Once in the 18-inning game at Wrigley Field and once in the 16-inning game at Fenway Park. Well done.
Down in Triple-A, Holder threw 16 innings with a 1.69 ERA (3.21 FIP) and 30.0% strikeouts. The Yankees really seem to like him — they added him to the 40-man roster and called him up way earlier than necessary for Rule 5 Draft purposes — probably because his overall minor league performance has been great and he's a spin rate darling, so I doubt Holder goes anywhere this offseason. I do wonder whether German and Heller have jumped him on the depth chart, however.
Tommy Layne
Another member of the Opening Day roster. The Yankees picked Layne up off the scrap heap last season and he did fine work, securing a bullpen spot this season. Then he went out and allowed 12 runs on 16 hits and eight walks in 13 innings this year. Lefties hit .304/.407/.391 against him. Not great, Tommy. He was designated for assignment on June 10th, clearing a roster spot for German.
Layne cleared waivers and spent some time with Triple-A Scranton before being released on July 5th. The Yankees had too many quality arms in Triple-A and needed the roster spot, so away went 33-year-old journeyman. Layne hooked on with the Dodgers a few days later, but didn't make it through August with them. He had a 7.62 ERA (4.85 FIP) in those 13 innings with the Yankees, and he allowed two runs in 6.2 innings with the RailRiders. Relievers, man. Great one year and unrosterable the next.
Bryan Mitchell
The third and final Opening Day bullpen member in this post. Seriously. Holder, Layne, and Mitchell were all on the Opening Day roster. Mitchell would've been on the Opening Day roster last year had he not managed to break his toe covering first base at the end of camp. This year he made it through Spring Training in one piece and started the season as a low-leverage reliever.
Mitchell allowed one run on one hit and one walk in his first six outings and 6.2 innings of the season, but the wheels came off in late-April, when he allowed seven runs on nine hits and three walks in 2.2 innings across two appearances against the Orioles. That was the series in which he played first base, which is a real thing that happened.
That was way too cute a move by Girardi. The best case scenario there was putting Mitchell back into the game after a 20-30 minute break, which usually leads to bad things for control challenged pitchers. Mitchell blew the game in the next half-inning and that was that.
Amazingly, Mitchell was called up and sent down at least once in every single month this season. He made two big league appearances in May, one in June, and one in July before resurfacing for an extended period of time in August. Mitchell finished the season with a 5.79 ERA (4.20 FIP) and 11.1% strikeouts (not a typo) in 32.2 MLB innings, and a 3.24 ERA (4.23 FIP) and 25.4% strikeouts in 63.2 Triple-A innings.
Mitchell somewhat surprisingly survived the 40-man roster purge last month. He hasn't been good in the big leagues and he'll be out of options next year, meaning he can't go to Triple-A without passing through waivers, and I thought the Yankees would cut bait. They still might at some point this winter. The kid has a good arm, but with his 27th birthday four months away, it's past time for potential to turn into production.
Tyler Webb
Although he didn't reach Colter Bean status, Webb was the "why aren't they calling this guy up???" guy the last few seasons. The Pirates took a chance on Webb as a Rule 5 Draft pick, and while he pitched well enough in Spring Training (13 IP, 13 H, 4 R, 4 ER, 1 BB, 11 K), they couldn't find room for him on the roster, and back he came to the Yankees.
Webb continued to do what he'd been doing for a few years now, and that's dominate Triple-A hitters. The Yankees gave him his first MLB call-up in late-June and he stuck around for a little while, allowing three runs on three hits and four walks in six innings across seven appearances. With the first base situation a total mess, the Yankees traded Webb to the Brewers for Garrett Cooper on July 13th.
Milwaukee kept Webb around for two appearances before sending him down to Triple-A, where he remained the rest of the season. Didn't get a September call-up. Ouch. Webb is still on the 40-man roster though, so he has that going for him. He allowed three runs in six innings with the Yankees, and had a 3.24 ERA (2.14 FIP) in 33.1 innings with Scranton before the trade. Those "why aren't they calling this guy up???" guys have a way of show why they weren't getting called up, don't they?