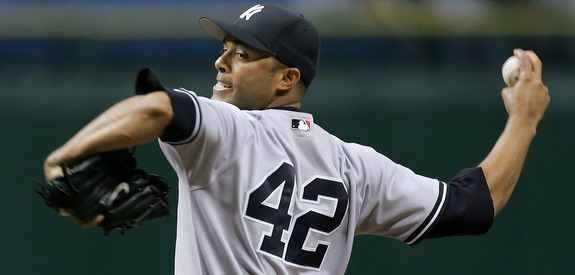 It's only fitting that we conclude our season review series with the guy who has been finishing off Yankees games for than a decade. Mariano Rivera was again his superlative self in 2011, finishing the season with a 1.91 ERA to make it eight sub-2.00 ERAs in the last nine seasons. His 8.8 K/9 and 1.2 BB/9 (0.9 uIBB/9) resulted in a 7.50 K/BB ratio, the second best of his great career. Aside from his usual bad week in April and bad week in August, Rivera was as dominant as ever at age 41, his 17th season in the league.
Along the way, Mariano made some history. On September 13th in Seattle, Mo watched Russell Martin throw out Ichiro trying to steal second base to end the game, giving Rivera his 600th career save. Only two men in baseball history have recorded 500 career saves, nevermind 600. Four days later, on the road in Toronto, Mo retired the Blue Jays in order for career save number 601, tying Trevor Hoffman for the all-time career saves record. Two days after that, on his home turf in Yankee Stadium, Rivera took sole possession of the all-time career saves record by sitting the Twins down for save number 602.
Mariano finished the year with 603 career saves and 44 on the season, just the second time he's had to save that many games in a single season since 2006. The six unintentional walks he issued tied his career low (set in 2008), and he managed to lower his career WHIP from 1.00348 to 0.99808. That's the second lowest in baseball history (min. 1000 IP) and easily the lowest in the expansion era. Rivera retired all four men he faced in the ALDS, continuing his postseason dominance even though the Yankees' season ended a bit prematurely.
Being the spoiled Yankees fans that we are, we've taken Mo for granted. The greatness that he showed in 2011 has become routine, and nothing makes that more obvious than watching other so-called "top closers" like Neftali Feliz and Jose Valverde struggle to get three outs before blowing a lead in postseason. That's just business as usual for Mariano, we wouldn't be able to tell if he was pitching in October or on a back field in March just by looking at him. Rivera is the greatest player to ever play his position, and he didn't need some career saves record to prove it. Thanks for another stellar season, Mo.