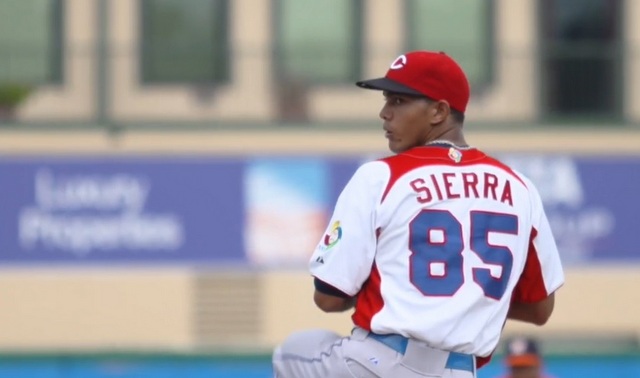 According to Jesse Sanchez, Cuban right-hander Yaisel Sierra has been declared a free agent by MLB and is now able to negotiate and sign with any team. That means he's already gone through the process of getting unblocked by the Office of Foreign Assets Control as well.
Sierra, 24, impressed during a showcase event earlier this offseason and has reportedly been visiting interested teams these last few weeks. It's unclear if the Yankees have any interest but, to be fair, no teams have been connected to Sierra yet. His market is a big mystery right now. The showcase reportedly drew approximately 350 talent evaluators, for what it's worth.
In parts of five seasons in Cuba, Sierra had a 4.23 ERA with a 16.5% strikeout rate and a 12.4% walk rate in exactly 300 innings. That includes a 6.10 ERA with a 18.6% strikeout rate and a 10.5% walk rate in 62 innings in 2014, his last season before defecting. Keep in mind Sierra was a boy playing against men for much of his career. Here's a recent mini-scouting report from Ben Badler (subs. req'd):
Everything looks good, with a nice frame, clean arm action, a lively fastball that sat 91-94 mph in Cuba and touched 96 (and has since been up to 97) while flashing an above-average slider. In Cuba, Sierra would sometimes use a splitter that could be an effective swing-and-miss pitch against lefties, though he's scrapped it now for a changeup instead.
Badler says Sierra has settled on one arm slot — he used to throw from all different angles a la Orlando Hernandez — and notes he has been held back by his "poor command and pitchability," which would be easier to stomach if he were still a teenage pitching prospect and not in his mid-20s.
Because of his age, Sierra is not subject to the international spending restrictions, which means the Yankees or any other team can pay him any amount. He's a big league free agent, basically. The Yankees can not pay any international amateur players age 23 or younger a bonus larger than $300,000 until July 2017 due to the penalties associated with their spending spree a few years ago.
The Yankees are said to be looking for a young starter they can control beyond 2017, so, if nothing else, Sierra is an option who wasn't available when the offseason began. Badler's scouting report doesn't exactly scream "must sign," plus there's a chance the "poor command and pitchability" mean Sierra's future lies in the bullpen. (He pitched in relief a bunch in Cuba, including in 2014.)
The Reds signed Cuban righty Raisel Iglesias to a seven-year contract worth $27M last offseason, which I suppose gives us a ballpark contract estimate for Sierra. Seven years is a long time! That's not a lot of money though, even if Sierra winds up in the bullpen. The Yankees haven't signed a big name Cuban player since Jose Contreras, though Sierra's not some kind of no-brainer pickup in my opinion. Just someone to consider.