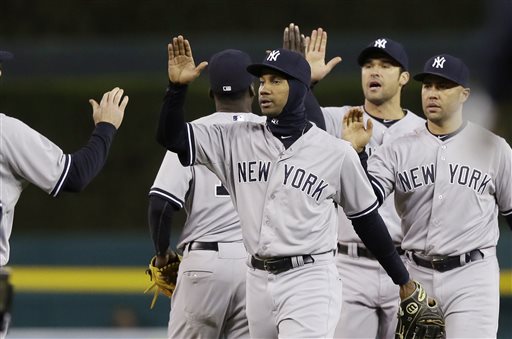 Don't blame CC
The Yankees wasted a dominant pitching performance by CC Sabathia in the opening game of the series, losing 2-1 to the Tigers on Monday night. Sabathia, who faced the minimum number of hitters through six innings, went the distance and allowed just two runs on seven hits.
Sabathia ended up losing for the third time in three starts this season, despite not having given up more than four earned runs in any of those outings. Bad luck? He is the first Yankee to lose his first three games of the season, allowing four-or-fewer earned runs in each game, since Fritz Peterson and Mel Stottlemyre both had streaks like that to begin the 1972 season.
While the loss was painful, at least it was over quickly. The game last two hours, 20 minutes, the second time this season the Yankees have played a game in less than two-and-a-half hours. The only other year since 2000 that they played multiple sub-2:30 games within their first 13 games was 2003.
Two outs are better than one
Nathan Eovaldi pitched seven innings of one-run ball on Tuesday to pick up his first win in pinstripes (he was wearing road greys, I know).
Like Sabathia in the first game, Nate the Great was helped out by an infield defense that converted four double plays behind him. This was the first time that Yankee starters generated at least three GIDPs in back-to-back games since Fritz Peterson and Mel Stottlemyre (them again!) on April 14 and 15, 1973.
Chris Young continued to swing a hot bat, going 3-for-3 with two walks and fell a triple short of the cycle. Before Young, the last Yankee right fielder to reach base at least five times, make no outs and hit a home run in a game was Shane Spencer on August 7, 1998 against the Royals.
Snow is the Yankees best friend
The winter-like forecast for Wednesday night's game couldn't cool down the Yankee bats, as they routed the Tigers 13-4 and pushed their record over .500 (8-7) for the first time this season.
Jacoby Ellsbury picked up his first RBI of the year in the Yankees six-run first inning, ending a drought of 65 plate appearances without driving in a run to start the season. It was the longest such streak by any Yankee since 1967, when Mike Hegan didn't get his first RBI until his 88th plate appearance of the year.
Breaking news: You cannot stop Chris Young, you can only hope to contain him. Young went 3-for-6 and scored two runs, raising his batting line to a ridiculous .368/.442/.816 in 13 games. He also became first Yankee outfielder with back-to-back three-hit games vs. the Tigers since Bernie Williams in 1995 (a fitting tribute on the same day that Bernie announced his retirement from baseball).
The Yankees did nearly all their damage against former Cy Young winner David Price, who got shelled by the Bronx Bombers for the second time in a row. Last August he gave up eight runs on 12 hits; Wednesday he was tagged for eight runs on 10 hits.
He's in pretty good company, though, with those two awful performances: The last pitcher to allow at least eight runs and double-digit hits in consecutive outings against the Yankees was Hall of Famer Bob Feller in 1938-39.
Hits are overrated
The Yankees ended their 10-game road trip with another win in Detroit on Thursday, giving them a ton of momentum heading into the weekend matchup against the streaking Mets.
Masahiro Tanaka delivered another strong outing, pitching six-plus innings of one-run ball and giving up only three hits to the powerful Tigers lineup. Here is the list of Yankees in the last 100 years to throw back-to-back road games of more than six innings pitched, three or fewer hits allowed and at least six strikeouts within a single season: Masahiro Tanaka, Whitey Ford (1962). Yup, that's it.
Andrew Miller pitched a perfect ninth inning with two strikeouts to get his sixth save in six chances. Since saves became an official stat in 1969, Miller is just the second player to begin his Yankee career by converting his first six save opportunities while giving up no more than one hit in those games. The other was the immortal Xavier Hernandez, who was part of the trio of closers the Yankees used in the 1994 strike-shortened season (along with Steve Howe and Bob Wickman).