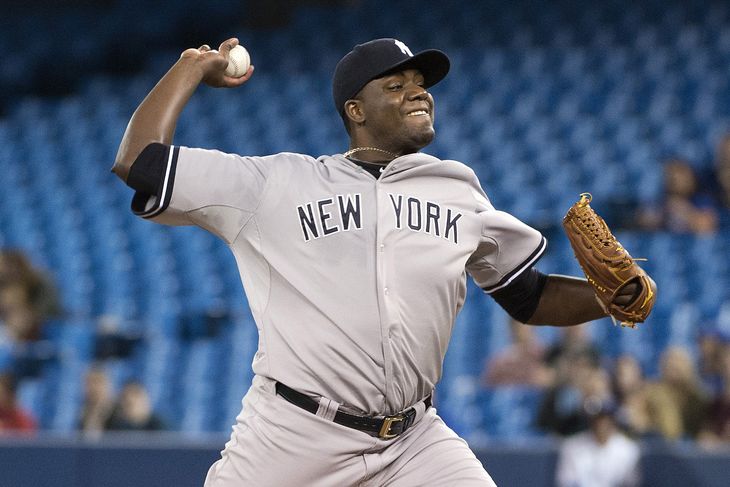 The Chase is on
The situation was set up perfectly for another Yankees win in the series opener when they took a 1-0 lead into the eighth inning against Toronto. Entering Monday, the Yankees:
• were 12-0 when leading after seven innings
• had allowed seven runs in the eighth and ninth innings combined (tied for fewest in AL)
• had one blown save (tied for fewest among teams with more than five save opportunities)
But the Yankees bullpen proved to be mortal on this night, giving up three runs and coughing up that one-run lead, handing the Blue Jays a 3-1 victory.
They wasted a gem by Chase Whitley, who threw seven scoreless innings with six strikeouts and no walks. His changeup was really nasty; he threw 14 of them and those pitches netted him five whiffs and six outs (including three strikeouts), with just one hit allowed.
R.A. Dickey dominated the Yankee lineup for eight innings with his knuckleball, allowing just one run and three hits despite not getting any strikeouts. The only other pitcher in the last 30 years with at least eight innings pitched and no strikeouts in a game against the Yankees was the Tigers' Steve Sparks on June 19, 2001.
Ace Pineda
Another dominant performance from a starting pitcher, another win, ho hum. On Tuesday night the gem was delivered by the man that has rightfully earned that title of staff ace, Michael Pineda, who pitched perhaps his best game of the season.
The right-hander threw eight scoreless innings, allowed five hits and struck out six batters in leading the Yankees to a bounceback 6-3 win over the Blue Jays. Dating back to last year, he's now 6-0 with a 2.38 ERA in his last eight starts. Perhaps most impressive is the fact that he's had incredible command of the strike zone during this undefeated run, with at least five strikeouts and no more than one walk in each of those eight games.
You know how many other pitchers have fashioned an eight-start streak like that – at least five strikeouts, one or fewer walks and no losses – over the last 100 seasons? Two. Curt Schilling in 2002 and Bret Saberhagen in 1994.
Jacoby Ellsbury had another all-around awesome game, with three hits, two stolen bases and two runs scored – the fourth time he's reached each of those totals in a game with the Yankees. The only players in franchise history to have more games like that in their entire career with the team are Roberto Kelly (5) and Rickey Henderson (5). Yeah, Ellsbury has been in pinstripes for only two seasons.
"Ya know, Suzyn…"
There's a popular saying among fans (and radio broadcasters) that "you can't predict baseball." But if there ever was one thing about baseball that you could predict, it was that the Yankees would win a game started by Mark Buehrle.
Entering the series finale, the 16-year veteran had made 21 career starts versus the Bronx Bombers and won exactly one of those. His 1-14 record was second-worst among any pitcher in the last 100 years that had made at least 15 starts vs. the Yankees. The lone win came on April 10, 2004. Since then, Buehrle had….
• lost 12 straight decisions against the Yankees, tied for the fourth-longest losing streak vs. the franchise by any pitcher in the last 100 years
• gone 17 consecutive starts without a win against the Yankees, the second-longest winless streak vs. the franchise by any pitcher in the last 100 years
So, of course, on Wednesday night in Toronto he held the Yankees to one run in five innings pitched and got the win. #Weirdbaseball
CC Sabathia took the loss and fell to 0-5 in six starts, becoming the first Yankee to lose his first five decisions of the season since Chien-Ming Wang in 2009. He also lost his first game in Toronto as a member of the Yankees (entered the game 4-0 in five starts). Sabathia's unbeaten streak of five consecutive starts at the Rogers Centre was tied for the longest at the ballpark by any Yankee pitcher.