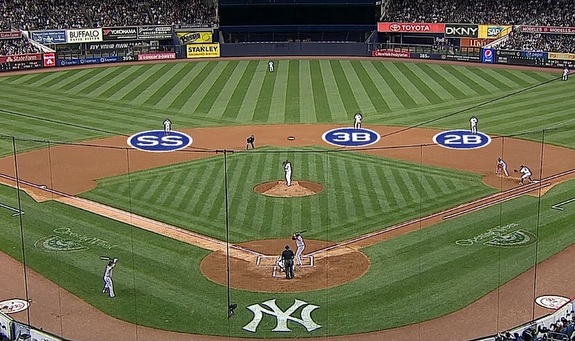 Time to "empty out the notebook," so to speak. I have a whole bunch of miscellaneous links lying around that are worth passing along but aren't necessarily worth their own individual post. So, here are some Yankees-related notes from around the web.
New commissioner will look to ban infield shifts
On Saturday, Bud Selig's tenure as commissioner officially ended and new commish Rob Manfred came into power. Manfred told Jerry Crasnick that youth outreach, pace of play, and improving labor relations are among the first items on his agenda. He also said he is open to banning infield shifts (video link). Here's what he said about getting rid of infield shifts:
"I would be aggressive about using the (pitch clock) over the long haul. I think it's a helpful thing in terms of moving the game along," said Manfred to ESPN. "I think the second set of changes I would look at is related, and that related to injected additional offense into the game. For example, things like eliminating shifts. I would be open to those sorts of ideas.

"Look, we have really smart people working in the game, and they're going to figure out ways to get a competitive advantage," added Manfred. "I think it's incumbent upon us in the commissioner's office to look at the advantages that are produced and say 'is this what we want to happen in the game.'"
Jeff Passan ran Manfred's quote by "two sabermetrically inclined GMs" and both agreed with dumping shifts because "the game is better when the casual fans gets the product they want," and there's concern within the industry that baseball isn't delivering. (That makes me wonder how many lefty pull hitters those GMs have on their rosters!)
I understand why many people want them gone but I am not a fan of eliminating shifts, personally. It's basically a ban on creativity and that is bad regardless of industry. The MLB-wide batting average on balls in play has not changed at all over the last two decades even as shifts became popular, and I think teams with better information — or maybe I should say more willing to use that information to try something outside the box — should be allowed to use it.
If MLB wants to improve offense — and I am 100% all for that — I think they should start with fixing the strike zone and not having it depend on who's catching and who the umpire is. Forcing relievers to face at least two batters and thus eliminating matchup specialists could be another idea. Telling players where to stand on the field is not something the commissioner's office should control. Let teams position defenders where the hitter is likely to hit it. What's wrong with that?
Pirela okay after taking pitch to hand in winter ball
During a recent winter ball postseason game in Venezuela, utility man Jose Pirela took a pitch off his right hand and had to exit the game. He went for x-rays after the soreness lingered and they showed no fracture, reports Chad Jennings. "He's all good to go," said assistant GM Billy Eppler. Pirela was shut down from winter ball play as a precaution but has already resumed working out.
Pirela, 25, hit .296/.394/.515 with 11 doubles, four triples, six homers, 26 walks, and 30 strikeouts in 47 winter ball games. He'll come to Spring Training on the outside of the big league roster looking in — I still don't expect the Yankees to cut Brendan Ryan, extra shortstops are useful — but with a chance to put himself in position to be the first position player called up. Pirela's done nothing but hit these last few years and his versatility is a plus as well.
Kiley McDaniel's massive farm system breakdown
Over at FanGraphs, Kiley McDaniel is in the middle of a series looking at each organization's farm system from top to bottom. He covered the Yankees earlier this week and the write-up is massive, nearly 10,000 words. It runs 68 (!) players deep and McDaniel said it "may be the deepest system in the game." Needless to say, the write-up comes with RAB's highest level of recommendation.
Best of all, McDaniel also posted a ton of video at FG's YouTube channel. He has clips of all the usual suspects there (OF Aaron Judge, RHP Luis Severino, C Gary Sanchez, etc.) and also some hard-to-find video of several of New York's recent international signings, like OF Leonardo Molina, OF Jonathan Amundaray, and OF Juan DeLeon. (3B Dermis Garcia is embedded above.) Some of the videos span multiple years, so you can see how the players have changed over time. It's a goldmine. Check it out.
YES ratings up 10% in 2014
For the 11th time in the last 12 years, the YES Network was the most-watched regional sports network in the country in 2014. Ratings were up 10% overall and 16% during primetime, the network announced. YES averaged 58,000 households during primetime in New York last season — game broadcasts averaged 223,000 households — blowing MSG (41,000) and SNY (30,000) out of the water. Pre- and post-game rated were up 25% and 23%, respectively.
Obviously some of that improvement is due to Derek Jeter's retirement tour, but not all of it. I'm sure Masahiro Tanaka's arrival boosted ratings a ton as well. Same with Carlos Beltran, who is more or less the most popular active player from Puerto Rico. Either way, lots of people were watching the Yankees last season. Lots more than 2013, that's for sure.