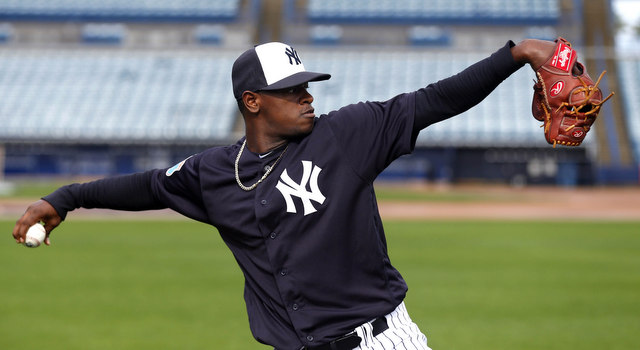 This is the last Saturday without some kind of baseball game — Spring Training, regular season, postseason, whatever — until November. That is pretty, pretty awesome. Here are some assorted links I have to pass along.
Ellsbury among worst contracts, Severino among best assets
Over at ESPN, Dan Szymborski used his ZiPS system to rank the 25 worst contracts (subs. req'd) and 25 best assets (subs. req'd) in baseball. Albert Pujols, who still has six years and $165M left on his deal, ranks as the worst contract while Carlos Correa checks in as the best asset. Mike Trout is second. I'd be more interested to see the 25 best contracts, but Szymborski included players in their pre-arbitration years.
The Yankees had one player on each list. Jacoby Ellsbury ranked 13th on the worst contracts list, sandwiched between Shin-Soo Choo and Justin Verlander. "Ellsbury's Gold Glove days are behind him, though he remains at least a competent defensive center fielder, which means, at least theoretically, that flexibility keeps the number of (possible trade) suitors higher than some of the more limited players higher on this list," said the write-up. Others like Alex Rodriguez and CC Sabathia didn't make the worst contracts list because their deals expire soon.
As for the good news, Luis Severino ranked 21st on the best assets list, right behind Sonny Gray and a few spots ahead of Carlos Carrasco. "Severino's 4.37 FIP wasn't as impressive as his 2.89 ERA, but that should also improve considerably given he was a 21-year-old who started the season in Double-A and was thrown directly into a pennant race," wrote Szymborski. I have to say, I'm not used to seeing the Yankees having a player on a best assets list. Or only one player on a worst contracts list, for that matter. Times are a changin'.
No progress in YES/Comcast squabble
There still has not been any progress in the YES Network/Comcast dispute. "Nothing to report," said one YES executive to Ryan Hatch earlier this week. Again, the dispute is over rights fees. YES wants to charge cable providers a bit more money to carry the network going forward, and Comcast doesn't want to pay, citing declining ratings and other things. I hope the two sides work something out before Opening Day. It seems likely Comcast customers will be left in the dark for Grapefruit League games, however. (Spring Training games are available on MLB.tv with no blackouts, thankfully.)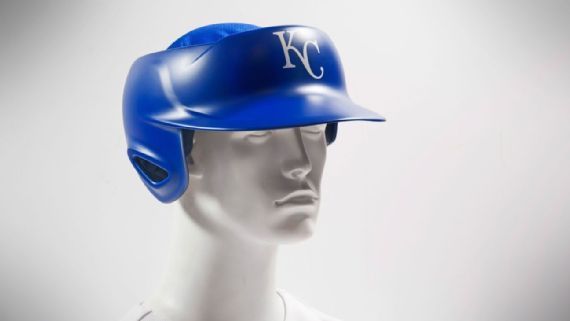 MLB, MLBPA to test new protective headgear for pitchers
According to William Weinbaum, this spring 20 big league pitchers will test out a new protective headgear that is a "hybrid of a cap and a helmet." It weighs 10-12 ounces and has a carbon fiber shell, and as you can see in the photo above, it resembles a visor. "The average thickness is about 0.7 inches and is greatest in places most susceptible to catastrophic injury," writes Weinbaum.
It's unknown if any Yankees will use the new protective headgear, though no one in camp has worn them while throwing bullpens or live batting practice, as far as I know. Bryan Mitchell took a line drive to the nose last year, and a few years back Aroldis Chapman was hit in the face by a line drive during Spring Training, so I guess they're the obvious candidates to wear some kind of new protective visor.
Chewing tobacco may soon be banned at Yankee Stadium
Thanks to a bill introduced by New York City Councilman Corey Johnson, smokeless tobacco may soon be banned at Yankee Stadium and Citi Field, reports Tim Rohan. "If New York passes this bill, and I think it will, it moves us dramatically closer to the day when smokeless tobacco is prohibited in all Major League cities," said Matthew Myers, the president of Campaign for Tobacco-Free Kids. The Yankees (and Mets) have told Johnson they will support the bill.
Chewing tobacco is already banned at Fenway Park, Dodger Stadium, and AT&T Park after similar bills were approved unanimously in those cities. The goal isn't so much to prevent players from using smokeless tobacco — it is a personal choice, after all — it's to prevent them from using it on television where kids can see it. Tony Gwynn passed away following a battle with salivary gland cancer and Curt Schilling is still fighting mouth cancer, both of which have been attributed to their use of chewing tobacco as players. I don't know if any Yankees use it regularly — CC Sabathia always seems to have a wad in his lip on days he doesn't pitch, right? — but it soon may be off-limits.