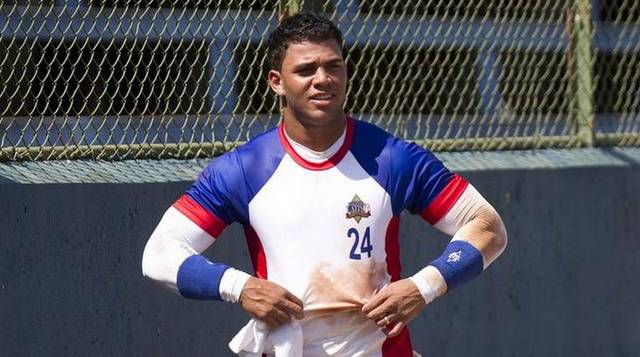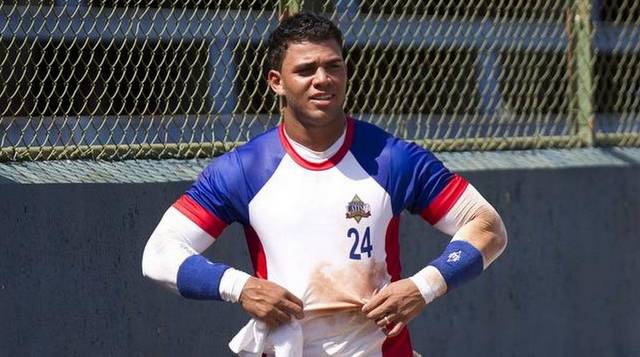 After three private workouts and several weeks of waiting, 19-year-old Cuban wunderkind Yoan Moncada finally signed yesterday … with the Red Sox. Needless to say, the reaction was not a pleasant one in Yankeeland. Not after all the buildup and anticipation. Anyway, I have some thoughts on the whole Moncada situation. Read 'em and weep.
1. At this point it's clear passing on Moncada was a financial decision, not a scouting decision. All reports indicate the Yankees loved him as a player but were unwilling to up their offer from $27M. Here's what Brian Cashman told reporters about losing out on Moncada yesterday, via Chad Jennings:
"We made our final and best (offer) yesterday," Cashman said. "I don't think anybody disagrees with the ability. I would doubt there's any disagreement on the scouting assessment of the player. It just comes down to how much money you were willing to commit. We put our best foot forward yesterday, it was a significant offer, but it fell short of where he's rumored to have signed."

…

"If we were going to go all out, there would have been more," Cashman said. "We went to where we were comfortable going, and it was an uncomfortable number to put forth. But it still fell short. We're proud of the players that we did sign and the work we've done on the international side, but we're continuing to look at what's available out there, and we were involved in the Moncada efforts until the very end. Yesterday they said they were going to make a decision and wanted your best offer. We presented that. It just didn't work."
Alright, so if the baseball people liked the player but the offer fell a few million short, then it was stupid Hal Steinbrenner's fault, right? Except later in the day Wally Matthews and Jon Heyman reported Hal had "strong interest" in Moncada and it was "others" in the organization who weren't comfortable going the extra mile and dropping $60M+ on a teenager. Who the hell overrules the owner? This seems like damage control. It looks like someone is trying to save face.
I mean really, who could those "others" possibly be? There's not many non-Steinbrenners between Cashman and Hal in the organizational hierarchy. Did president Randy Levine say no? Was it Anthony Bruno, the team's CFO? Did the four other Steinbrenners overrule Hal? Or was a trusted advisor like Gene Michael not sold? We're probably never going to know the answer to that, obviously. This was pretty clearly a decision made over the baseball operations department's head and that's always a tough pill to swallow. Those are the decisions that always seem to turn out the worst.
2. The Yankees are not cheap. Let's stop that nonsense right now. They just committed $175M to an unknown (like Moncada) in Masahiro Tanaka last winter. Their offer to Moncada was roughly 325% greater than the previous record for an international player under the current system. The problem is that they've spent a lot of money in recent years and gotten nowhere near the return they expected. Some of that was surprising, like Mark Teixeira turning into a dud by year four of an eight-year contract, and some of it we could see coming from a mile away. (Shockingly, 36-year-old Carlos Beltran was not immune to aging.)
All that dead money — Teixeira, Beltran, Alex Rodriguez, and CC Sabathia will make $83.125M in 2015 and I'll set the over/under at a combined 3.0 WAR right now — seems to have made the Yankees gun shy with huge contracts. And here's the thing: I've been hoping the Yankees would scale back their spending the last year or two. At the least the spending that involves committing top dollar for decline years in bulk, like most major free agent contracts. Passing on Robinson Cano at that price was 100% the right move for the organization in my opinion. Same with passing on Max Scherzer at that price. It's only a matter of time until those contracts go horribly wrong, and enough contracts have already gone horribly wrong around these parts.
But Moncada is a different story. We're talking about a 19-year-old with his entire career ahead of him who most people consider a future star. That doesn't seem like the type of player the Yankees should show restraint with, not after spending all offseason talking about how important it was to get younger. They let David Robertson walk because they valued the dinky little supplemental first round draft pick, remember. If the Yankees want to scale back their spending because they're tired of being burned by huge contracts, fine. But it shouldn't be a blanket policy. Not all free agents are created equal. Moncada is a franchise cornerstone type of player and if they're not going to step outside your comfort zone to sign someone like that, when should we ever expect it to happen?
3. Losing out on Moncada is pretty bad, and to make matters worse, this might be the last time the Yankees ever have access to a player like that for nothing but money. Like, ever. Because they exceeded their spending pool last year, they can't sign an international amateur for more than $300,000 during both the 2015-16 and 2016-17 signing periods. Unless another Moncada shows up and is cleared to sign before June 25th (almost certainly not happening), the Yankees are out of the mix until the 2017-18 signing period. And by then an international draft may be implemented. The Collective Bargaining Agreement expires after 2016 and MLB has been pushing for an international draft for years. The Moncada bonus coupled with New York's spending spree last year is probably going to rekindle those efforts.
Now, just to be clear, this doesn't mean the Yankees are out on all top Cuban players, just the ones subject to the international spending pools like Moncada and Andy Ibanez. Guys are over the age of 23 — like Jose Abreu, Rusney Castillo, and Yasmany Tomas last year — are not subject to the spending pools and New York can still sign them as if they were any other free agent. Those guys are good! But the Yankees are now completely out of the mix for anyone younger than that. This isn't an "oh well we didn't get Moncada, we can get the next guy instead" situation. There's a hard cap on the club's international spending the next two signing periods and they simply won't be able to compete for the top talent.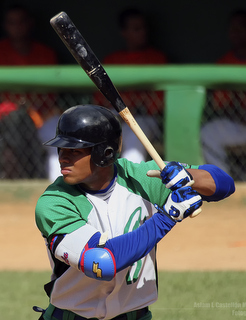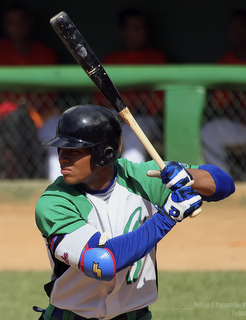 4. Moncada is not the first Cuban player the Yankees have failed to sign in recent years. I don't remember them being seriously involved for Abreu or Yasiel Puig, but they were very much in the mix for Castillo, Tomas, Adeiny Hechavarria, Aledmys Diaz, Yoenis Cespedes, and Aroldis Chapman. (If I'm remembering correctly, the Yankees invited Chapman to Yankee Stadium for a game during the 2009 World Series in an effort to woo him to New York.) Obviously they ended up with none of them. The team hasn't signed a top Cuban player — sorry, Ronnie Mustelier, Adonis Garcia, and Omar Luis — since Jose Contreras a baseball lifetime ago.
This is a problem. It's a talent source the Yankees have not necessarily ignored, but one they haven't tapped into. They're continually coming up short. Almost every other big market team has signed a top Cuban talent at this point — the only exceptions I can think of are the Mets, who haven't acted like a big market team in years, the Giants and Tigers — and even the smaller market teams have gotten in on the act. Remember where Cespedes, Chapman, and Tomas ended up. Maybe this is a case of the Yankees being timid after getting burned by Contreras — it did seem like they were scared of Japanese players for a while after Kei Igawa, right? — but it can't last. If Dermis Garcia busts, are they going to ignore players from the Dominican Republic? Of course not. That'd be silly. At some point they're going to have to take the plunge and dive back into the Cuban talent pool. These players have generally shown a very high rate of return so far. The league is too competitive to do nothing but dip your toe.
5. For the record, I totally expected the Yankees to sign Moncada. Once we found out last week that they had brought him back for second and third private workouts, I was convinced he was theirs. I never bought the Dodgers as a real threat — they reportedly already have deals in place with 2015-16 international prospects and can't renege on those unless they want to destroy their relationships with Latin American agents — and I figured that if it came down to an old fashioned bidding war, the Yankees would win. Like Tanaka last year. They wanted him and they got him. I thought the same would happen with Moncada. Joke's on me, I guess.