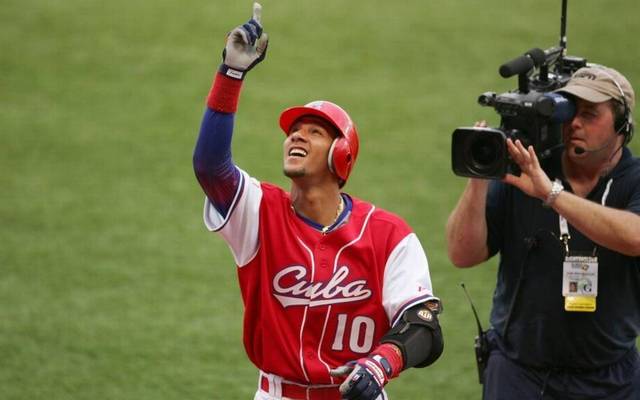 According to Jesse Sanchez, the Astros agreed to sign Cuban infielder Yulieski Gurriel to a five-year contract worth $47.5M yesterday. The deal is expected to become official later today. Houston's infield is full, plus they have infielder and top prospect Alex Bregman knocking on the door, so this is a case of add talent and sort it all out later.
The Yankees were among the teams to bring Gurriel in for a private workout. International scouting director Donny Rowland is said to be a longtime fan of the former Cuban league star. It's unclear if the Yankees were outbid or simply didn't even make an offer. I have some thoughts on all of this.
1. He got less money than I thought. Five years and $9.5M a year strikes me as a pretty good deal for the Astros given other recent contracts for Cuban players. Rusney Castillo, Hector Olivera, and Yasmany Tomas all received $10M to $12M annually across six years. They all kinda stink though, plus Gurriel is a few years older, so I guess his contract is something of a market correction.
2. I get not going after a 32-year-old. Well, like I said, we don't know what the Yankees offered, but I think you catch my drift here. Gurriel is not young. He's 32 and he's at the age where you'd expect his skills to decline anyway, so Gurriel is not someone you bring in if you're rebuilding. He's a win-now addition, and the Yankees are not a win-now team. Would he make them better in the short-term? Almost certainly yes. But the Yankees have focused on the short-term for too long. They have to take a step back and thing long-term now.
3. Where is the offense coming from the next few years? The Yankees are averaging only 4.20 runs per game this season, so they're one of the lowest scoring offenses in the league. Next year they figure to lose Carlos Beltran (and Mark Teixeira) to free agency, and others like Jacoby Ellsbury, Brett Gardner, and Brian McCann will be a year older. Unless Greg Bird doesn't miss a bit following shoulder surgery and youngsters like Aaron Judge and Gary Sanchez hit the ground running, the offense might be worse in 2017. Even the very best prospects can need an adjustment period, after all. Gurriel would have given the Yankees a much-needed bat going forward.
4. Don't forget, Lourdes is the real prize. Yulieski and his brother Lourdes Jr. defected over the winter, and given his age (22) and skill set, Lourdes is the more promising player. He's not Yoan Moncada, but his best years are ahead of him. With Yulieski you're just hoping to get one or two peak years right away and a manageable decline. Lourdes is the better long-term buy. He's not going to sign until his birthday in October — once he turns 23, he'll no longer be subject to the international spending restrictions — and the Yankees should be all over him, though their recent track record with big name Cuban players suggests they'll fall short.