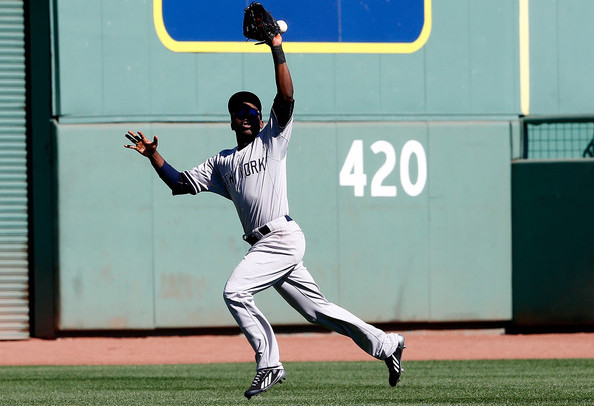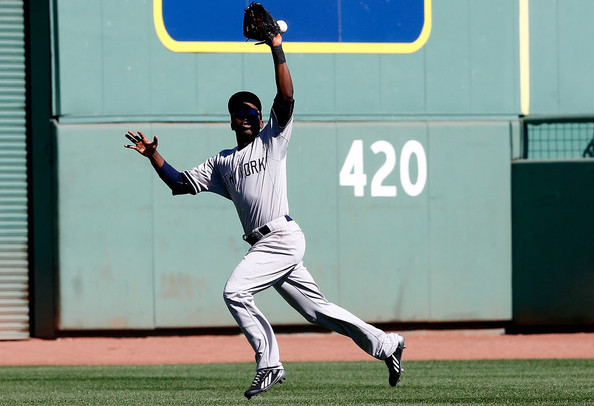 As is the case every season, the Yankees cycled through several extra players in the outfield in 2014 to help cover for injuries and soak up spare innings in September. There weren't as many random outfielders as their were random infielders, but there were more than I realized. Here's the group.
Chris Young
After he was released by the Mets at midseason, the Yankees grabbed Young off the scrap heap, stashed him in Triple-A for a week, then called him up when rosters expanded in September. The idea was to add some depth because Carlos Beltran's elbow kept barking, and also potentially add some right-handed pop to a lineup almost devoid of it. I closed the post about the signing with this:
Maybe he'll hit a random big homer or something.
In his sixth game as a Yankee, Young did this:
Random big homer! That was actually the second homerun in a stretch of three homers in three games for Young, who put his struggles with the Mets behind him and gave the Yankees a very nice month of September. He hit .282/.354/.521 (146 wRC+) with three homeruns and a stolen base in 78 plate appearances. Young was playing left field on an everyday basis by the end of the month due to injuries elsewhere in the outfield. The Yankees hit the scrap heap lottery.
Young credited since-fired hitting coach Kevin Long with helping him break some bad habits — "I've been able to find some things here that can carry me for years to come," he said to Dan Barbarisi in September — so there's at least some chance the improvement was real and not just a small sample fluke. The Yankees obvious think it's real — they re-signed Young to a one-year contract earlier this month to serve as the team's fourth outfielder next year. Brian Cashman said the club's analytical department pushed to bring Young back.
For the final month of the 2014 season, Young gave the Yankees a nice shot in the arm. He hit some clutch homers — he hit an extra-innings go ahead homer against the Orioles the day after the walk-off shot (video), but the bullpen blew the lead — and played some nice defense as well. It wasn't enough to get New York into the postseason, but Young as a positive contributor during his brief time in pinstripes.
Zoilo Almonte
Almonte was the team's classic up-and-down outfielder this summer. He spent most of the year with Triple-A Scranton, where he hit .261/.311/.437 (103 wRC+) with 18 homeruns in 105 games. The Yankees called Zoilo up three different times through the season to help fill in for injuries, though he still only managed to appear in 13 games. He went 5-for-36 (.139) with one very long solo homer (video).
Rather than come back up when rosters expanded in September, the Yankees designated Almonte for assignment to clear a spot on the 40-man roster for Young. Zoilo cleared waivers and became a minor league free agent after the season. He's since hooked on with the Braves on a Major League contract. Despite all his power production in the minors (74 homers since 2010), Almonte was never going to get much of a chance with the Yankees. He had a 39 wRC+ with the big league team in 149 plate appearances the last two years.
Antoan Richardson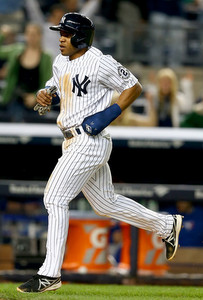 Man, talk about random. The Yankees signed Richardson as a minor league free agent last winter and he put up a nice .271/.380/.364 (114 wRC+) batting line with three homers and 26 steals in 27 attempts with Triple-A Scranton before being a surprise September call-up. The Yankees called him up to serve as their designated pinch-runner and, sure enough, he went 5-for-5 in steal attempts. He did get picked off first once and was also doubled off first when he put his head down and kept running on a fly ball, perhaps forgetting the number of outs. Richardson did have one nice series in Baltimore by going 4-for-10. His time in pinstripes ended with five hits in 16 at-bats (.313) and those five steals. The team dropped him from the 40-man roster after the season and he's since become a free agent.
Fun Fact: Richardson scored the run on Derek Jeter's walk-off single in his final home game at Yankee Stadium. Jose Pirela led the inning off with a single and Richardson came on to pinch-run. Brett Gardner bunted him up to second and Jeter took care of the rest.
Eury Perez
September acquisitions are rare, but the Yankees claimed Perez off waivers from the Nationals on September 22nd, after Washington designated him for assignment to clear 40-man roster space for a waiver claim of their own (Pedro Florimon from the Twins). Perez hit .311/.372/.406 (119 wRC+) with one homer and 20 steals in 23 attempts for the Nats' Triple-A affiliate before spending the final few days of the season in New York. He played sparingly, going 2-for-10 with three strikeouts at the plate. Perez saw time in right and center field and remains on the 40-man. Seems like he'll fill the Almonte role of up-and-down outfielder in 2015.