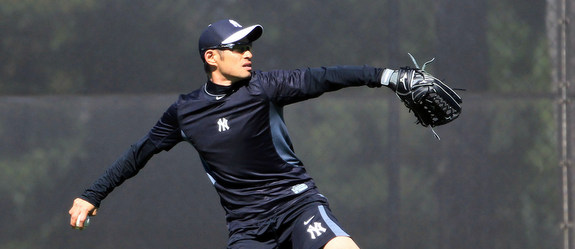 Aside from two years of darkness between Paul O'Neill and Gary Sheffield, the Yankees have had some really productive right fielders over the last 30 years or so. It goes back to Dave Winfield and Jesse Barfield in the 1980s up to Bobby Abreu and Nick Swisher in the late-2000s/early-2010s. All fit the typical Yankee mold of power and patience, but the team completely reversed course this winter and will have a new look in right field this coming season.
The Starter
The Yankees decided a draft pick and financial flexibility was better than Swisher this offseason, so they replaced him with his polar opposite in Ichiro Suzuki. Swisher hits for power, Ichiro doesn't. Swisher draws walks, Ichiro doesn't. Swisher doesn't steal bases, Ichiro does. Swisher swings and misses, Ichiro doesn't. Swisher plays an average right field, Ichiro is much better. On and on it goes.
Of course, New York originally acquired Ichiro from the Mariners at the trade deadline for little cost because he simply stopped hitting, putting up a .268/.302/.342 batting line in his final 1,144 plate appearances with Seattle. That dates back to Opening Day 2011. His first 140 plate appearances in New York weren't much better (.271/.297/.398), but he hit .394/.402/.532 in his final 100 plate appearances of the year. Ichiro either a) got comfortable all of a sudden, b) changed something mechanically, or c) just got lucky. Given his (and hitting coach Kevin Long's) recent comments to Ken Davidoff, we can rule out (b).
Regardless of what was responsible for that September success, the Yankees have to hope it continues. They gave the 39-year-old Ichiro the only multi-year contract they handed out this winter (two years), a leap of faith at best and a stunningly poor decision at worst. It seems obvious off-field considerations like marketing and merchandise sales — Ichiro has an outside shot at reaching 3,000 hits late in 2014 — drove the contract while on-field impact was a secondary concern. In fairness, Ichiro is one of the few players with legitimate marquee value that transcends his on-field production. He's a global star and will generate revenue for the team as long as he wears the uniform. Given Hal Steinbrenner's admitted focus on the bottom line, this isn't a surprise.
On the field, the Yankees are getting a contact machine who swings early and often, and will put the ball on the ground and use his speed to beat out infield hits. Yankee Stadium will surely boost Ichiro's homer output somewhat, but all those ground balls limit his power ceiling. He's a sterling defender with a lot of range and the best right field arm the Yankees have had since … Raul Mondesi? … but it plays down a bit because his release his slow. Maybe the Yankees will get vintage Ichiro!, the guy who hit .300+ in his sleep, or maybe they're getting a near-40-year-old replacement level outfielder with name value. The club has to hope it's the former (or at least someone in-between) because they pushed all their chips to the middle of the table on bet on those last three weeks of September.
The Backup
As I've said the last two days, the backup outfielder is still very much undecided. The Yankees signed Ben Francisco to a minor league deal earlier this week and added him to a competition that includes Juan Rivera, Matt Diaz, Ronnie Mustelier, Melky Mesa, Zoilo Almonte, Thomas Neal, and like ten other guys I'm problem forgetting. Curtis Granderson's fractured forearm has complicated things, meaning two of those players will make the roster rather than just one. Ichiro doesn't have much of a platoon split — .283/.307/.342 against lefties the last two years — but the Yankees could use a better right field bat against southpaws. I think they consider him a full-time player, or at least a most-of-the-time player, meaning the backup outfielder — whoever that wins up being — will see most of his action in center and left.
Knocking on the Door
Brian Cashman recently told reporters the club has "future everyday right fielder scouting grades" on 23-year-old Almonte, who hit .278/.322/.488 (120 wRC+) with 21 homers and 15 steals in 450 plate appearances for Double-A Trenton last summer. Assuming he doesn't make the team out of Spring Training — I think it would be surprise given all of the other alternatives — he'll open the season as the regular right fielder with Triple-A Scranton. The Yankees added Almonte to the 40-man roster after the 2011 season to prevent him from being exposed to the Rule 5 Draft, so calling him up won't be much of a headache. Even it's just a cup of coffee in September, Zoilo will undoubtedly make his big league debut in 2013.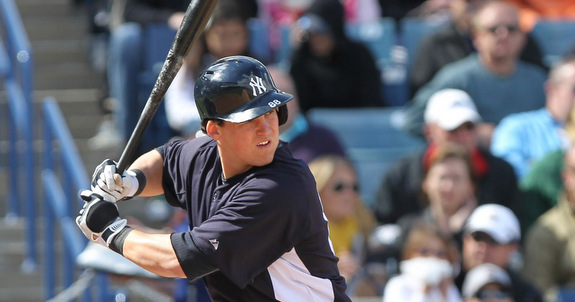 The Top Prospect
New York has one of the best right field prospects in baseball in 21-year-old Tyler Austin. I ranked him as their third best prospect overall in my preseason top 30 list due in large part to his monstrous offensive performance — Austin hit .322/.400/.559 with 17 homers and 23 steals (in 25 attempts) in 472 plate appearances across four levels in 2012 and .331/.406/.563 in 677 plate appearances since signing for just $130k as the team's 13th round pick in 2010. He's a right-handed hitter with a plan at the plate and the ability to drive the ball to all fields, though there are some questions about his long-term power potential because his swing is so level and doesn't generate much backspin. Either way, Austin is scheduled to start the season with Double-A Trenton and could easily force his way into the big league picture by the end of the season if he keeps hitting like he has.
The Deep Sleeper
The obvious answer here is 21-year-old Yeicok Calderon, who managed a .270/.354/.478 (147 wRC+) line with a league-leading eight homers in 181 plate appearances for the rookie level Gulf Coast League Yankees last summer. The Yankees signed him for $650k back in 2008, so he's a little old for a GCL prospect and was repeating the level last year. Regardless, Baseball America says "Calderon's bat is advanced, he controls the strike zone well and he has above-average power" from the left side. He's not much of a defender, so his bat is going to have to carry him. Calderon should continue to mash in the low minors and figures to open the season with Low-A Charleston.
* * *
I think it's pretty clear the Yankees have downgraded in right field this season, but we have to acknowledge that Ichiro isn't just a great player, he's a historically great player. Historically great players tend to age differently and frankly, if Ichiro went out and hit .310/.350/.440 this season, it wouldn't be the most surprisingly thing in the world. I don't expect it, but it's not impossible. The Yankees have nice right field depth in both Triple-A and Double-A, so they're in okay shape in 2013 and beyond.
Other Previews: Catchers, First Basemen, Second Basemen, Shortstops, Third Basemen, Left Fielders, Center Fielders