Archive for Videos/Photos/GIFs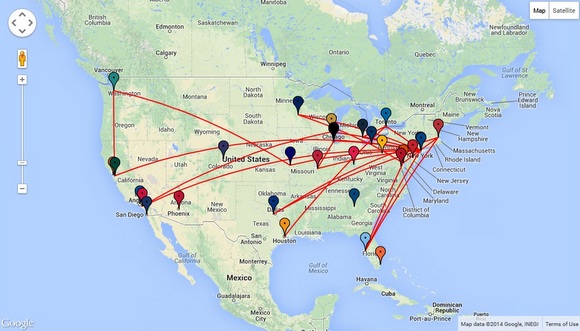 Daren Willman at Baseball Savant put together a neat collection of maps looking at how far each team will travel in 2014. The Yankees, who only have two straight shot coast-to-coast flights this season (one is followed by an off-day), will travel 28,001 miles this year, the tenth fewest in baseball. The Orioles (24,177) and Blue Jays (27,739) have easier travel, the Red Sox (32,919) and Rays (33,856) slightly tougher travel.
Which team will travel the most this season? Robinson Cano's isolated Mariners, of course. They're 700+ miles from the closest MLB club. Cano and his teammates will travel 51,540 (!) miles this year, almost double the Yankees. The conveniently located Cubs will only travel 22,969 miles this summer, the fewest in baseball. The average distance traveled will be 33,141 miles. Good to be on the East Coast, eh?