The landscape of the Yanks' farm system has changed pretty dramatically since last season, thanks to some crafty wheeling and dealing on Cash Money's part.  The Sheff and Unit deals landed the Yanks a total of 6 prospects (5 pitchers), all but one of whom jump right into my Top 30. It's not all good news though, as elbow troubles have set back the careers of 3 of the Yanks' most promising young arms: Christian Garcia, Mark Melancon, and most recently, JB Cox.
I had planned on giving a scouting report for each player, but Fabian of RLYW and EJ of Pending Pinstripes/Pinstripes Potentials have already done that this offseason, so I'm not going to regurgitate that info. Instead, I'm just going to tell you what I think about the kid. Even though he technically is a rookie and a prospect, I didn't include Kei Igawa because of his experience in Japan. In case you're wondering, I would have ranked him #9.Â
So here it is:
30. Juan Miranda, 1B (Fabian: NR, EJ: NR)
After landing a 4-yr, $2M major league deal from the Yanks (that means he had to be put on the 40-man roster immediately), Miranda promptly showed off his power, launching 2 HR in 5 spring ABs with the big club (the fact that he struck out in the other 3 ABs will be conveniently neglected). In a system with a limited number of true power prospects, Miranda's got a bit of a leg up because he's a bit more advanced. I think he's going to obliterate A-ball.
29. Steven White, RHP (Fabian: #18, EJ: #15)
Once upon a time White was considered the Yanks 4th best prospect according to BA. Now he's just another guy in danger of getting that "AAAA" tag. He's going to get squeezed into the bullpen admist that sick Triple-A rotation, and from there I can't see him being anything more than a decent middle man on a winning team.
28. TJ Beam, RHP (Fabian: NR, EJ: #14)

I'm not as high on Beam as some others. For a guy that big (listed at 6'7″, 215) he doesn't throw awfully hard (sits at 91-93) nor does he use a steep downhill plane all that much. He does have a nice little slider that he can throw for strikes at any time, but I don't think he's aggressive enough in the zone to succeed long term. I think it would wise for the Yanks to cash him in as a trade chip before he turns into a right-handed Alex Graman. To his credit, he didn't show any long lasting effects from the beat down he took in the bigs, so maybe he'll prove me wrong and establish himself as a capable set-up man. But don't hold your breath.
27. Bronson Kiheimahanaomauiakeo Sardinha, RF (Fabian: NR, EJ: #29)
Bronson's had himself a hell of a last 6 months. He stopped trying to hit for power and went back to his natural contact oriented approach midway through 2006, and he finally broke out. I'm impressed with his spring showing, and he has put himself in position to be this year's Melky Cabrera. It's a big year for him, he can be a 6 year minor league free agent next offseason.
26. Alan Horne, RHP (Fabian: NR, EJ: #30)

I'm diggin' Horne. He's got some control issues as his sub-2 K/BB ratio since his freshman year at college suggests, but he got himself together late last year and walked only 3 batters in his final 20 innings (0 walks in his last 12.1 IP). Stuck on the same 80 pitch/5 IP limit as Phil Hughes, his fastball picked up a little extra and now sits at 93-94 with a hard cutter he can almost use as an offspeed pitch. His stuff is good enough for the Yanks to keep him in the rotation until he proves he can't handle it, but I firmly believe that Horne has Scot Shields "come in and blow'em away for 2 innings" potential. If the Yanks stuck him in the 'pen now, he could be pitching in the Bronx by September.  Seriously.
25. George Kontos, RHP (Fabian: #17, EJ: #20)
A surprise if there ever was one, Kontos came out of Northwestern sporting a career 11-18 record, 5.30 ERA, 184-122 K-BB ratio, and an unfathomable 50 wild pitches in 216.2 IP. So of course he dominated the NY-Penn League in his pro debut, which came about thanks to a slight mechanical adjustment from pitching guru Nardi Contreras that tightened up his slider. I'm understandably weary of guys who have instant success after "slight mechanical adjustments" (I'm looking at you Bryce Cox), so I'm taking a wait-and-see approach with this kid.Â
24. Darrell Rasner, RHP (Fabian: #14, EJ: NR)
Everyone's favorite waiver claim is slowly going from potential option to old minor leaguer right before our eyes. Rasner turned 26 this past January, and he just doesn't strike out enough guys to be successful long term. He's still allergic to giving up the long ball (32 HR allowed in 547.2 IP), and he's one of those "surprise" guys to me, meaning if he contributes consistently, it'll be a surprise.
23. Steven Jackson, RHP
 (Fabian: NR, EJ: NR)
The least heralded player in the Randy Johnson trade may be the one I'm most excited about. The Clemson product has been a horse as a pro, throwing a combined 308.1 innings the last two seasons after serving as a swingman for most of his college career. His arm is very live from what I saw in Spring Training; his fastball sinks nice and hard, his changeup has good fade, and best of all, he pounds the zone and is aggressive with all his pitches. He's got a better pitcher's body than I ever thought he would, and his mechanics are pretty damn good. I'm excited to see what he's going to do next year, even if he'll undeservedly repeat Double-A (149.2 IP, 131 H, 125-45 K-BB, 2.65 ERA, 1.18 WHIP last year). He's got a very nice professional baseball career ahead of him.
22. Tim Norton, RHP (Fabian: #19, EJ: #22)
Owning some of the filthiest stuff in the system, Norton put up some sexy numbers last year between college and pro ball: 165.1 IP, 120 H, 179-38 K-BB ratio, 2.29 ERA, 0.97 WHIP. He's closing in on his 24th birthday, so he's no spring chicken. I'm looking for the Yanks to be aggressive with him and possibly bump him up to Double-A at midseason if his performance warrants it. He's another guy with that "come in and blow'em away for 2 innings" potential.
21. Jeff Karstens, RHP (Fabian: #15, EJ: #18)
Funny how he went from pitching like The Rocket to pitching like…well…Jeff Karstens the second time through the league in Spring Training, huh? He's an aggressive guy with a fearless mentality, which will help him be a successful big league pitcher somewhere. Eventually.
20. Jesus Montero, C (Fabian: NR, EJ: #9)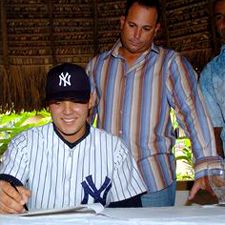 After landing a $2.2M deal from the Yanks, Montero's contract was reworked and the bonus was reduced to $1.6M, still with no official reason given. Unofficially, it turns out he's a little bit older than originally though (as in he's 16 yr, 10 months instead of 16 yrs, 1 month), but regardless, he has scary power potential. I'm waiting to see how he does in his U.S debut before I start passing judgement, but right now I get the feeling that in a couple years we'll be saying "don't get overly excited about that latest international signee, remember Jesus Montero?"
19. Austin Jackson, CF (Fabian: #13, EJ: #11)
Jackson is what he is right now: a great athlete learning to play baseball. He got a little more hype than he deserved after being drafted because of his then 8th round record signing bonus, and there's a good chance he'll need more than one season worth of ABs to conquer each level, at least in the lower minors. He's got Carl Crawford upside, and there's no reason to rush him.
18. Zach McAllister, RHPÂ (Fabian: #21, EJ: #21)

A nice polished arm when drafted, McAllister is apparently going through a bit of a metamorphosis as a pitcher, eschewing his usual 4-pitch finesse mix for a fastball-changeup Jason Schmidt-esque power package. I'm sure the Yanks have their reasons for putting McAllister up for this, I'm just trying to figure out what they are. Instead of starting the year fronting a dynamic Low-A Charleston rotation, he may be held back in Extended Spring Training before heading up to Short Season Staten Island, all because of this newfound pitching philosophy. He's still got a chance to be a very good pitcher, but I dunno, 4 good pitches seems better than 2 really good pitches to me. Ho hum.
17. Christian Garcia, RHP (Fabian: #20, EJ: NR)
Elbow surgery is a bitch. Had it not been for the injuries, Garcia would probably be number 2 on this list, he's that talented. I love the sledgehammer curve, I love the big pitcher's frame, but I don't love that he hasn't hit High-A ball yet, which he won't do until 2008 at the very earliest, when he's going to be almost 23 years old. It's still way to early to give up on an arm like this though.
16. Mark Melancon, RHP (Fabian: #12, EJ: NR)
Elbow surgery is a bitch, but it seemed inevitable in Melancon's case. He's got dirty stuff, including 3 strikeout pitches, but he's got to tone done the over-the-top'edness of his delivery if he wants to stick around. He's got the makeup to battle back and regain his previous dominant form, but elbow ligaments don't care how mentally tough you are. The Yanks need to get him down to a 3/4 slot – even if he has to junk his snapdragon curveball and stick with the split – otherwise he'll never have a chance to be Mo's heir.Â
15. JB Cox, RHP (Fabian: #9, EJ: #7)

Elbow surgery is a bitch, especially when it's the result of a bar fight that also broke your pitching hand. A grave lapse in judgement cost Cox big time in the eyes of Yankee officials (I'm guessing), and now he'll have to wait a year to begin rectifying his mistake. I've always loved JB and think he can close despite what the other pundits say, and I drool over the workhorse 2-inning closer potential. On one hand I love his cockiness, competitiveness and aggressiveness, but at the same time I have a hard time putting faith in guys who don't know to use their non-pitching hands in bar fights. It's a shame, he would have had a chance to make a big impact out of the pen at some point this year.
14. Jeff Marquez, RHP (Fabian: #6, EJ: #12)
Marquez put up a nice 2.87 GB/FB ratio admist his injuries last year, but he's got the potential for more. He's going to give up hits as a sinkerballer, and he does put up decent strikeout numbers (7.48 Kper9) to make up for it. Please don't mention CM Wang as a comparision, he's such a unique case. If he's healthy, he's got a chance to rocket up the ladder almost completely under the radar.
13. Brett Gardner, CF (Fabian: #16, EJ: #13)
He's got no power whatsoever – he's hit exactly 100 XBH since his freshman year of college, and that covers 1,456 ABs, almost half of which came with a metal bat in his hands. Yeah he's fast and yeah he draws alot of walks, but if he doesn't start spraying some balls into the gaps, major league pitchers will just pound him inside, and he'll be Eric Reed version 2.0. Fabian said it absolutely best though: If everything works out for Brett Gardner, he's the player that many think Scott Podsednik is.
12. Tyler Clippard, RHP (Fabian: #5,EJ: #4)
Do you know who Yusi Petit is? The former Mets prospect that was traded to Florida, and most recently to Arizona? He's the same kind of pitcher as Clippard: ace-type stats but average stuff. I'm not saying it's impossible, but the odds are stacked against Clippard having prolonged success in the bigs. He's going to get chances though, so he better be ready. I'll leave it at that (at least he's durable). Oh yeah, he's getting the Opening Day nod for Triple-A Scranton.
11. Marcos Vechionacci, 3B (Fabian: #11, EJ: #16)
He could be Scott Rolen. No really. His glove is by far his best tool right now, and he could play in the bigs today based on his D alone. His bat has started to come around as he's shown a new found ability to center the ball and drive it with authority. He's entering his 4th pro season despite being only 20 years old, so he's got plenty of time to develop into the next Rolen.
10. Kevin Whelan, RHP (Fabian: NR, EJ: #17)

A converted catcher, you can tell by watching him throw. His arm action resembles a catcher throwing to 2nd, and he doesn't use his legs enough to generate power for a hard thrower. I've heard rumors that he's blown out his elbow recently, and if you saw his last outing on Thursday, the flat 85 mph fastballs he was throwing isn't a good sign. With Melancon and Cox now on the shelf, the Yanks can ill afford to have another young hard throwing reliever miss time with injury. But man, look at those numbers: 118 IP, 67 H, 3 HR, 161 K since 2004, including college. Â
9. Eric Duncan, 1B/3B (Fabian: #10, EJ: #10)
It's easy to get down on Duncan, considering the injuries and hitting struggles and strikeout totals and all. But you've got look at it this way: he reached Triple-A in his third full season. That's amazing for a high school hitter. The Yanks pushed him aggressively because their farm system sucked not to long ago, and Duncan paid the price. He just needs some time to catch his breath and most importantly, stay healthy, in 2007. He needs to be added to the 40-man roster after the year, otherwise he's a goner in the Rule V draft. Â
8. Ross Ohlendorf, RHP (Fabian: NR, EJ: NR)

Perhaps the most well know prospect received in the RJ deal, Ohlendorf certainly made a name for himself this spring. He really broke out last year, honing his sinker and particularly his breaking ball. His troubles vs. lefties concerns me (.323 BAA vs lefties, .238 vs righties), but he's cut his walk rate nearly in half each of the last 2 years. He's a quality workhorse pitcher but not a frontline stud. I think he's the second coming of Jake Westbrook, and I'm sure everyone in the Yanks' front office would be ecstatic if that's what he turns into.
7. Alberto Gonzalez, SS (Fabian: NR, EJ: NR)
Gonzalez picked up the no-hit/all-glove moniker and can't seem to shake it, despite posting OPS's around .740 each of the last 2 years. He's the best defensive player in the organization, and that's saying something with Vechionacci in the system. Unless A-Rod opts out of if his deal, Gonzalez has nowhere to play for the Yanks in the forseeable future. I'm tantalized by his tools, but I think it'd be best for the Yanks to package him with Steven White or TJ Beam and try to bring in a young catcher.
6. Ian Kennedy, RHP (Fabian: #8, EJ: #8)

I like Kennedy, and all the harsh critism the Yanks took for taking him 21st overall after his poor junior year seems a little crazy to me. He knows how to pitch, and is going to embarass the free swinging sluggers of the AL with his pitchability. He gets lots and lots of strikeouts, and I expect him to put on a clinic in A-ball to start the year. If he gets his old stuff back (I'm looking at you, Nardi Contreras), he's going to look like a steal. The one thing I like about Kennedy is that baseball people seem to agree that it's not if he'll reach the bigs, it's how fast. I mean seriously, he'd be the Nats best pitcher if he was stuck in that train wreck.Â
5. Humberto Sanchez, RHP (Fabian: #3, EJ: #6)
I can't believe how much this guy gets hurt. And you know what the worst part is? None of the injuries are stubbed toes or jammed fingers, each injury has been detrimental to his development as a pitcher: knee surgery, forearm strain, sore elbow and an oblique strain. A guy that big should be able to eat innings like ice cream, but Sanchez just can't seem to stay healthy. Maybe the Yanks will get him on a better conditioning program, but I think having to settle on Sanchez being a reliever is a waste, even if he turns into mini-Zumaya. Anything less than 150 IP this year is unacceptable from a player development point of view.
4. Dellin Betances, RHP (Fabian: #7, EJ: #5)
I had quite the affection for Betances prior to last year's draft. I would have taken him in the first round, which shows why I don't work in baseball, because the Yanks brass waited it out and stole him in the 8th round. Mid-90s heat, hammer curve, decent change, extreme downhill plane, what's not to like? Low-A hitters haven't got a prayer this year, so it won't be until 2008 or even 2009 until we can really see how good this kid is. But let me play the role of the Yankee loving Peter Gammons for a second: Betances will help the Yanks in the second half this year. Now doesn't that sound ridiculous?
3. Joba Chamberlain, RHP (Fabian: #4, EJ: #3)

46-3. Forty-damn-six strikeouts against three walks in winter ball. That's not an accident, nor is it the product of umpires with very large kahunas strike zones. Joba pounds the zone with his heavy fastball, and his massive size adds to his intimidation factor. He's the Yanks answer to Papelbon, and if his weight becomes that big of an issue, don't be shocked to see him handle 9th inning duties once Mo realizes he's too good for mortal men and retires. I've said this before but I'll say it again: if anyone can do for the Yanks what John Lackey did for the Angels in 2002 – going from the low minors to winning game 7 of the Series in under 5 months – it's Joba.
2. Jose Tabata, RF (Fabian: #2, EJ: #2)

As a 17 year old in a league with an average age of 20-22, Tabata still hit .347-.448-.516-.964 with RISP, with almost half of his XBH coming in those situations. I hear he has a tendency to coast and slack off now and then, and I'm hopeful that playing with guys like Colin Curtis and Ian Kennedy in High-A Tampa will set him straight. He raked in both big league and minor league camp this spring, so I think it's safe to say his hand/thumb/wrist problem from last year is a thing of the past. Don't worry if his numbers aren't mindboggling this year, he's going to be playing in a pitcher friendly stadium in a very pitcher friendly league. I'm not ready to call him the next Manny, mostly because it's not fair to Manny (I believe he's one of the five best RH hitters in history), but the kids' got Manny-esque potential.
1. Phil Hughes, RHP (Fabian: #1, EJ: #1)

Hughes debunks the whole TINSTAAPP theory, because he's a polished pitcher who's dominated the minors at every stop, but he showed this spring that he's not ready for the big time just yet, so he's still very much a prospect.  You know the deal by now – he needs to work on his changeup to give him that third plus pitch, his control is great, his command is improving, he needs to work on holding runners (mostly because he hasn't allowed many baserunners the last couple of years), he fields his position well, etc. A hat tip to the guys at ESPN for digging up this little factoid: Hughes will be the first pitcher the Yanks have drafted in the first round to win a game for them since Bill Burbach in 1969. Let's hope that Hughes' career is a little more successful than Burbach's.
Three guys who just missed the cut were RHP Anthony Claggett (held hitters to .179-.254-.208 last year, holy shit), OF Tim Battle (ABperK by month in 2006: 2.35, 2.72, 3.97, 4.74, 5.18, not counting a handful of Sept. ABs), and RHP Matt DeSalvo (2006 was so bad to him that he can't help but be better in 2007).
So there you have it. Lemme know what you think.
Photo Credits: TJ Beam via Scout.com, Alan Horne via alligatorsports.org, Steven Jackson via Scout.com, Jesus Montero via ESPN, Zach McAllister via the Peoria Journal Star, JB Cox via ESPN, Kevin Whelan via tigerscentral.com, Ross Ohlendorf via milb.com, Ian Kennedy via clemensaward.com, Joba via yankees.com, Jose Tabata via SI, Phil Hughes via the Orange County Register. Phew.