This is the first in the guest column series. It is written by Dan Forti. You can check him out at Boulevard NYC, "an ongoing collaborative effort that strives to bring anyone with a creative vision together."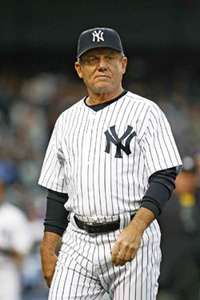 Having been a die-hard Yankees fan since 1996, not too much surprised me during the 2007 off-season. Posada, Rivera, and A-Rod all threatening to leave, but then re-sign? It didn't catch me off guard. I was even prepared for Joe Torre's surprise departure, feeling that it was time for an amicable end to the great Torre Dynasty. However, the one move that I am still surprised about, and upset over, is the loss of our former third base coach, Larry Bowa.
Before his stint with the Yankees, the average fan knew Bowa as the eccentric manager of the Philadelphia Phillies from 2001-04. While his teams had strong players such as Bobby Abreu, Pat Burrell, Jim Thome, and Jimmy Rollins, each year they underperformed. Bowa's fiery personality and in-your-face style of coaching wore down many of his players halfway through each season, and in 2004 Bowa was let go.
In comparison, Bowa's playing career was very successful: He won two Gold Gloves, led the NL in fielding percentages in six different seasons, and shared the left side of the infield with Hall of Famer Mike Schdmit. Every person who played with Bowa respected him for his passion for the game, as well as his dedication to his craft.
During the 2005 season, Bowa's knowledge for the game became apparent through his daily TV appearances on ESPN's Baseball Tonight. Bowa always provided objective and concise analysis, while adding a little bit of his own flare to each show. When Bowa jumped from BBTN to the Bronx, many wondered how his personality would fit in with Torre's calm regime.
I could never have imagined the impact that Bowa would have on this team. He was the best third base coach the Yankees ever had during the Torre Dynasty. Fans who are watching on television usually have a good idea of whether a runner at third should be sent home (various camera angles and instant scouting reports help). During Bowa's stay at third, there was not one play that I disagreed with his decision (compare that to Luis Sojo's miserable performance in the same capacity). He helped the Yankees get those extra runs, which we've always needed with our unreliable pitching.
Bowa's impact could not only be seen during each game, but also during the course of the entire season. Within days of being hired by the Yankees, Bowa reached out to the team's young second baseman, offering to be a mentor of sorts and to help him reach his untapped potential and abilities. Three weeks later, at 7:30 AM on a Tuesday morning, Bowa was hitting ground balls to Robinson Cano on an infield in the Tampa Complex. Each morning, for over an hour, Bowa would have one-on-one sessions with Cano, working on fielding groundballs, turning double plays, and mastering footwork. Bowa saw the player Cano could be, and recognized that a little of his 'tough love' could work wonders for the Dominican kid.
Two years later, Cano has evolved into an All-Star. He is one of the top hitting second basemen in the league, and is an underrated fielder (few others can turn a DP like Cano). Some critics believe that Cano's early-season slump is so bad because Bowa isn't there to keep the second baseman's head straight. Early in his career, Yankee fans have noticed that Cano is prone to mental lapses. But Bowa found a great young man in Cano, and I am confident that the two are constantly on the phone, discussing game situations and methods to endure the mental wear of a 162 game season.
Although Bobby Meachem seems to be an adequate replacement as third base coach, I'm confident that the Yankees miss Bowa's presence in the clubhouse. Joe Girardi has more intensity than Torre, but will always play second fiddle to Bowa and his ability to fire up a team. His coaching style may never be conducive to be a manager, but the Los Angeles Dodgers have one of the best coaches in baseball.
Photo by Al Lerner