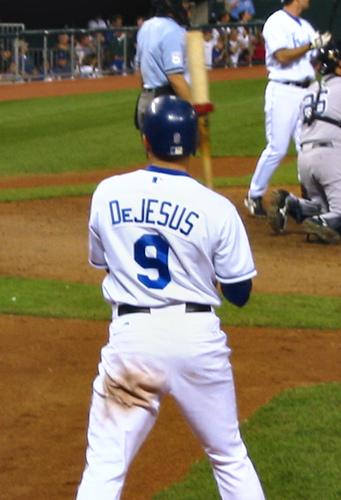 Yesterday the Royals swung a deal for Coco Crisp, landing the man who was once traded for Chuck Finley in exchange for ex-Yankees' prospect Ramon Ramirez. The deal gives the Boys in Royal Blue five players capable of playing the outfield everyday, meaning there's excess to use as trade fodder. We've already heard rumblings about the Cubs being interested in Moneyballer Mark Teahen, although there has been no further movement on that front.
Having maintained interest in Mike Cameron, it doesn't appear that the Yanks' braintrust is content with Melky Cabrera and Brett Gardner duking it out for the centerfield gig in Spring Training. That's where David DeJesus comes in. The Brooklynite and Rutgers alum is one of KC's most marketable pieces, and luckily for Dayton Moore is centerfield market is bone dry.
DeJesus offers plenty at the plate, consistently producing on-base percentages in the .350-.370 range despite minimal lineup protection. He also has a nice amount of pop, slugging at least .445 in three of his four full seasons. His line drive rate is nearly 25%, and last year he saw 3.86 pitches per plate appearances, good for tenth among AL outfielders.
If you're down with clutchiness you'll be down with DeJesus. The dude hit .419-.484-.562 with RISP this year, while his 2.63 WPA was 11th in league. His Clutch tied for third in the league at 1.14. Weak hacks at balls off the plate to strike out with runners on base is enough to annoy anyone, but DeJesus has incredible bat control that allows him to make contact on 89.5% of the swings he takes (good for 6th in the league), keeping his strikeouts down.
DeJesus' defensive reputation took a bit of a hit last year when he slid over to leftfield in deference of Joey Gathright, but rumors of his defensive demise have been greatly exaggerated. Check it out:
Revised Zone Rating
Innings per Out of Zone play
2007
2008
2007
2008
Melky Cabrera
.910
.938
32.5
16.5
Coco Crisp
.909
.927
21.0
20.6
David DeJesus
.910
.938
29.4
9.0
If you're unfamiliar with RZR and OOZ, they measure the percentage of balls hit into a player's zone that are converted into outs, and the number of outs made on balls out the player's of the zone, respectively. All the stats in the table are for the CF position only, and because Melky & DeJesus bounced around outfield spots, I presented OOZ in terms of innings played at the position.
Essentially what this data tells us is that DeJesus runs down balls hit into zone just as well as Melky & Coco, and that he also makes a fair number of tough plays on balls out of his zone. He's never going to be confused for Carlos Beltran out there, but he's fully capable of playing the position on an every day basis. Of course the Yanks always have the option of sliding him over to left late in game, allowing Johnny Damon to get a little break while Melky/Gardner shore up the outfield defense.
So here comes the part none of us can answer, what would it take to get him? He comes dirt cheap, as he's owed just $3.6M in 2009 and $4.7M in 2010 before a $6M club option (or $0.5M buyout) comes into play. Picking up DeJesus would allow the Yanks to remain patient with Austin Jackson, and also gives them some depth for when Xavier Nady, Johnny Damon and Hideki Matsui hit the free agent market next year.
It's not a buy low situation like Nick Swisher, but it's a chance at a guy who could be available because of a numbers crunch. If the price is right, say a young pitcher like Ian Kennedy plus a reliever to replace Ramirez/Leo Nunez, then you almost have to pull the trigger. He brings much needed youth and athleticism, and is a perfect two year stopgap for Jackson and replacement leadoff hitter for Damon if he leaves after '09.
Plus, just think of how much fun Michael Kay will have mentioning that DeJesus is a local kid living out his dream every time he comes to bat.