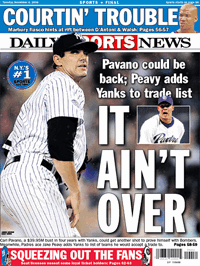 It's always amusing when the back page of the Daily News doesn't match up with the article it's over-hyping. Today's tabloid exploitation comes to us courtesy of Carl Pavano.
According to Mark Feinsand, some source feels that Brian Cashman may be interested in Carl Pavano. To the back page editors, this is an opportunity to splash Pavano all over the back pages with some unknown intent. But had these editors actually bothered to read the article, they would have come across a few key passages from Feinsand:
"I'm not ruling anything out," Cashman said. "We have needs, so we'll have to go to the marketplace, be it through free agency or through trades, to fill those needs."

…

Bringing back Pavano certainly won't be the big move the Yankees are looking to make this winter, but rather one that could help fill in the back end of the rotation.
That's really what this is all about. Hardly different from the Sergio Mitre deal, the Yankees would bring back Pavano for one year at a very low base price with some incentives. If it doesn't work out early, they can cut their losses. If it looks like Pavano might be half-useful, the Yanks could either keep him or trade him to a team in need of pitching. There are only about 29 other clubs that fit that bill.
For his part, Pavano is supposedly interested in returning to the Yanks in an effort to live down his bad reputation. "At the end of the day, his first choice would be to come back to New York," Tom O'Connell, Pavano's agent, said to Feinsand. "He feels he has some unfinished business."
As long as the Yanks aren't going to consider Pavano one of their first five starters, I certainly wouldn't be opposed to tossing another arm in the mix come March. One thing is for sure; it would give the Daily News something to overhype every five days and these people something to ignorantly rail against too.