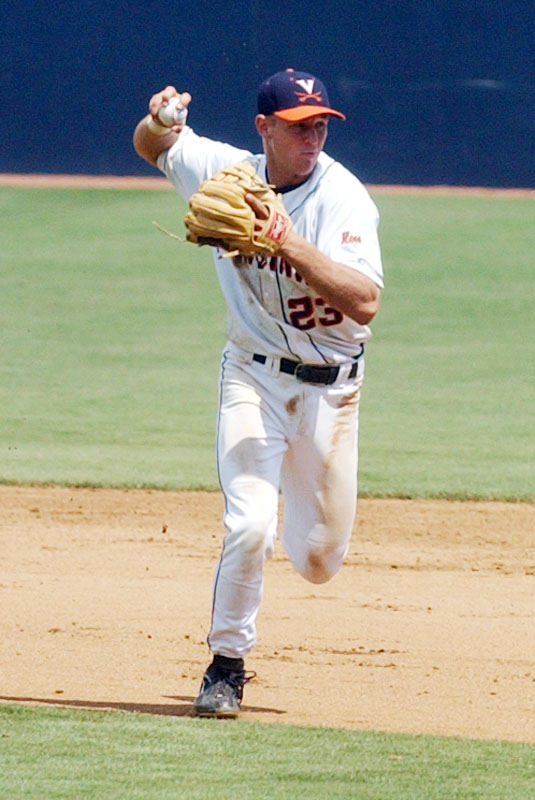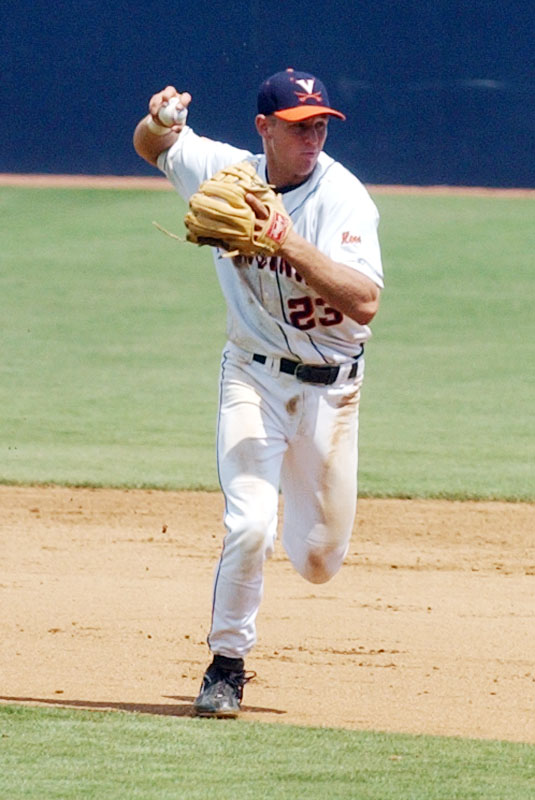 David Adams |   2B
Background
Born and raised in the Margate, FL (just outside of Ft. Lauderdale) Adams lettered for three years in basketball and four years in baseball at Grandview Prep, where his father Dale was the baseball coach. He led the county with a .548 batting avg as a sophomore, and was then named team captain and MVP as a senior. He was named third team All-American by the Baseball Coaches Association as a senior, and was listed as a top 30 high school prospect for the 2005 draft by Baseball America, Team One Baseball, and Perfect Game. By all accounts, Adams is the best baseball player in school history.
Adams was also an excellent student, serving as the Student Goverment vice president, winning the school's Citizenship Award all four years, and being a member of National Honor Society, Student Senate, Beta Club and SADD. He was named a Scholar Athlete all four years of high school. He earned the High School Coaches Award as a sophomore and junior, and also participated in the Perfect Game National Showcase and East Coast Professional Showcase as a junior. A potential second or third round pick out of high school, Adams dropped to the Tigers in the 21st round because of a strong commitment to Virgina. He did not sign, and headed north to Charlottesville.
Expected to take over third base after the Nationals made Ryan Zimmerman the 4th overall pick in the 2005 Draft, head coach Brian O'Connor instead played Adams at second base his freshman year. Starting all 62 games, Adams led the team in runs scored (57) and multi-hit games (25), while finishing second in homers (5) and total bases (105), and third in hits (76) and RBI (49). He hit his first collegiate homerun in the second at-bat of his career, and led the team with 38 hits in conference play. He was named second team Freshman All-American by Baseball America, and first team by Louisville Slugger.
Adams took a major step forward as a sophomore, finishing second on the team in batting avg (.372), OBP (.454), SLG (.522) and OPS (.976). Starting 61 of 62 games, he led the Cavaliers with 84 hits (sixth most in a school history) and 30 multi-hit games. Virginia finished the year ranked 16th in the nation, but they were upset at home by eventual College World Series champs Oregon State in the regionals. Adams did his part, leading the team with a .429 batting avg in the postseason. He was named second team All-ACC and first team All-State by VaSID.
Playing for Falmouth in the Cape Cod League after his sophomore year, Adams led the pitching heavy circuit in doubles (14), while finishing second in hits (51) and triples (3). Baseball America ranked him the 27th best prospect in the league, the fourth middle infielder on the list behind three eventual first round picks.
Named co-captain and third team preseason All-American by Louisville Slugger before his junior year, Adams had a disappointing year and may have succumbed to draftitis. His slash stats dropped roughly a hundred points across the board, although he did post career highs in homers (6), stolen bases (16) and walks (41). Virginia was again ousted in the regionals, and Adams' Cavalier career came to a disappointing close.
Rated the top prospect in the state and the 102nd overall prospect for the 2008 Draft by Baseball America, the Yankees selected Adams with their third round pick, number 106 overall. He signed quickly for a straight slot bonus of $333,000, and was assigned to Short Season Staten Island.
Pro Debut
The recent history of Baby Bombers' second basemen is pretty good, with Damon Sublett being one of the best hitters in the league last year after Wilmer Pino posted a respectable .773 OPS in 2006. Adams wasn't able to continue that trend, although he did have a solid season hitting .257-.350-.393, posting the third highest OPS amongst second basemen in the league. He hit .320-.386-.480 from July 26th through August 12th, raising his batting avg from .222 to .258.
Scouting Report
Adams does several things well but nothing great. He uses a toe tap as a timing mechanism during his swing, which is balanced but not exactly pretty. It works for him, and allows him to make solid contract and spray balls was gap-to-gap. Adams has an advanced approach at the plate and is willing to take a walk if the pitcher doesn't give him something to hit.
Once thought to be destined for third base, Adams improved his footwork and defensive skills enough that he'll be able to stay in the middle infield as a pro. His arm strength and accuracy are both average, good enough to allow him to make difficult throws behind the second base bag. He's an okay runner, probably less than what you'd like out of a middle infielder.
A very instinctual player, Adams' whole is greater than the sum of the parts. He's a gamer and a natural leader on the field. He has a good track record with wood bats dating back to his days on the Cape and in high school showcases. Adams could have been considered a fringe first round talent if he was able to repeat his sophomore success at Virginia during his junior year.
You can see his draft video here.
2009 Outlook
An advanced hitter with experience at a major collegiate program, Adams should provide a veteran presence to a talented High-A Tampa team. Justin Snyder will likely shift over to short to accommodate Adams, who is a better long term option at the position.
My Take
I tend to frown upon drafting low upside, high probability college players, so I'm not thrilled with this pick. That said, Adams is a better player and prospect than he gets credit for. He provides solid depth and should rise through the system quickly. He may not hit enough to play every day in the big leagues, but if he develops into a solid bench player, then he would have provided a solid return for the Yanks' investment.