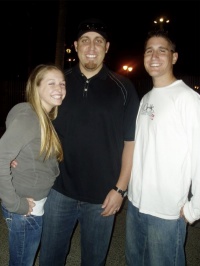 As Mike and I discussed in the podcast, and as Ben stated earlier, we don't think the Yankees should trade Xavier Nady or Nick Swisher. Yes, it would appear they have more starters than spots, but plenty can happen between now and Opening Day (and beyond). Unless they use that surplus to fill another need, or are blown away by the level of prospects offered, the Yanks would do best to stand pat and see which team has the greatest need come March. For all we know that team could end up being the Yankees themselves.
Still, it's fun to play mock-GM. As fans we do it every day. Like all faux-trade proposals, take this one with a grain of salt. It's just a suggestion, and clearly the executives on either or both sides might not think it optimal for their respective club. That doesn't preclude us from speculating.
One of the teams reportedly interested in Nady is the Cincinnati Reds. This makes sense. Over at Redleg Nation, a superb Reds blog, Chad notes that he would have loved Pat Burrell at two years and $16 million, or even Milton Bradley at three years and $30 million. Instead, they're "going to be stuck with an outfield of Willy Taveras, Jerry Hairston, Jr., and Jay Bruce." They also have options in Norris Hopper and Chris Dickerson, but neither looks like a high upside player. Dickerson had a very good 2008, his age 26 season, OPSing .863 at AAA before destroying the majors in 201 at bats (.304/.413/.608). In other words, they could use a left fielder.
Aaron Harang is coming off his worst season since 2004. He pitched to a 4.78 ERA and tossed far fewer innings, 184.1, than he had for the previous three years (211.2, 234.1, 231.2). However, he looks like a good, if not great candidate for a bounceback season. Not just because he had a stellar three years from 2005 through 2007, but because of the way his 2008 unfolded.
On May 25, Dusty Baker (who else?) called on Harang in relief during a marathon game with the Padres. He entered the game in the 13th and pitched four innings, allowing two hits, no runs, one walk, and issuing nine strikeouts. Two problems with this scenario. First, it came just three days after Harang got lit up by the Padres (5.1 IP, 5 ER, 2 HR). Of course, pitching four innings on three days' rest isn't that huge a deal. The second problem is that he didn't have time to prep like a starter would. While the effects didn't show up that game, they sure did immediately afterward.
His next outing was a four-inning, six-run debacle at home against Pittsburgh. Two starts later, in Florida, he got ripped for eight runs, seven earned, in Florida. In the 10 outings after the relief appearance, Harang tossed 51.2 innings to a 9.06 ERA, with a 1.90 WHIP. That certainly sullied his season. Before that relief sting, he pitched 74.2 innings of 3.50 ERA ball. In his last eight starts of the season, he pitched 54 innings of 2.83 ball. This isn't to necessarily say that the relief stint caused Harang's mid-season drop-off, but it's hard to ignore the circumstances.
Surely the Reds know this, which might make them disinclined to deal the righty when his value is perceived a bit lower than in years past. They also probably won't want to lose an innings-eating starter, especially considering the rest of their rotation aside from Edinson Volquez. Johnny Cueto could be good, but he's no sure thing, not at this age. Still, Harang is owed $11 million this year, a $4.25 million raise over last year, plus $12.5 million in 2010 with a $12.75 million team option for 2011 (which becomes a mutual option if traded). Do the Reds want to keep that kind of payroll committed to Harang in his 30s (2009 will be his age-31 season)?
Here's how a trade would help the Reds. They'd gain the difference between Harang's and Nady's contracts, which will be about $5 million, assuming Nady makes $6 million. If they can use that money to help them in another place, then they might consider it. Nady's salary would come off the books after 2009. Although there's not much to choose from with the 2010 free agent class, the Reds could use that money to pay Volquez, who could be a Super Two.
If the two sides are, in fact, remotely discussing a Nady swap, I'd assume Walt Jocketty is pushing Arroyo on the Yanks. This, clearly, would be a terrible move. Arroyo is still owed $22.5 million for 2009 and 2010 (counting the $2 million buyout of his 2011 option). No way do the Yanks want any part of this guy.
If Harang is in fact on the table, and for all we know he might be off limits, the Yanks might have to kick something else the Reds way. That, of course, could make or break the deal. Or this deal might not even be under consideration. Who knows. It's fun to speculate. If we're going to give up Nady, I'd want it to be for a player like Harang. Well, I'd ideally like it to be for a player like, say, Tim Lincecum, but I'm trying to display a modicum of realistic thought.
Pictured: Harang, his cousin, and my little brother.