When I have friends over and they peak inside my room, they're always surprised by the number of Yankee hats I have. As you can see above — or here in a larger size — I have a hat for every occasion.
Since 1996, when MLB started the whole patch/marketing push, I've snapped up just about every non-Opening Day or All Star Game Yankee hat. I have World Series patches from 1996, 1998, 1999, 2000, 2001 and 2003. I have the 100th season hat from 2003, the flag patch hat from 2001, and the All Star Game patch from last season.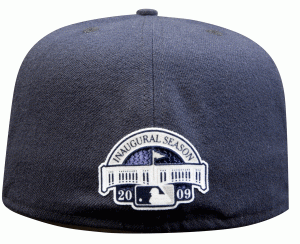 So when the Yankees announced new stadium sleeve patch, the collector in me got a bit excited. When I saw the new patch — at left, click to enlarge — I grew even more intrigued.
These new hats, you see, are something new from the marketing guys at Major League Baseball. Instead of sticking the patch on the left side of the hat, the patch is incorporated into the MLB logo and is on the back of the hat. The new commemorative logo is subtle and classy. It incorporates the Yankee Stadium frieze, the year and the MLB silhouetted batter. Plus, this guy looks pretty good in it. Who am I to complain?
The new hats go on sale on March 1. Admittedly, I'm a sucker for new hats, and I'll have mine by Opening Day. Will you?