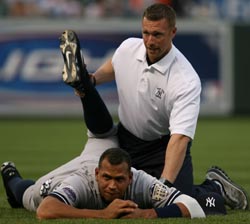 Just yesterday it looked like Alex Rodriguez would be going the rest and rehab route for his ailing hip, avoiding, at least temporarily, the worst case scenario of four-plus months on the shelf with surgery. But tonight, all of a sudden things don't sound so promising. From PeteAbe:
Alex underwent more tests today and supposedly planned to throw and even hit in a cage out in Colorado. Then he will take a day or two to decide what to do, in consultation with the Yankees.

The sense I get from talking to people both in Tampa and elsewhere is that Alex will be having the surgery and it would be as soon as Monday. The Yankees are fearful of his trying to play and then having to come out of the lineup.
The most damning quote came from Joe Girardi, who, when asked if surgery was a possibility, said "That's a determination Alex and the doctors have to make. The organization will continue to discuss it with both parties. But yeah, there is a possibility."It certainly seems that surgery is a much greater possibility today than it was yesterday.
Basically, the advantage of having surgery now is that A-Rod gets a month head start on rehab, which could possibly have him back on the field in June or July, and that the issue is addressed right away. I'm no doctor, but it would seem that playing through the injury could lead to even more damage, something no one wants a part of, obviously. The team will have a month to acquire a stopgap, whether it be a trade or free agent signing, and basically not have to worry if their best player could go down for the season at any moment.
During the chat earlier today I said I was in favor of A-Rod having the surgery now, and I still am. I just think it's best that he gets this entire thing taken care of and behind him as soon as possible. Based on what we heard tonight, it looks like Alex may be leaning that way as well.
Update (11:06pm): This is what I get for writing a post two hours in advance. Brian Cashman said no surgery has been scheduled yet, and as of right now all parties involved are trying to develop a course of action.
Photo Credit: Mitch Stringer/CSM