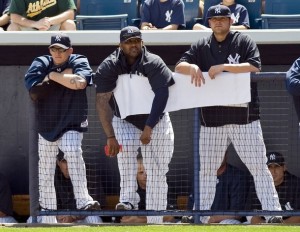 We usually try to avoid stories from the tabloids, but occasionally one comes along that's worth directing your attention to. Joel Sherman of The New York Post penned one such piece, talking about the bond that has developed between the members of the Yanks' starting rotation, and what newcomers CC Sabathia and AJ Burnett have done to build up some of that all important team chemistry. Allow me to quote:
On a suggestion from A.J. Burnett before a Feb. 28 game at Steinbrenner Field, the members of the Yankees' projected rotation went to watch Joba Chamberlain warm up. And a habit was born.

"We have Five Musketeers," manager Joe Girardi said.

One for all, all for one.

The fraternity in the Yankees clubhouse has been noticeably stronger this spring, and no place has that been more overt than among this re-shuffled rotation. The five starters have committed to each other in a variety of ways, including going to watch each other's pre-game warm-ups.

Most days all four non-starters will attend the bullpen session of that day's starter. Only Chamberlain and CC Sabathia made it yesterday (Chien-Ming Wang continues to battle a cold and Burnett had a family issue), but this has become the in thing and about seven young pitchers, including David Robertson and Phil Coke, stood on the side to offer support. At the conclusion of the warm-up, Pettitte was surrounded by fellow pitchers giving him fist bumps. This is now routine for that day's starter: fist-bumping unity.

"It means a lot to get those knuckles," Sabathia said.

[snip]

"You have to have each other's back," Pettitte said. "This is a tough place to play, but if you know everyone is in your corner pulling for you and wants you to be successful, that does help you win. We have to have (this unity) and we are going to have it."

[snip]

"As a starting pitcher you can leave," Chamberlain said, "and to look over and see that they have not left that feeling is indescribable."
I'm firmly in the "chemistry is overrated" camp, but it's great to see the staff coming together like this. Andy Pettitte is a guy that doesn't have to prove anything to anyone in this game, but his quote shows just how much each guy appreciates knowing that every one else has their backs. Sherman also mentions that Sabathia bought a slew of courtside tickets for Orlando Magic games and has been taking different teammates to each game, and that Burnett has taken his teammates out on his boat and is organizing an all-out bass fishing tournament. Good stuff.
What do you guys think, how important is chemistry? Talk about that, or whatever else you want here. The only local team in action tonight is the Nets, who are out in Denver. Anything goes, just be nice.
Oh, and if you haven't gotten a chance to vote in this week's Fan Confidence Poll, make sure you don't miss out.
Photo Credit: Steve Nesius, Reuters Pictures