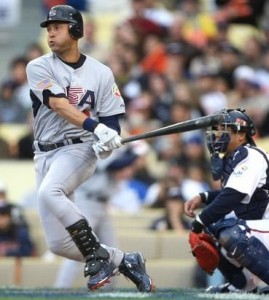 Absent from the team since March 2nd, Derek Jeter returns to the Yanks' lineup tonight following Team USA's unceremonious exit from the World Baseball Classic. Jeter got just 33 plate appearances (.276-.382-.345) and played just six games in the field (couting the exhibition against the Yanks) during his 22-day hiatus, so he has plenty of work to get in before the team heads north.
Toeing the rubber tonight will be AJ Burnett, who struggled for the first time this spring in his last outing against his former team. He'll be taking on the big bad Red Sox, against whom he's 5-0 with a 2.56 ERA and 1.15 WHIP in 56.1 IP covering eight starts (just over seven innings per start) lifetime. For the first time this spring, Joe Girardi is sending what projects to be the Opening Day lineup out there:
Damon, LF
Jeter, SS
Teixeira, 1B
Matsui, DH
Posada, C
Cano, 2B
Nady, RF
Ransom, 3B
Gardner, CF
Scheduled Pitchers: AJ Burnett, Mariano Rivera, Damaso Marte, Edwar Ramirez, David Robertson
The game is on both YES and MLB Network, with first pitch set for 7:15pm. Enjoy.
Note: John Brattain of The Hardball Times and Baseball Think Factory passed away today due to complications that arose during a heart procedure. He was only 43. We've written about Brattain's work as recently as six days ago, and he was kind enough to stop by and diffuse an argument in the comments with his usual witty humor. Brattain is survived by his wife and two teenage daughters. Our deepest condolences go out to John's family and friends.
Photo Credit: Getty Images