Riding the heels of a four game losing streak that included some downright embarrassing losses, Phil Hughes delivered everything the Yanks needed from him last night and then some. He twirled six shutout innings against the fourth best offense in the league, allowing just two hits and two walks against six strikeouts. Even though Hughes returned to the team last September with two strong starts, the horrors of last April are still firmly engrained in everyone's head, and there was a still a sense of skepticism when he took to the mound last night. He made good on his promise for at least one night, earning himself a second turn in the rotation.
Instead of just taking a look at Hughes' performance last night, I wanted to compare his stuff last night to his stuff last April. We'll start off with the good ol' number one, the fastball. Remember to click each graph for a larger, easy to read view. There's lots of colorful graphs and stuff in this post, so I'm going to hide it behind the jump to keep the server gods happy. Enjoy.
Fastball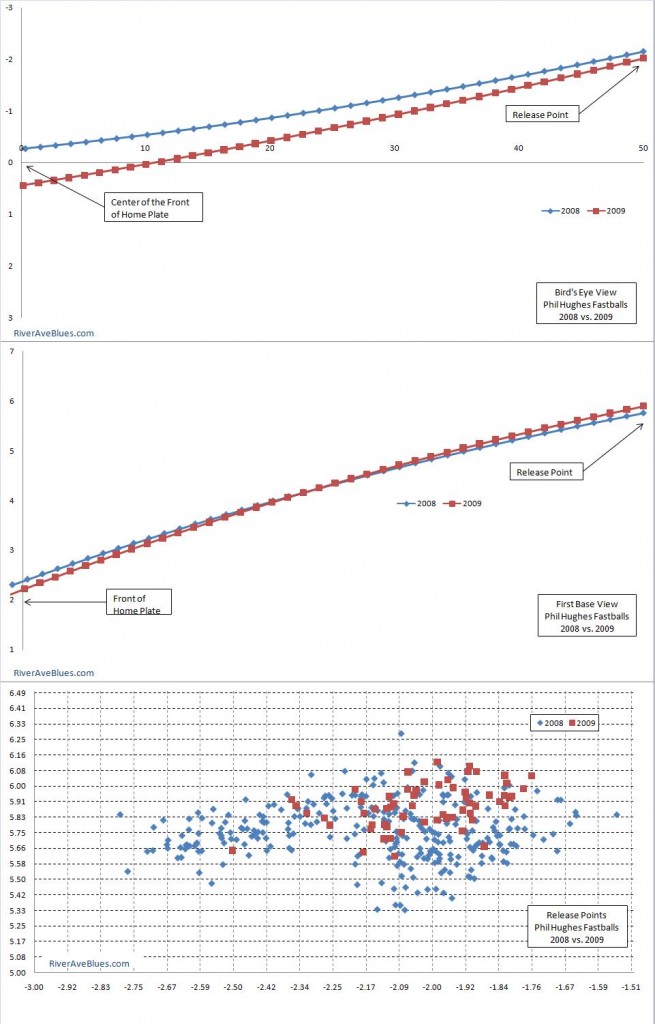 There wasn't too much of a difference between Hughes' fastball last year and his fastball last night. I'm guessing that with a larger sample, the pitch trajectories in the bird's eye view would overlap. They featured similar downward movement, and the release points were largely the same. His average fastball velocity last April was 91.18 mph, last night it was 91.33. His heater is basically unchanged.
Curveball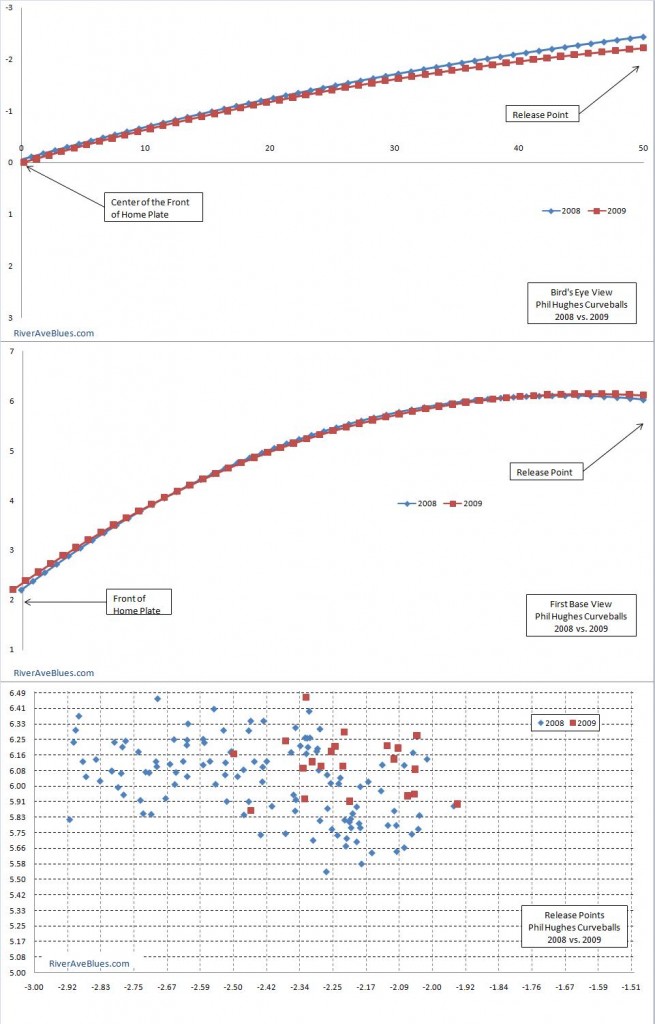 Same thing as the fastball, really. Identical trajectories and release points. It is interesting that he releases his curve from a spot typically four inches higher than his heater, but a batter wouldn't be able to pick that up from fifty-plus feet away.
Back in Spring Training we learned that Hughes had been working on an adjustment with his curve, specifically throwing it with the same arm speed as his fastball to give it a sharper bite instead of a big loop. Well, his average curveball velocity last year was 72.16 mph. Last night it was 76.04 mph. That's a pretty significant difference.
He did struggle to command the pitch in the early going, with a handful sailing away from him, but once he got it under control the thing was filthy. It definitely seemed like more of a legit put away pitch yesterday, whereas last year it screamed "hit me!!!" at times. The pitch is is still a work in progress, but the results last night were every encouraging.
Slider/Cutter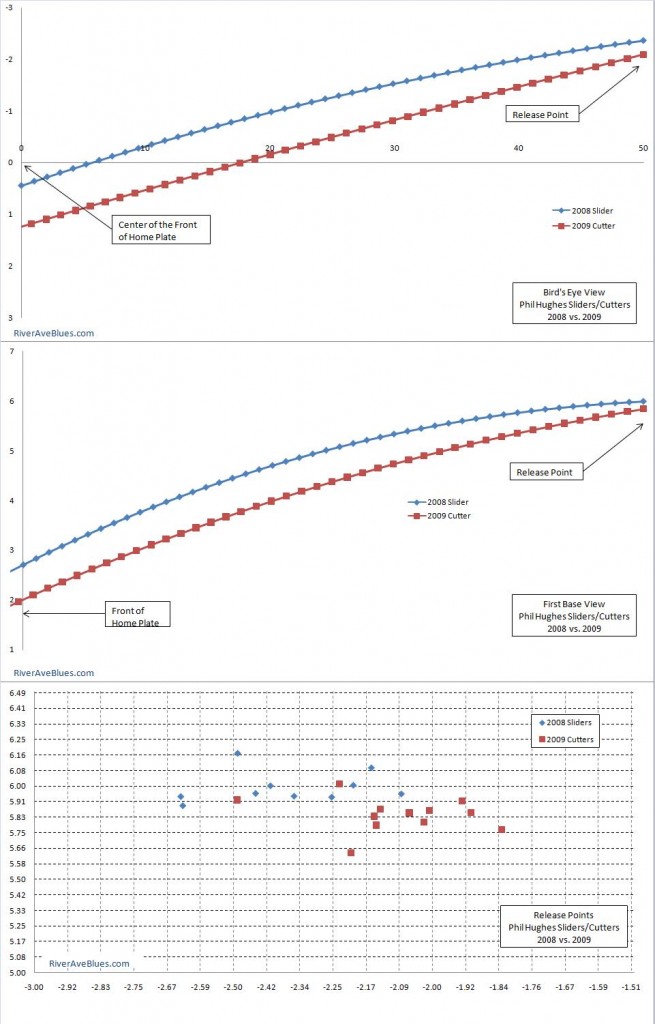 Now here's where it gets interesting. Hughes didn't pick up the cutter until he returned to the minors last year, so we can't compare it to it's April '08 counterpart because there isn't one. However, Hughes did throw the occasional slider last year and that pitch has all been scrapped from his repertoire now. The slider was his best pitch coming out of high school, so it's kind of surprising that the thing is basically a non-option at this point. The Yanks prefer the curveball, but it still seems odd that they'd just take away an effective pitch like that. Whatever.
Anywho, there are several noticeable differences between this year's cutter and last year's changeup. The most obvious thing is how much he uses it. Check out the pitch selection:

(Note: Pitch f/x classified Hughes' cutters as sliders in last night's outing, but we know it wasn't a slider just from watching the game. The pitch had noticably shorter break and much more velocity behind it (87.48 mph on the cutter last night, 77.59 mph on the slider last year). It was a cutter, and I'm 100% confident in that)
Hughes threw ten sliders all of last April. Last night alone he threw twelve cutters. Essentially, Hughes added a third pitch to his arsenal, one that he's confident in it and threw to both lefties and righties last night and in just about any count. That's a pretty major development, and significant reason behind his resurgance following the rib injury last year.
There should be no more "he needs a third pitch," "well he's working on changeup," "but I thought he had a good one already" talk. Phil Hughes has a legitimate third pitch in his pitching arsenal right now, and it's a cutter. Case closed.
Changeup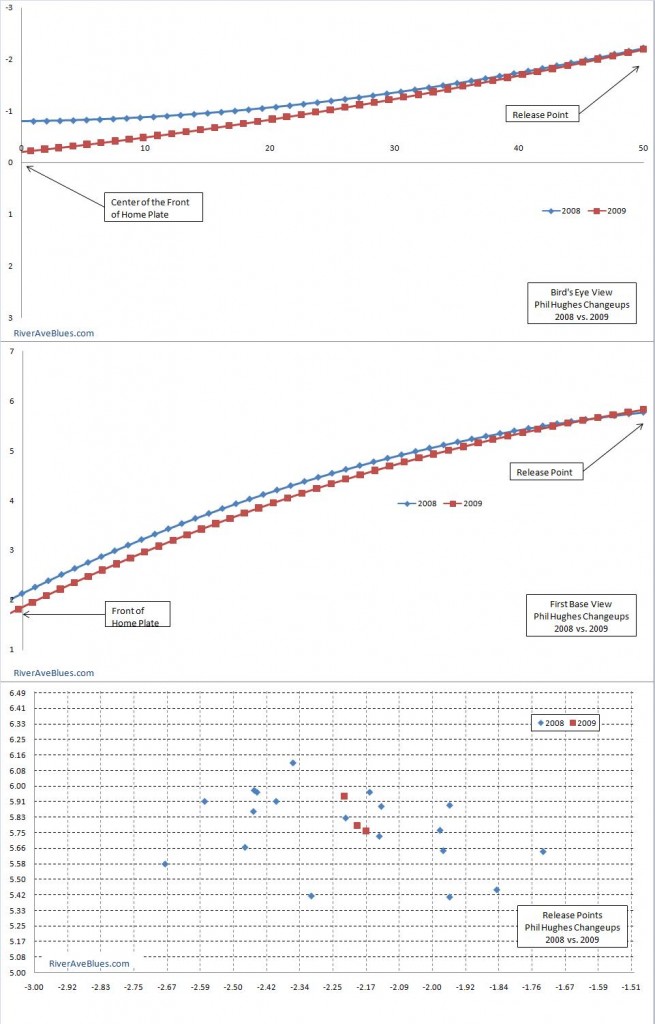 Not much to see, it looks exactly the same. Hughes threw three changeups last night, and just nineteen all of last April. RAB readers, Phil Hughes' fourth pitch. Phil Hughes' fourth pitch, RAB readers.
One last thing I want to highlight is the movement Hughes' pitches featured last night, specifically his fastball and cutter:
Just eyeballing it off the graph, it looks like the cutter has about six inches of horizontal break (in on lefties) more than his fastball, which is what you'd expect. Pure fastballs tend to the run back to armside. That cut in will help Hughes against lefties, and that's a good thing because they've tattooed him in his young Major League career (.281-.379-.480 vs LHB, .232-.285-.330 vs. RHB). Diving into the world of extremely small sample sizes, the three lefty batters in Detroit's lineup last night (Curtis Granderson, switch-hitting Carlos Guillen, and Josh Anderson) went a combined 1 for 6 (Guillen single) with one walk and one strikeout (both Granderson) off Hughes.
All this Pitch f/x stuff is cool and fun to look at, but it can't quantify the biggest difference between the 2008 version of Phil Hughes and the 2008 version of Phil Hughes: confidence. Last year Hughes (and Ian Kennedy as well) nibbled at the corners too much and pitched scared; they were afraid of contact and didn't challenge hitters, digging themselves into deeper and deeper holes before the wheels finally came off. Last night was different for Hughes. He went after hitters and pitched with a plan. A prime example of that was the fourth inning.
Magglio Ordonez fouled out to first baseman Mark Teixeira on a 1-0 count to lead off the inning. Hughes then hit Miggy Cabrera with an 0-1 pitch before allowing a a line drive single to left off the bat of Carlos Guillen. A fielder's choice put runners at first and third with two outs, with the molten hot Brandon Inge (1.129 OPS coming into the game) coming up to the dish. Last year, this was a meltdown situation that in all likelyhood would have resulted in multiple runs because Hughes wasn't challenging batters. Instead, Hughes issued the old unintentional intentional free pass to Inge so he could go after the noodle bat of Josh Anderson, who he got to ground out to second on a 1-0 cutter. What a difference a year – and a third pitch – makes.
About the only negative you can bring up about Hughes' start last night was that he was inefficient, throwing 99 pitches in six innings, or 16.5 pitches per frame. That's just something he has to continue to work on, and improving his feel for his newer, harder curveball should help cut down on some extraneous pitches. Tim Lincecum threw 16.2 pitches per inning last year in the sissy league, so it's not like Hughes is horribly inefficient. You'd just like to see him cut a pitch or two off that pace.
Obviously it was just one start, but it's hard not to be encouraged by what you saw out of Hughes last night. He showed off the most consistent third pitch he's ever had, and he pitched with an air of confidence he didn't show last year. I'm excited by what I saw, and you should be too.