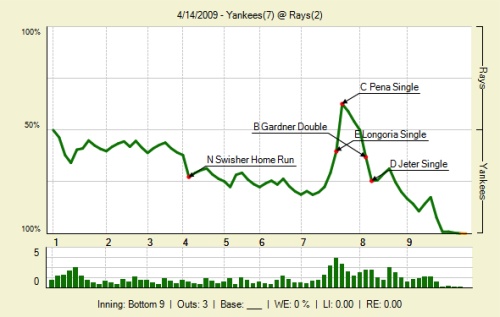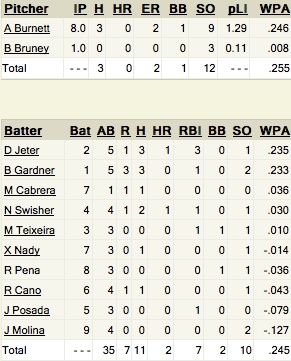 Yankees 7, Rays 2
What is this nerdy graph?
Just like in his first start, A.J. Burnett was just what the Yankees needed last night. After a night when they were thumped 15-5, he went eight innings, taking a no-hitter into the seventh. It was not to be, but Burnett still came away with a win as the Yanks rallied in the late innings to beat the Rays 7-2.
Not only did the Yanks need A.J. to keep the score down, but they needed him to do it efficiently. With heavy bullpen usage over the past two days and no off-day for another eight, the relievers could have used a rest; A.J.'s eight innings gave them just that. Jeter's late homer bought Mo another day off, and Brian Bruney closed out the game by striking out the side in order.
Burnett With Butterfly Wings (keeper?) was on from the first batter. Only a few hitters made even decent contact through the first six, and a few guys (ahem, Dioner Navarro) looked downright silly. His curveball was absolutely filthy, made even more so because A.J. used it both in the strike zone and in the dirt. In short, the Yanks $82.5 million man earned his keep tonight.
Gritt Girtner starred on the offensive side with two doubles and three runs scored. It did help that Carl Crawford and B.J. Upton had him played like a Little Leaguer, but a double's a double. Swisher continued his hot-hitting ways with two more hits, including a homer. The Captain, who as we mentioned was 1 for his last 20, went 3 for 5 including a game-icing homer in the ninth.
The game in general felt like the anti-2008. The Yanks worked a run on a sac fly in the first and another on a Nick Swisher solo homer in the fourth and then let their pitching do the talking. Then, when A.J. allowed a forgivable two runs, the offense came back and scored some more. That just never seemed to happen last year.
They'll do it again tomorrow at 4:08, when Andy Pettitte takes the hill against Andy Sonnanstine. Hopefully we'll know more about Xavier Nady's elbow before game time.