In a day, Yankee Stadium-mania will be in full swing. After sitting through three other home openers, the Yankees will finally make it back to the Bronx to inaugurate the new Yankee Stadium.
Over the last few years, we've run the gamut on the stadium. From city politics food options to toilets and my not-so-glowing review, we've touched on everything but baseball and how the stadium will play. That ends now.
Courtesy of Keith, a long-time RAB reader, comes the following graphic. Take a look, and click to enlarge.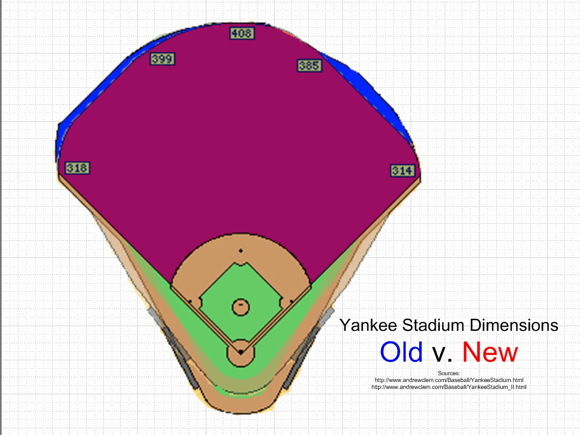 What you see here is a not-quite-to-scale comparison between the new and old Yankee Stadiums. The dimensions, as the Yanks promised, are identical to the post-Jack Clark layout at old Yankee Stadium. Center field is 408 feet away from the plate; left and right are 318 and 314 feet away, respectively; and the power alleys are 399 to left-center and 385 to right-center.
But if we look at a little closer, there are a few signs indicating that Yankee Stadium may play as a hitter's park. First, note the decreased foul territory and the reduced space behind home plate. Much has been made about this feature because it draws the people in the lower levels closer to the field. At the same time, it takes away outs from the pitchers and puts those balls in the seat. Down the lines, we see the same thing. There's less room in the corners and thus less space for outs. Advantage offense.
What I think is the most significant feature though is the shape of the wall. The graphic clearly shows that the walls at old Yankee Stadium featured a gentle curve. The new Stadium displays fewer curves and more straight lines to accommodate the seats that hug the wall and stretch far into the outfield. (You can see that here and here.) The manual scoreboards, seen here, also eliminate some of the curve.
For comparison's sake, check out this shot from old Yankee Stadium. The curvature of the wall is particularly evident in left-center.
Right now, of course, I'm simply speculating on this feature of the stadium. We won't know for a few moths — or even a few seasons — how the stadium will play out. Right now, however, if I were a betting man, I'd bet on a hitter's park. Good thing the Yanks are a strike out-centric pitching team this year.