During the letdown that was Opening Day, CC Sabathia labored through 96 pitches, throwing just 50 for strikes. Of those 96 pitches, 84 were either fastballs or sliders. This is nothing new for CC, who's worked off these two pitches for the last seven years, mixing in the occasional changeup. Let's take a look at how his two main pitchers were looking yesterday afternoon, via the magic of Pitch f/x. You can click on any graph in this post to open up a larger view.
First up, bird's eye view, and what you're seeing is the average flight path of his fastball and slider: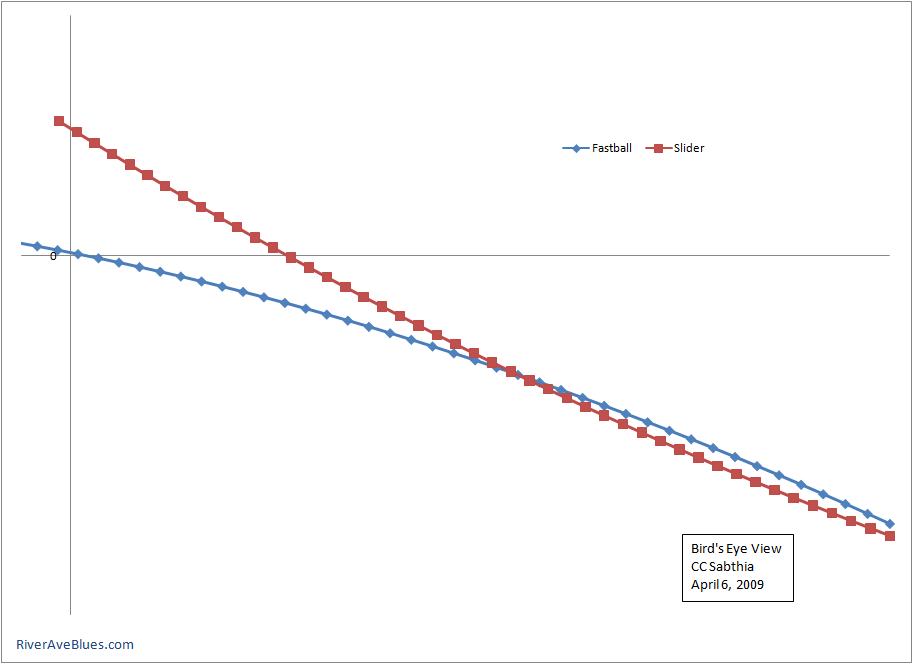 Here's what Mark Teixeira was looking at from first base: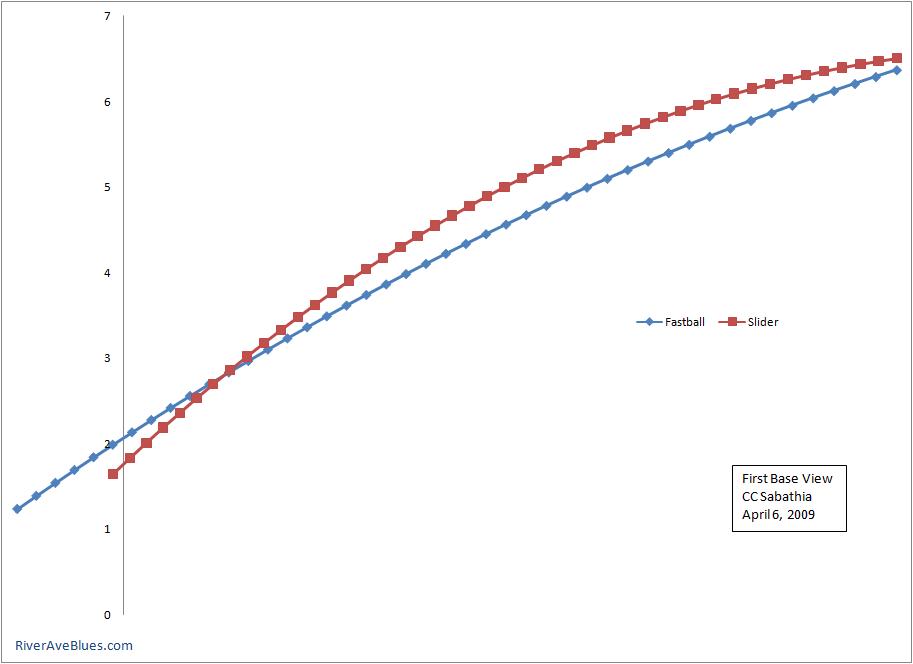 And this is what Sabathia's stuff was looking like from Jorge Posada's perspective: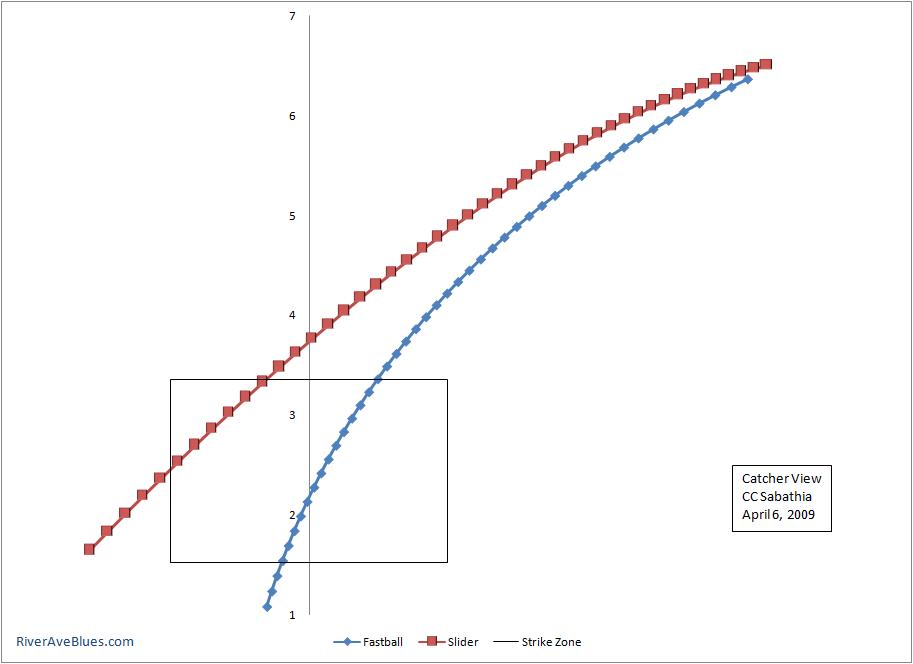 What's cool about these graphs is that you can see how much his fastball and slider look alike, that is until the heater bangs a left halfway to the plate while his slider hooks a right. That's what makes him so effective, his two main pitches look enough alike that the hitter will have already made up his mind to swing or not before they start breaking. His also got a nice amount of run on his fastball, so it's no accident that he's put up GB/FB rates well above 1.00 in his career.
But the story of the game was Sabathia's fastball command, or lack thereof. He just couldn't get it to cooperate, and when he needed to throw a strike he couldn't. When his back was against the wall in the fifth inning, Sabathia all but abandoned his heater, throwing just one in his final eleven pitches (not counting the intentional walk to Ty Wigginton). You kinda have to give him some credit for gutting it out when he clearly didn't trust his stuff.
Usually one of the main culprits of poor command is inconsistent mechanics, so let's take a look at his release points. For fun, I also included the release points of his fastballs and sliders from his August 31st start last year, when he should have no-hit the Pirates if not for a bum call.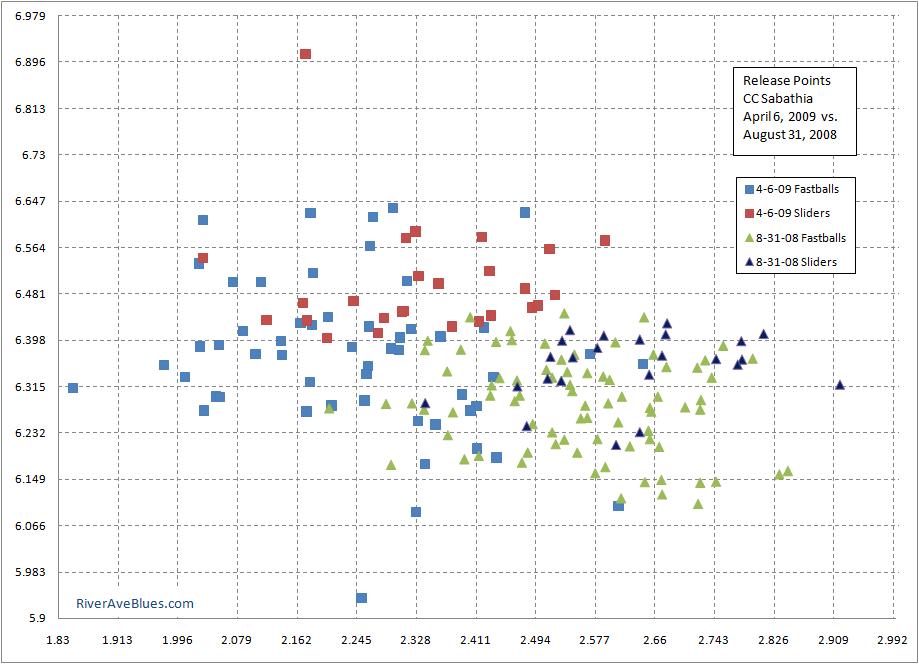 What you're seeing is a 13-inch tall by 15-inch wide box from which Sabathia releases his pitches. You can see how scattered his pitches were last night, especially his fastball. Frankly, he was all over the place. During the near no-no last year he had a much tighter "box" from which he released his pitches. It's hard enough to throw the ball where you want it in the big leagues, nevermind when you're not even sure where the ball is coming from.
An inconsistent release point could mean he was battling his delivery, or it could mean that he was trying different arm slots to see if he could find something that worked. This doesn't mean Sabathia has a major mechanical issue to correct, sometimes you just have one of those days.
Finally, let's look at the most important thing for any pitcher. Forget command, forget movement, forget all of it, the most important thing is velocity, because he all know a pitcher with a 91 mph fastball will never succeed in the big leagues. Here's where Pitch f/x had Sabathia's fastball yesterday.
The blue line is the velocity of the pitch out of his hand, and the red line is the velocity of the pitch as it crosses the front of home plate. As you can see, he was sitting pretty much 92-94 all night, with the ball consistently crossing the plate about six miles an hour slower than that. There was no drop in velocity as the game went on, so there's really nothing to worry about. Remember, don't trust the TV gun, especially YES. That thing is just awful.
Can't wait to see how Wang looks tomorrow night, hopefully it'll go better than it did for CC yesterday.