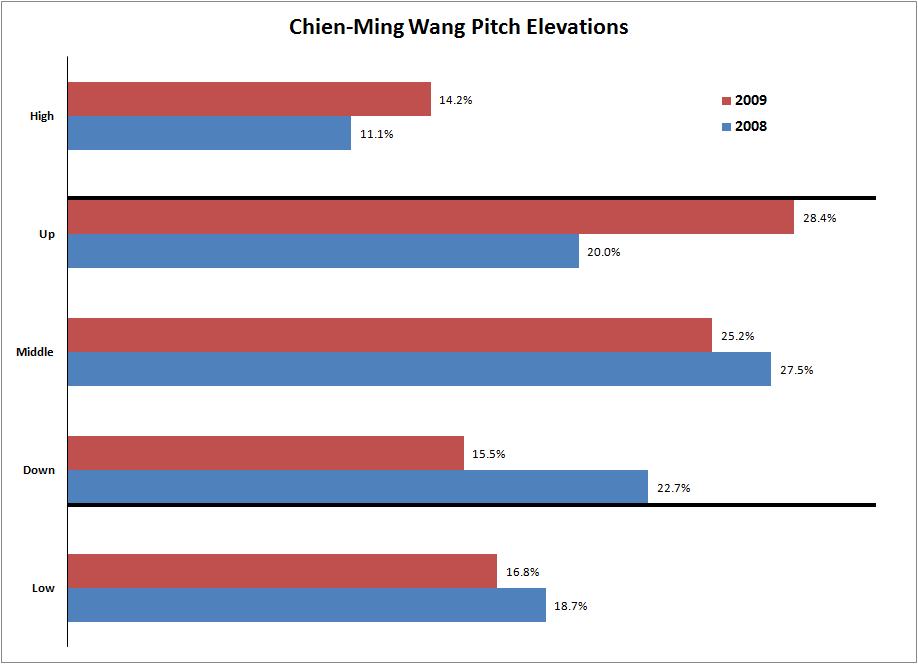 (click graph for a larger view)
We've already taken in-depth looks at how much different Chien-Ming Wang's stuff and release points are this year compared to last year, but I wanted to take a look something Wang usually excels at: keeping the ball down. The above graph shows what percentage of Wang's sinkers (sinkers only since that's his break and butter) ended up in five different sections of the strike zone (data from Pitch f/x). Pitches marked "High" and "Low" are out of the zone, while the actual strike zone is cut up into equal thirds dubbed "Up," "Middle," and "Down." The thick black lines denote the top and bottom of the strike zone, if it wasn't obvious enough.
It's easy to see what made Wang so effective last year; 41.4% of his pitches were in the bottom third of the strike zone or lower, and 68.9% of his pitches were in the middle third or lower. This year though, it's a much different story. Just 32.3% of his pitches are in the bottom third or lower, and only 57.5% were at or below the middle third of the strike zone. Even more troubling is that 28.4% of Wang's pitches this year are in the upper third of the zone, and that means that those pitches are belt high based on how umpires call the game these days.
When you've lost movement and velocity from your sinker over the winter and groove more than a quarter of your pitchers into the hitter's happy zone, you're going to get pounded like Wang has. He's allowed 29 base runners and 23 earned runs in just six (!!!) innings pitched this season. The dude's rocking a 34.50 ERA and a 4.83 WHIP for chrissakes. It would take five consecutive complete game shutouts for the Wanger to lower his ERA to a respectable 4.06, and two consecutive perfect games to get his WHIP back around to his career average.
As Ben mentioned earlier, the Yanks have the option of skipping Wang's next start on Thursday thanks to the off day, and letting him work on whatever he needs to during the ten day break. In fact, I'll say that it's more than likely that the Yanks will go that route. If Wang doesn't get himself sorted out in that time, then they need to start looking for other solutions, especially since everyone claims he's not hurt. It won't stay April forever.