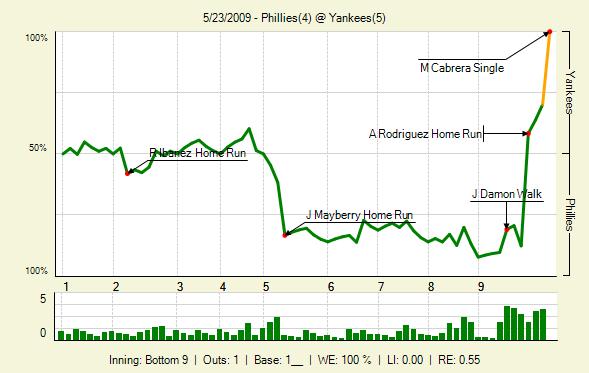 (What's this?)
But I thought they were going to get swept?!?!? Yeah, so I hope some people out there learned today that a game is never over until it's actually over.
Anywho, the first eight innings of today's game were frustrating as hell. Rookie southpaw JA Happ all but shut the Yanks down for the first six inning, requiring just 75 pitches to do it. He gave up a semi-manufactured run (Cano double, Melky bunt, Swisher groundout) in the second, but then retired nine of the next ten before the Cap'n hit his second solo homer in as many days.  Happ's counterpart, Andy Pettitte, was actually pretty darn good today, allowed four runs in seven innings, which on most days should be enough to win. The only two mistakes he made were to Raul Ibanez and John Mayberry Jr., who tagged Pettitte for his first career homer.
But as far as I'm concerned, the ninth inning is when the game really started. Johnny Damon didn't take the bat off his shoulder and worked a six-pitch walk off Brad Lidge to start the inning. Mark Teixeira swung at the same slider down and out of the zone three times for a strikeout, quite possibly his ugliest plate appearance of the season. Alex Rodriguez – who just narrowly missed a two run homer in the fourth – then took a first pitch slider down for a strike. Lidge threw him four more sliders to get the count to 3-2 before A-Rod took the sixth pitch of the at-bat, a 94-mph four-seamer up and out over the plate, to right field for a game tying two-run homer. I guess you can say A-Rod showed Lidge his OH!!! face. The entire at-bat showed the difference between A-Rod and everyone else; with two strikes he took two Brad Lidge sliders down for balls, he just spit on them as David Cone likes to say. Mere mortals like you and me and Eric Hinske have no chance in that spot.
With the game tied up at four and the crowd alive, Robbie Cano served a ball back up the middle for a single, and the game-winning rally was on. Cano then stole to get the tying run in scoring position, and someone deserves credit for that call. I don't know if Joe Girardi or Tony Pena called that from the bench, or if Mick Kelleher picked something up from the first base coach's box, or if Cano just went on his own, but whoever's idea it was, bravo. Well done. Four pitches later, Melky Cabrera shot a single into shallow center for his third walk-off hit of the season and his second of the homestand.
The homestand and first interleague series of the year wraps up tomorrow with a top-notch pitching matchup as young Cole Hamels takes on CC Sabathia. The Yanks have won 8 of 9 on the homestand and 10 of their last 11 overall to work themselves back to just half a game back of Toronto for first. Good times, good times.