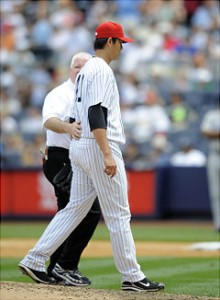 The news came down late last night: Chien-Ming Wang, the Yankees incumbent ace, will undergo athroscopic surgery to repair a problem with the capsule of his right shoulder, ending his season. The procedure was to be performed by the famed Dr. James Andrews this morning, and is expected to keep Wang out well into the 2010 season. The Yankees will have gotten nothing out of Wang over the last sixteen months when the offseason starts, and if you want to be particularly harsh you can actually argue that they've gotten negative production considering how he pitched this season.
How the injury occurred doesn't really matter. Wang might have altered his mechanics following his foot injury last year, or maybe it's the result of the violent and unnatural act of pitching. Never exactly a pillar of health, this will be Wang's second major shoulder surgery (he had his labrum and rotator cuff repaired back in 2001) and the second time it's given him trouble as a big leaguer. You can expect there to be plenty of talk about what the Yankees can/should/would/will do to upgrade their rotation, but just as important is the decision the team will make regarding Wang's future this offseason. They can do one of three things:
Resign him either by offering a contract or going to arbitration
Nontender
Nontender and attempt to resign him to a minor league contract
Injured players can't be traded, but they can be included in deals as a PTBNL. However, since PTBNLs have to be named within six months of the deal, Wang would have to be healthy by then, which is not going to be the case. So that option is out.
As a Super-Two, Wang is eligible for four years of arbitration, and still has two more ahead of him. After paying him $5M this year, the Yanks would have to offer Wang no less than $4M if they offered him a contract because the CBA doesn't allow paycuts greater than 20%, and chances are he'd get a raise – albeit a small one – if the two sides actually went to arbitration. But then the Yankees will be not only be paying Wang not to pitch for them, they'll also have to foot the bill for his rehab. And, of course, there's zero guarantee the Wanger will ever be an effective pitcher again.
The alternative to resigning Wang is not tendering him a contract, which for all intents and purposes is the same as releasing him with no strings attached. There's always a handful of players nontendered each season, mostly players who are underperforming and are due for considerable raises through arbitration. Here's last year's list of nontendered players, just for reference.
If the Yanks decide to nontender Wang, they can go in one of two directions. They can just cut bait altogether and let him walk, or they can attempt to resign him to a minor league contract to keep him in the organization, keep his salary down, and keep him off the active roster. Remember, Wang is out of options, and the Yanks won't be able to just leave him in the minors indefinitely as he gets healthy. Once he's ready to pitch in games, his 30-day rehab clock starts, then he has to be back in the bigs.
Bringing Wang back on a minor league pact allows the Yankees to keep him in the minors as long as needed since no 30-day clock would be in effect. It's definitely the ideal situation for the team because they'll get to keep him in the organization while keeping costs down and letting Wang work back at his own pace. But will CMW and his agent go for that? The Yankees are the only organization Wang has ever known, but if nontendered it's still likely some team will step up and offer a big league contract (Dodgers?), which means he'll accrue service time bringing him closer to free agency (he won't accumulate any service time if on a minor league deal), not to mention earn a bigger paycheck. And don't forget that after being taken to an arbitration hearing two years ago over $600,000, Wang and his camp might harbor some animosity towards the team. Agreeing to come back to the Bombers on a minor league deal is the exact opposite of an ideal situation for Wang. Actually, it's just one step up from being unemployed.
Keep in mind that we don't know the extent of the damage and won't know until after the surgery is complete and word gets out. Things could have gone well or things could have gone badly, and that will affect the Yankees' decision. As of now, my money is on a straight nontender, with the Yanks looking to bring Wanger back with a minor league contract. It's crazy to think we may have seen the last of Chien-Ming Wang in pinstripes.
Note: If you want to talk about trades and the deadline, do so in today's Trade Deadline Open Thread. Thanks.
Photo Credit: Simmons, NY Daily News