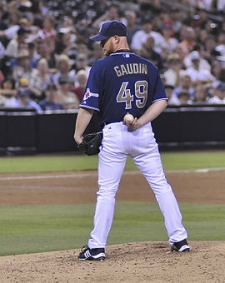 Last night the Yankees acquired Chad Gaudin from the Padres to add another insurance arm. He'll start off in the pen, but that should only be temporary. With Sergio Mitre still holding down the fifth spot in the rotation, I'd expect Gaudin to get his shot after one more uninspiring start. He does have experience both in the rotation and in the pen, so he could help in either place. So just what are the Yankees getting with Gaudin?
Drafted by the Rays in the 34th round of the 2001 draft, Gaudin shot through the minors, posting excellent numbers at Classes A, A Advanced, and AA and earned a call-up in 2003. His peripherals stunk — a 1.44 K/BB ratio — but in 12 relief appearances and three starts Gaudin racked up a 3.60 ERA, acceptable in any sense of the term. Might the Rays have stolen a viable pitcher in a late round?
Things weren't as easy for Gaudin in 2004. He split time between AAA Durham and the Rays. His peripherals were a bit better at the major league level, but the hits started falling, causing his ERA to balloon to 4.85 in 42.2 innings over 22 relief appearances and four starts. For the Rays at the time it wasn't terrible, but it also wasn't encouraging that he didn't do much better at AAA (4.72 ERA in 47.2 IP). Still, at 21 there was enough promise.
But then the Rays traded that promise to the Blue Jays for Kevin Cash. The Jays immediately put him in the AAA rotation, and then recalled him for a stint in late May, early June. Gaudin stunk, to the tune of a 12.19 ERA over three starts, spanning just 10.1 innings. Back to Syracuse it was for him, which was just fine at the time, because he was 22 and pitching well in AAA. In 150.1 innings over 23 starts, Gaudin had a 3.35 ERA, keeping his K/BB ratio in a more than acceptable range (3.2:1) and allowing less than a hit an inning. Again, promise.
Like the Rays, the Jays decided to cash in that promise, this time to the A's for Dustin Majewski, an outfielder who is older than Gaudin and who is now in the Rangers' system. So far we have two pretty worthless players having been exchanged for Gaudin, not a good sign for the 5'11" righty.
The A's, it appeared, got a steal. After four excellent starts in AAA to start the season, the A's recalled Gaudin to pitch out of the bullpen. He did that well in terms of runs allowed, as he surrendered just 22 earned in 64 innings. His peripherals left much to be desired, as he actually walked more than he struck out (42 to 36). That has to be frustrating for the walk rate alone. So while the results were there, a crash could have been expected.
In 2007 the A's moved Gaudin back to the rotation, where he pitched a serviceable 199.1 innings, clocking in at just better than a quality start overall (4.42 ERA). This included, mercifully, a much-improved K/BB ratio. While his walk rate was still high, 4.5 per nine, his strikeout rate also rose to 7.0 per nine. He was doing it in the AL, leading many to believe that he could be a useful back-end starter.
Gaudin started off 2008 on the right foot, starting six games and working out of the bullpen in 20, allowing 25 runs over 62.2 innings for a 3.59 ERA. His strikeout rate dipped a bit, but his walk rate plummeted, which probably led to his success. It's also much easier on the nerves of fans and coaches. Gaudin was traded for a third time last year, as part of a six-player trade which also sent Rich Harden to Chicago. Gaudin didn't fare well in the confines of Wrigley, allowing homers at a far greater rate than most of his career.
Still, the Cubs though it well enough to avoid arbitration with Gaudin and sign him to a one-year, $2 million contract. That was not money well spent. Before the Cubs played an official game they released Gaudin, eating the entirety of his $2 million contract. The Padres picked him up on a minor league deal, and then recalled him by the end of April. He's worked out of the rotation for the most part, with just one relief appearance, coming in the 16th and 17th innings against Arizona earlier in the year.
What can the Yankees expect from Gaudin? Probably not much. He's had his share of clunkers this year, and that's what the Yankees are trying to avoid out of the fifth spot. He's probably an upgrade over Sergio Mitre, but not significantly so. It's just another arm who can pitch out of both the bullpen and in the rotation. He could turn out to be a useful player for the Yanks.