Ben covered this in last night's game recap, but I think the series of events which gave the Yankees their first lead of the game is worthy of its own post. It involved an odd, for him, but good call by Joe Girardi, a bonehead play by Melky, and culminated with a doubly bizarre play. At the sequence's end, the Yankees had a 3-2 lead on the Angels, which set them up for a 5-3 victory.
Al Aceves replaced Joba Chamberlain to start the fifth inning, and Erik Aybar opened the frame with a double down the right field line. With the .220 hitting Jeff Mathis up next, a bunt was certain. That put Aybar on third with one out. Just last week Girardi brought in the infield in a similar situation — on the Toronto turf, no less. Perhaps he learned from that, as he played the infield back and allowed Aybar to score on a slow grounder. When your team scores over five runs a game, that's the right call.
The Yankees were down 2-1, but with five more chances to take the lead. Nick Swisher got things started right away, matching Aybar with a double of his own to lead off the bottom half. After Melky walked, Jeter bunted both runners into scoring position. Having your best hitter give away an out seems like an odd decision, but it's one we've come to expect from Girardi. Still, the Yankees had two chances hit a two-run single and give themselves a lead.
What followed was a mental mistake by Melky Cabrera. Johnny Damon hit a slow grounder, and Melky was headed right toward Chone Figgins. The former didn't allow the latter a chance to field the ball cleanly, barreling into him. The umpire correctly called Melky out and ordered Swisher back to third. Chants of bullshit emanated from the crowd even though the call was not controversial in the slightest.
Melky's gaffe illustrated why the bunt was a questionable call with Jeter at the plate. Now the Yankees had runner on first and third with two out and had still failed to plate a run. Mark Teixeira came to the plate in a situation where a single would only tie the game, though with Johnny Damon at first a double likely would have put the Yanks ahead. Still, that's counting on a double, a dicey proposition even from a hitter like Teixeira.
As we know, Tex came through, but it wasn't what anyone expected. He laid into a Jeff Weaver offering, sending the ball high and deep. It bounced off the center field wall, out of Torii Hunter's reach, rolling back towards the infield and allowing Tex to take third base. Yet it could have been even more.
It turns out that Teixeira hit Jeff Mathis's glove on his swing. So even on a swing where the catcher impeded the power he could generate, Tex still hit one off the wall. As Girardi said, Teixeira probably "would have had a home run if he didn't have the [catcher's] interference." It marks the second strange long hit by Teixeira this season. He previously homered on a broken bat.
If it ended there, perhaps it wouldn't be bizarre enough to warrant a post. As Hunter collided with the wall in a vain attempt to catch Teixeira's fly, he lost his shoe. No, really. In the grand scheme of things, it's not a big deal. But it was an appropriate cap to a bizarre series of events which started by handing the Angels the lead, and ended with the Yankees retaking it.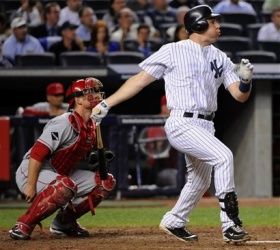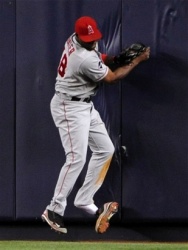 The only appropriate thing to say after all this: you can't predict baseball. You just can't.