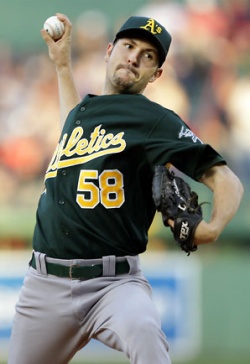 Before the 2009 trade deadline, with the Yankees seeking a fifth starter, Justin Duchscherer seemed like an interesting option. He was in the last year of his team control, so even Billy Beane probably couldn't get a huge return for him. Further suppressing his value, he hadn't thrown a major league inning since August 18, 2008. He was on a rehab assignment before the trade deadline, so it appeared his return was imminent. While there were clear risks with his health, Duchscherer had proven over the past few years that he can succeed in the rotation and in the bullpen.
On deadline day, we learned that Duchscherer would miss his final rehab start. That always starts the trade speculation, but it turned out that Duchscherer missed his start for personal reasons. The deadline then passed, and we tucked away the Duchscherer talk until the off-season. Now that it's here, the talks have started back up. But there could be an issue beyond injury that teams should consider when considering Duchscherer.
The personal issue that caused Duchscherer to miss his rehab start, Jerry Crasnick writes, was clinical depression. It's a great read, not only on Duke, but on how depression affects ballplayers. We've seen it occur in a number of players in recent years, including 2009 Cy Young winner Zack Greinke. Thankfully, it appears that Duchscherer is over those issues, and is ready to pitch again in 2009. He hopes that is in a starting capacity.
Many teams are presumably interested in Duchscherer. He won't require a lengthy and expensive contract commitment like John Lackey, and he provides plenty of upside. He was excellent out of the bullpen in 2005 and 2006, and then, after an injury shortened 2007, thrived in the rotation in 2008. He keeps his walks and his home runs low, always attractive attributes for a starting pitcher. In the bullpen Duchscherer displayed the same qualities, and even struck out over eight batters per nine innings. It appears he can work in any role a team has for him.
As Crasnick notes, Duchscherer's depression might not be a big issue for interested teams. His agent, Damon Lapa, is optimistic that teams will see his depression as "more a 'technicality' than an 'obstacle' to overcome." Duchscherer is ready to pitch, and that's what matters to most teams. It also helps that he has come to grips with the disorder, saying he has embraced "unconditional self-acceptance."
Even if depression isn't a factor in signing Duchscherer, certain teams might not be a good fit. As friend of RAB Jonah Keri noted last week, small market teams might have an advantage with introverted players. While many of them can overcome social disorders, playing in a big market — especially in New York — might not be an optimal situation. Then again, Duchscherer has expressed a desire to spend more time with his six-year-old son Evan, who lives in New Jersey. The proximity could work in the Yankees favor.
From a pure pitching standpoint, I'm a Duchscherer fan. He's not going to replicate his 2.54 ERA from 2008 — he'll surely surrender more than 6.8 hits per nine innings, which will raise his sterling 0.995 WHIP. Even so, he had a 3.69 FIP in 2008, and a 4.28 tRA. He also keeps the ball on the ground, which means low home run totals. He's no guarantee as a top of the rotation arm in 2009, and chances are he's more of a mid-rotation guy. But the Yankees can use someone like that.
Can a pitcher diagnosed with clinical depression thrive in New York? I have no idea, but I don't think that should hinder the Yankees if they want to pursue Duchscherer. If he thinks he can handle the spotlight in New York, he's certainly one of the free agent pitchers worth the gamble. His ability to pitch both in the rotation and the bullpen can make him a valuable piece of the 2010 Yankees.