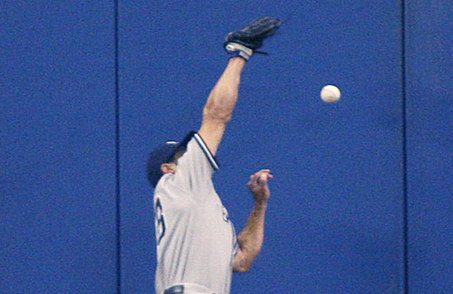 Johnny Damon went through a transition in 2007. He left Spring Training pondering retirement. While nothing came of that, he faced many problems early in the season. By the end of April he was hitting .229/.349/.329, a far cry from his impressive pinstriped debut a year earlier. He then battled calf issues in May, eventually missing a few games at the end of the month, but ultimately missing the disabled list. By June, Joe Torre had seen enough. He installed Melky Cabrera as the everyday center fielder, relegating Damon mostly to designated hitter duties — made easier because of Jason Giambi's foot injury. Damon played just 10 games in center field from June through September.
After spending most of June and July as a one-way player, Damon started seeing more time in left field later in the season. This made sense. Johnny was, by reputation, a good defender in center field. Having to cover less ground in left field, Damon could be a defensive asset to the Yankees. According to UZR, he was. In 271 innings over the season's final two months, Damon accumulated a 7.5 UZR. That stood in contrast to his numbers in center field, -7.6 in 377 innings in 2007. It also brought to light Damon's UZR deficiency in center field — he'd been in the negatives since 2003.
When Joe Girardi took over in 2008, it was clear Damon would play left field every day. His bat played well enough for left field, and his range at that position would give the Yankees a boost on defense. Sure enough, Damon posted another great defensive season according to UZR, posting a 6.7 mark (11.6 per 150) in 659.1 innings in left field. Because the team struggled to score runs, and because they demoted Melky Cabrera in August, Damon slid over to center for 285 innings, and again posted a negative UZR figure, -7.8. Damon clearly wasn't a good center field option for 2009, but it stood to reason that he'd once again be an asset in left.
The plan didn't work out how the Yankees expected. From the start Damon looked shaky in left field. That he dropped a few balls early in the season, including in a June game against the Red Sox, did him no favors with the fans. Soon after the drop against the Sox Damon revealed he was having eye trouble, a "fluttering" issue that doctors connected to his caffeine intake. Still, fans tend to remember players who drop fly balls. No one forgot Damon's infractions.
Not only was there visual evidence of Johnny's deficiencies in left field, but the go-to defensive stat, Ultimate Zone Rating, ranked Damon among the worst left fielders in the game. After posting a 11.6 UZR/150 in 2008, Damon fell into the negatives in 2009. He ended with a -12.1 per 150 mark in 2009, which seems to confirm the eyeball test. Damon just wasn't that good in the field in 2009, and at age 36 it's difficult to project an improvement for 2010.
Still, it's possible that Damon wasn't as bad in the field as fans and UZR say. A fan's opinion is often skewed by a few standout memories, and nothing stood out about Damon's defense more than his dropped balls and "happy feet" as he got under fly balls. That will leave a negative impression for sure. And while it might be the best known measure of defense — at least of those publicly available — UZR has its shortcomings as well. For instance, it rated Juan Rivera, Carlos Lee, and Raul Ibanez in the positives this season. Those aren't three players generally considerd good defenders.
I haven't seen many scouts comment on Johnny Damon's defense, and even so I'm not inclined to believe an anonymous scout quoted for an article. We've seen that too many times, and it often seems like the opinion offered is not of a consensus, but rather just the quote that best fit the writer's article. The closest thing I've seen is Tangotiger's Fan Scouting Report. The idea is to get a good feel for a player's defense through a huge sampling of fans. Yet that system seems flawed, though that could just be from underexposure. Damon ranked fairly low on the left field scale, ahead of only the players with terrible defensive reputations: Ibanez, Alfonso Soriano, Manny Ramires, and Delmon Young, etc.
There is one more defensive statistic to consider, and it's a bit more kind to Damon than UZR. Revised Zone Rating, developed by John Dewan. Like all defensive stats it has its ups and downs, but Dewan did some hard work concocting this metric. There are two aspects to consider. First is the straight RZR, or how well a fielder did on balls hit into his zone. Damon's mark in 2009 was .906. For context, Carl Crawford, tops in UZR, was at .914. The top left fielder in the league was David DeJesus, at .927. Of course, criticism will flow because Ryan Braun, considered a poor defender by scouts and by UZR, ranked second at .919. Damon ranked fourth in the majors.
The other aspect of RZR is OOZ, plays made out of the player's zone. This is an important aspect. Players might be able to make all the plays within his zone, but it takes a very good fielder to make plays on balls outside his zone. Crawford is king in this stat, making 105 plays outside his territory. DeJesus follows, and Braun ranks fourth. Again, this will open the number to criticism. In any case, Damon ranks 11th in this stat, making 46 plays out of his zone. The only players below him with 1,000 or more innings in left field are Garret Anderson, Raul Ibanez, and Chris Coghlan.
It appears that any way we look at it, Johnny Damon was not a good fielder in 2009. This came as a surprise during the season, since Damon was so good in left field just a year before. We know, however, that certain skills decline with age, and by most measures Damon's fielding range dropped off a cliff. This is no guarantee that he'll continue to patrol the outfield poorly in 2010, but given his age it's not wise to predict a turnaround.
The best we can hope for, I think, is that some component of UZR unfairly judged Damon, and that fan sentiment towards his defense was skewed by a few egregious plays early in the season. RZR didn't think that poorly of Damon in 2009, and I thought that while his range wasn't quite what I remembered it, it wasn't as bad as the general perception. Damon is no longer a superior defensive outfielder, but I think that given an opportunity to start 75, 80 percent of games, he can patrol his position serviceably in 2010.
Photo credit: Associated Press