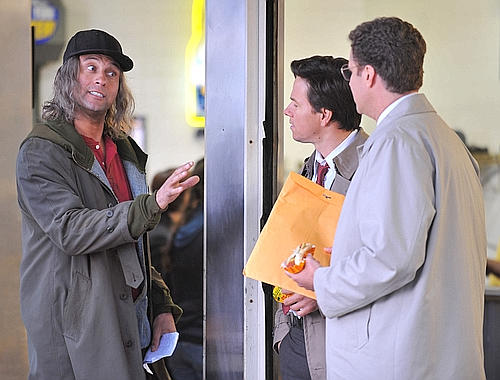 Just a few hours ago, we were talking about low-level rumors concerning a Derek Jeter contract extension. Later in the day, pictures emerged that showed Jeter could really use the dough. As you can see, he's been reduced to begging for money on the streets of Coney Island. And his hair grew out since last week.
Nah, I'm just kidding you. Derek's filming a movie. The film, called The Other Guys, stars Mark Wahlberg and Will Ferrell as two cops who, in the words of The Post, "are permanently benched after Wahlberg's character wrongly shoots Jeter in the leg after seeing him walking around with a bat." Jeter plays a future washed-up version of himself.
Click here for a rather amusing photogallery of scenes from the movie shoot. With that scraggly long hair and oversized puffy coat, Derek has never looked better.