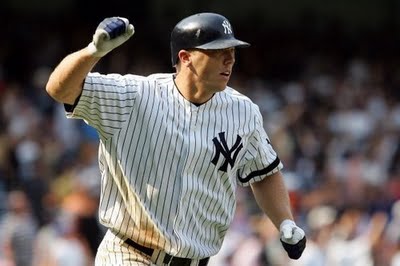 In 2007, a 27-year-old rookie named Shelley Duncan arrived in the Bronx. Drafted by the Yanks in the second round of the 2001 draft, Shelley, son of Dave, brother of Chris, had a Major League pedigree, and a body to match. He is 6'5″ and 215 pounds, and when he hits, he puts all of those pounds behind his swing.
Through his first 16 games, Duncan reminded Yankee fans of Shane Spencer, another old rookie who came up and smashed. After just 46 big league at-bats, Duncan was hitting .317/.391/.756 with six home runs and 13 RBIs. He played with enthusiasm, smashing forearms with his teammates after each home run and seemed destined for a spot on the Yanks' bench as a pinch hitter extraordinaire.
But soon thereafter, the holes emerged. Duncan would play in just 18 more games in 2007, earning himself 37 plate appearances. He hit a meager .182/.250/.303 and struck out nine times. In fact, overall, since his hot start, Duncan has been given 117 plate appearances with little successful. He has hit .181/.250/.276 with 27 strike outs and just two home runs. He loves himself some fastballs, but against the breaking balls, Duncan comes up empty.
Yesterday, for the second time during his career, the Yankees outrighted Duncan to AAA, and for all intents and purposes, Duncan's Yankee career is all but over. When a player is outrighted for a second time, he can refuse the assignment to AAA and become a free agent. Chad Jennings spoke with the 30-year-old this evening, and Duncan said he would do that. "I'll wait and see," Duncan said. "I might clear on Monday or something, and if do, then I'll become a free agent."
Jennings also sums up the Yanks' view on Shelley. "The Yankees were clearly never sold on Duncan," he writes. "He toiled in Tampa and Trenton too long, and his chances of being an impact player in this organization were slim. Duncan, though, has done all he can to prove himself and earn a chance at some big league at-bats."
The Lo Hud scribe goes on to compare Shelley Duncan to Garrett Jones on the list of those who never made it with their original organization. Jones was a Twins farmhand who broke out this year for the Pirates, but Jones was never the Minor League hitter Duncan was nor was he given the same chance with the Twins Duncan was given with the Yankees. New York brought Duncan with them out of Spring Training in 2008, but after two months of nothing, he was shipped back to AAA.
In the end, Duncan is a consummate Quadruple-A guy. He crushes Minor League pitching but can't take that next step to become at least a serviceable hitter. Without his oversized personality, he would never be remembered in the Bronx. This year, he'll get a World Series ring. He did, after all, play in a handful of games in October, but he is also going to have to find himself a new baseball home for the first time in his career. And so it goes with the feeling demands of baseball success.