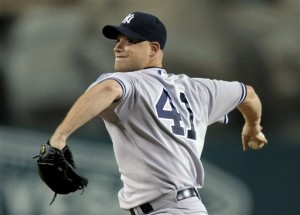 Aside from finding an ever-elusive left field upgrade, the only matter of business left for the Yankees this offseason is to settle on contracts with Chad Gaudin and Boone Logan, both of whom are eligible for salary arbitration. Logan is eligible for the first time, but this is Gaudin's third crack at arbitration, and after the season he'll hit free agency for the second time of his career (the Cubs released him last April after giving him $2M).
Both the team and player (that means Gaudin or any other player in the league eligible for arb) have to submit their proposed salary figures for next season by tomorrow, though they could agree to a deal any time before a hearing, which would occur during the first week of February. In most cases the two sides will meet in the middle and go on their merry way, however sometimes they can't reach an agreement and a hearing is necessary. Two years ago, the Yankees were unable to come to a compromise with Chien-Ming Wang. The Yanks won the hearing and saved themselves not only $600,000 for the 2008 season, but the carry over effect saved them even more money in 2009.
The three-person arb panels will pick between one of two salaries: the figure the team submits, or the figure the player submits. They can't pick something in the middle. Both sides will try to justify their submitted salaries by comparing the player to other players with similar service time, not just other players in general. Gaudin has five years of service time, so he's going to be compared to other pitchers when they had five years of service time. The people on the arb panel are not baseball experts at all, they're professional arbitrators who will weigh the arguments presented to them as they see fit. Because of this, neither side will use advanced stats to make their point, instead they'll rely on the old stand-bys of wins, ERA, strikeouts, walks, maybe WHIP, stuff like that.
After some digging, I found a handful of pitchers who were statistically comparable to Gaudin when they had five years of service time. Let's tabulate…

(click for a larger view)
These aren't perfect comparisons obviously, however they're close enough for this blogger. All four had worked both as a starter and reliever early in their career, and all but one (Benoit) had bounced around between a few teams. Let's see how much these guys got paid when they reached their third year of arb…

* Arb-2 is salary in second arb eligible year, Arb-3 is third arb eligible year. But you knew that already.
Okay, so this wasn't as much of a help as I expected to be. I was hoping that they had all received similar raises, like 50-75% or something, but apparently not. It's worth noting that both Wellemeyer and Correia were coming off career years, and that Benoit was bound by a two year contract extension he signed prior to his second year of arb eligibility. It's still a valid comparison because of the amount of service time he had.
Instead of focusing on how big of a raise each player received, let's take a look at how much money they ended up making in their last year before becoming free agents, like Gaudin is now. Both Benoit and Correia pulled in three-and-a-half million or so, and if you average all four players out, you get a $3.1M salary. We've been saying all winter that Gaudin will probably earn about $3M next season, though that was nothing more than a gut feel and estimate. At least now we have some basis for comparison.
Three million bucks or so will get you just under a win on the free agent market. CHONE projects Gaudin as a 2.1 win player next year, though that's assuming he makes 28 starts. If he does that in 2010, either disaster has struck the Yankees' pitching staff or he's pitching for another team. More realistically, Gaudin would be a 0.8 WAR player if he throws 40 IP with a 5.00 ERA as a starter then another 60 IP with a 4.00 ERA as a reliever. $3.1M for 0.8 WAR is basically breaking even. Is Gaudin capable of pitching like that? Maybe, maybe not. It's possible I'm overstating his abilities.
The Yankees overpay for a lot of things, and chances are they'll be overpaying for Chad Gaudin in 2010. The team has reached the point where a marginal win has an almost negligible effect on the big picture, and I'm certain the team has an appropriate amount of the budget allocated for Gaudin's 2010 salary.
Photo Credit: Jae C. Hong, AP