Each player in our left field closing arguments series has potential upside with considerable downside. Today's player offers upside with little downside. I think Damon remains the preference of nearly everyone out there, but just in case…
For the past four years, Johnny Damon has been awesome. When the Yankees signed him to a four-year, $52 million contract in the winter of 2005, they were widely praised, though with the caution that they might regret it in the last year or two. Then, when he started off slow in 2007, people wondered if the Yankees would get just one good year out of Damon. Alas, he recovered in 2008 and posted two of the best seasons of his career to finish the contract. Now a free agent without a home, we're all wondering if Damon will swallow some pride and return to the Yankees.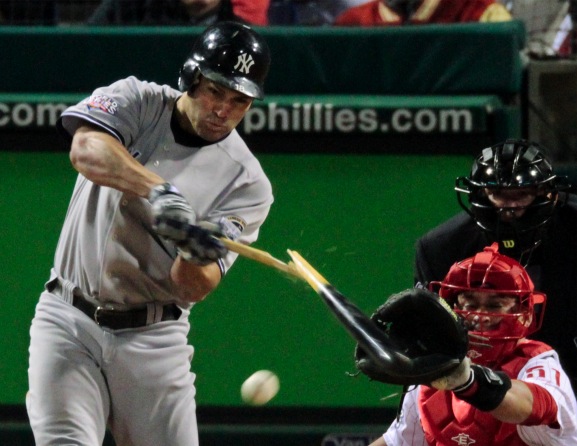 Issues of money and contract length separate the two sides. Scott Boras originally sought a multiyear contract at $13 million per annum, Damon's salary through his last contract, but no team came close to biting. While Damon can still produce, he's just not the same player that signed the contract in 2005. The Yankees acquired him to play center field, but by the end of his contract he was stuck in left field and not playing well even there. His hitting ended up better than expected — his OPS+ was actually higher with New York than with Boston, where he played during his prime years.
How far will Damon's salary fall? The Yankees, reportedly, offered him a two-year, $20 million contract, but Damon wouldn't take. Then, when the reports surfaced that the Yankees were talking to Nick Johnson, Damon acquiesced, only to find that he was too late. The Yankees were already too far in the Johnson negotiations, and didn't want to pay Damon his 2/20 along with Johnson's salary. We haven't seen anything linking the two parties — and even saw explicit denials of interest after the Yankees traded Melky Cabrera to the Braves. But this is all part of a larger game. The Yankees and Damon still match up, and we could certainly see them strike a deal.
There's no questioning Damon's ability to hit, especially at Yankee Stadium. During his four years in New York he posted a .285/.363/.458 line, dragged down by a poor 2007 in which he hit. 270/.351/.396, mostly due to a terrible start. In the second half of that year he hit .296/.364/.450, much closer to his Yankees career than his terrible first half. He's even better at home, a big attraction to the Yankees. In the inaugural season of the New Yankee Stadium, he hit .279/.382/.533 in 318 PA. His road numbers, .284/.349/.446, weren't quite as good, but still very good considering what he does at home.
Damon does show a platoon split, but it's not an enormous cause for alarm. In 2009 he had a .889 OPS against righties and a .776 OPS against lefties. In 2008 the split was .889/.710, a bit more drastic but still not horrible, especially because of his .342 OBP against lefties that year. No, it's not an ideal platoon scenario, but the Yankees have help if they want to sit Damon against tough lefties. That's one advantage of having the lefty-mashing Jamie Hoffman on the roster. But even if Damon plays against tough lefties, he's not useless. He can handle himself, and perhaps handle himself better at his home ballpark.
On the negative side there are three areas of concern. First, Damon's age. He'll play his age 36 season in 2010, an age where many players see their numbers decline. On a multiyear deal that might be cause for larger concern, but on a one-year deal, especially one for seven figures (rather than eight), the Yankees can mitigate that risk. The major risk, really, is that he falls off a cliff, but while that's possible, I don't think it's probable. Again, Damon is coming off perhaps the best season of his career, and if he re-signs with the Yankees will have the same ballpark benefits.
Second, his late-season slump. Damon posted excellent numbers in almost every month of the 2009 season, his best coming in August when he hit .327/.371/.622 and helped the Yankees run away with the division. But he fell flat in September, hitting just .247/.350/.315. Could that have been a sign of decline? Perhaps. He did continue the futility in the first round of the playoffs, going 1 for 12 with a walk in the ALDS. But then he bounced back to have a good ALCS and excellent World Series. It looks like Damon's slump was just that. Plus, if there really is tiring with age, the Yankees can sit him more in favor of Brett Gardner. In fact, that might be the ideal scenario for Gardner heading into the 2010 season: 4th outfielder who regularly spells Damon in left.
Third, his defense. It was pretty bad in 2009, both by scouting and by statistical standards. I tried to find a glimmer of hope, but was unsuccessful (Keith Law even added a negative scouting report to supplement the numbers). The good news is that, just like players can have bad offensive seasons, so they can on defense. Maybe Damon's poor 2009 in left was just a blip. Maybe he really did, as he claims, get better as the season moved along. There's no guarantee, of course, that Damon bounces back. But his bad 2009 doesn't mean he can't. He certainly can, and if he does he'll be of even more value — and perhaps compensate for any decline he sees on offense.
Of all the options we've so far explored in this series, Damon makes the most sense. He's familiar with New York and has thrived in the spotlight. He's also a much better bet with the bat than any of the other suitors, and though he had a bad 2009 on defense he could rebound in 2010. Money separates the two sides now, but as we get closer to pitchers and catchers reporting, maybe Damon will realize that the market isn't quite what he had imagined. It might hurt his pride to take a one-year deal with a massive pay cut, but it's also in his best interests as a player. If the Braves and the Yankees offer the same deal, why would he go to Atlanta? They don't offer the opportunity and familiarity of New York.
We each have our own reasons for the decisions we make. Maybe Damon wouldn't be comfortable returning at a greatly reduced salary. Maybe he's insulted that the richest franchise in the game won't overpay for him. But if he wants the best chance to win, it's with the Yankees. At the right price, I'm sure they'd like to have him back.
So now, whenever a rumor surfaces involving Damon and the Yankees, we can refer back to this post and its comments. Have your final say now.
Photo credit: Eric Gay/AP