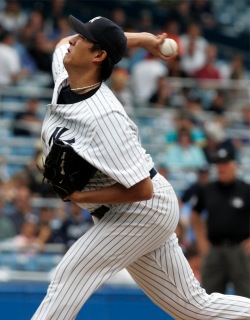 The Yankees have bid farewell to many mainstays and fan favorites this off-season. Hideki Matsui is out in LA. Melky Cabrera has stopped in the land of ATL. Austin Jackson is losing his mind in Detroit rock city. Johnny Damon is…who knows what the hell Johnny Damon is doing? There's one more Yankee free agent who figures to move on, the sinkerballer Chien-Ming Wang. We've heard intermittent updates on the progress of his shoulder and the market for his services, but we've yet to see anything concrete. That's understandable, given the severity of his malady.
The latest word comes courtesy of Ken Rosenthal, who heard from Wang's agent, Alan Nero. As expected, Nero speaks glowingly of his client, noting the fine progress in his rehab — "Everything is going extraordinarily well," he said — and the expected volume of his contract offers. Six teams are reportedly poring over his medical records, though we've seen the number of supposedly interested teams as high as 15. Still, Nero believes the market is strong for his client.
"We're anticipating a major-league offer with a substantial guarantee and a substantial upside," he said. At this point, however, with Wang not even throwing off a mound yet, will any team really be willing to offer him a guaranteed roster spot for "substantial" guaranteed money? It doesn't appear likely, at least not until Wang moves a bit further along in his rehab.
That doesn't appear to bother either agent or player. They know what they want, a big guarantee, and they appear willing to wait for it. How long, exactly? Perhaps until we're a month into the season, when teams have a better view of the landscape.
"We're so confident with what is going to happen, if we don't do it until May, we're OK," said Nero. "Whoever shows the initiative to take a little bit of risk is going to win."
It's probably in Wang's best interest to continue waiting. I doubt at this point, after a horrible 2009 campaign, any teams will give Wang a deal with "substantial guarantee and a substantial upside." It just doesn't make any sense. He's now more than two years removed from his last 19-win performance, and as Mike examined at length last year, Wang had issues in 2008 as well.
By May — or even April, really — there will be a contender with a rotation need. They might pay a premium for Wang at that point, since they're down a starter. But until a situation like that arises, I doubt any team will offer a substantial guarantee. Maybe a team will offer a small base salary, say a million, and stash Wang on the 60-day DL, but if he and Nero seek a "substantial guarantee," the waiting game might suit them best.
This might rule out the Yankees, at least for the time being. Clearly Wang will go where the money flows and the innings are plentiful, and it doesn't appear New York has either of those in abundance. Maybe circumstances will change between now and then, but at this point I think we can safely remove the thought of retaining Wang from our collective minds.
Credit: AP Photo/Frank Franklin II