Via Chad Jennings, the Yankees agreed to deals with both Chad Gaudin and Boone Logan today, avoiding arbitration with both. Marc Carig says that Gaudin is getting $2.95M plus incentives, Logan $590,000. All of the Yankees arbitration cases are now resolved, and all of the offseason work is basically wrapped up.
I tackled a potential Gaudin deal earlier today, and I had planned to do the same for Logan later tonight. However, since the Yanks' impatiently announced his deal today, I'll just include what I had written after the jump. Enjoy.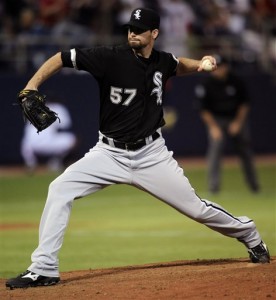 This afternoon we took a look at what kind of contract Chad Gaudin could receive for 2010 by looking at some statistically similar players when they were at the same point in their careers. All signs seemed to point to a one-year contract worth around $3M, which is pretty much what we've been assuming all offseason. The Yanks have one other remaining arbitration eligible player in lefty specialist Boone Logan, so let's take a second to see what kind of salary he could command next year.
Before we get to that, let's talk a little about who Logan is since I don't think we've ever actually done it. He was drafted in the 20th round out of a Texas high school by the White Sox back in 2002, then posted a 5.49 ERA with a 130-70 K/BB ratio in 170 IP during his first two-and-a-half seasons in the minors. The White Sox inexplicably included him on their Opening Day roster in 2006 when he had thrown a grand total of 5.1 innings above rookie ball (not A-ball, rookie ball) in his career, and then watching him predictably get his brains beat in. Logan bounced back and forth between the bigs and Triple-A for the next three years, then was traded to the Braves along with Javy Vazquez last year before coming to the Yanks with Javy this year.
Because he was rushed so brutally by the White Sox, Logan's big league performance has been awful. He's done basically all of his learning against unforgiving Major Leaguers, and owns a career 5.78 ERA and 1.70 WHIP in 127.2 IP. However, Logan is still an interesting guy to keep around because his physical tools suggest that he could be an effective pitcher in the bigs. He's huge at 6′-5″ and 215 lbs, his fastball has sat around 92-94 over the last three years, and he's less than a year older than Mike Dunn, the lefty relief prospect he was traded for. Logan's low-80's slider gives him a second weapon, so all the tools are there to be successful down the road. Here's the one shred of video evidence MLB.com has of his existence. All of one pitch. Yay.
More than anything, Logan just needs a chance to catch his breath and make up for all that development time he lost. However, his arbitration case won't be built on future potential and sympathy for being rushed, it'll be based on his big league performance to date. Just as I did for Gaudin, I found some pitchers who were statistically comparable to Logan, so let's once again tabulate…

Remember, the arb cases are going to be based on simple stats since that's pretty much all the three-person panel can understand. As you can see, all three were better than Logan in the all important ERA department despite similar peripherals. I guess this would represent the best case comparison, maybe what Logan and his agent base their case on. Here's the salary figures…
All four guys earned just about the league minimum in their final pre-arb year, and our three comps basically had their salaries doubled. Former Yank Randy Choate is the low man on the totem poll, getting just a 40% raise. Given his inferior performance, Logan seems like a better candidate for a 40% raise than a 100% raise, though the two sides might end up settling somewhere in the middle, say 70%. That would put his 2010 salary at $682,550, and for simplicity's sake let's call it $690,000. That would buy you basically a two-run player on the open market, or two-tenths of a win.
CHONE projects Logan to be one stinkin' run above replacement level in 53 relief appearances next year, which means that for all intents and purposes, the Yankees could probably call someone like Wilkins Arias up and get similar production. However, as we noted above, Logan has everything needed to be better than that, it's just a question if he starts to put it together now. Of the 257 relievers who threw at least 20 innings in the bigs last year, 166 managed to contribute at least two-tenths of a win to their club, or more than five relievers per team. Even at a $690,000 or so, it won't take much for Logan to justify his salary in 2010.
Photo Credit: Hannah Foslien, AP