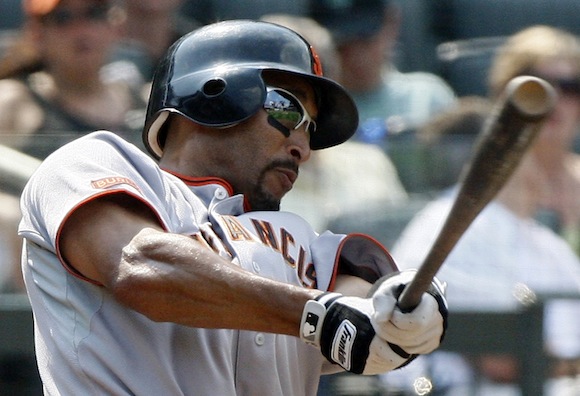 Randy Winn doubles off Mike Pelfrey at Citi Field in August. (AP Photo/Kathy Willens)
Proving once and far all that the team was serious about both having a budget and not overpaying for Johnny Damon, the Yankees today reached a one-year deal with Randy Winn, pending a physical. Joe Sherlman broke the news this afternoon via Twitter, and as Winn's signing marks the definitive end of Damon's tenure in the Bronx, Yankee fans were, unsurprisingly, up in the arms about the deal.
According to Sherman, Winn will probably get $2 million in 2010, and the Yanks opted for him over Reed Johnson both because of the price tag and because they view Winn as "a better overall player." Even with this signing, it's no sure thing that Winn will be the starting left fielder; I wouldn't be surprised to see Brett Gardner remain a starting outfielder with Winn as the Yanks' defensive-minded fourth outfielder or see a platoon situation develop in the outfield.
Winn, 35, is seven months younger than Damon but hasn't been nearly as productive a hitter as Johnny over the last few years. In 2009, Winn suffered through a .262/.318/.353 with just two home runs in 597 plate appearances. Based on his four-year line, he's no better than Melky Cabrera but will cost $1 million less in 2010.Against lefties, he hit .158/.184/.200 in 125 PAs and was, according to Baseball Prospectus, the worst showing by a right-hander against left-handed pitching since 1954. It's worth noting that Winn hit lefties to the tune of .289/.343/.470 in 2008, but with the most recent data on hand, it's hard to see how Winn fills an offensive need. Joel Sherman reports that the Yanks could still ink a right-hander to a minor league deal.
On the other side of the ball, though, Winn is still a plus defender. He put up a overall OF UZR of 16.9 last year with a 7.9 mark in 54 games in left. His arm too is above average, and as he struggled offensively last year, he put up a 1.7 WAR. If he can simply duplicate those results, he will outperform the $2 million the Yanks are paying him.
And so Johnny Damon's reign in New York comes to an end at the expense of someone no better than a fourth outfielder. The Yankees were drawn to Winn because he comes cheap and — with Carl Crawford nearing free agency — he comes for just one year. It was clear, based on recently discussions and rumors, that Damon wouldn't re-up for a single season or at a price that fits the Yanks' budget. Considering that the Yanks will probably still sport the same starting outfield tomorrow as they did yesterday, the team could have found a better fourth outfielder. Whether or not that player would have signed for so little is an entirely different story.
I couldn't fit this into the post, but a good old tip o' the cap to Jay Jaffe for highlighting the BP article about Winn's 2009 platoon splits.