So here we are again. It seems like just last week that we were watching the Yankees parade down the Canyon of Heroes, and yet pitchers and catchers have already reported to Tampa. I guess that's one of the many perks of having your favorite team win the World Series; a shorter offseason.
Just like the big league team, both High-A Tampa and Short Season Staten Island were able to capture their league championships in 2009. For the SI Yanks, it was their fifth league title of the decade. Double-A Trenton was unable to win their third consecutive Eastern League Championship, though Triple-A Scranton returned to the International League Championship Series after winning the crown in 2008. Overall, the Yanks' six minor league affiliates combined for a 381-309 record, good for the second best winning percentage (.552) among the thirty clubs (Giants, .590).
Even with all the winning, the Yanks system took a big hit in all sorts of ways over the last year. Five key prospects graduated to the big leagues in 2009, while attrition knocked six others off my list all together. Five others are no longer with the organization for whatever reason. As a result, this year's list features a whopping 16 new faces, quite the turnover in just 12 months.
As always, ranking prospects is all about trying to find a balance between performance, projection, and probability. Oodles of talent and great performance is all well and good, but if the player is in A-ball, we have to be careful and remember to temper expectations. There are certainly times that the player's upside is so great that you can't ignore it, no matter how far down the ladder they are. Remember, a lot of  these guys are very interchangeable. I don't think there's much of a difference between this year's #2 and #5 prospects, or the #15 and #30 prospects. When guys are that close, it comes down to preference.
Here's my lists from 2007, 2008, and 2009. Hard to believe I've been at this for four years already, more if you count past blogging ventures. Anyway, the listed ages are as of April 1st of this year, and the fun starts after the jump.
30. Dellin Betances, RHSP, 22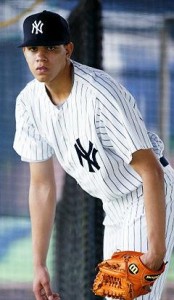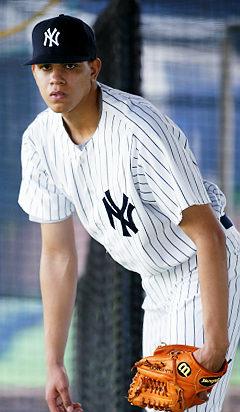 Depending on who you ask, Betances will miss a large chunk of the 2010 season with either Tommy John surgery or a very similar procedure. Unfortunately that's just par for the course for Betances, who's managed to throw just 214.1 innings in more than three full seasons as a professional. Even before the injury, he was never able to harness his admittedly dynamic stuff, and all of the lost development time isn't helping. Let's not forget that Betances was as raw as they come when he was drafted either. Likely out for most of the season, Betances still has considerable upside, which is the only think keeping him on this list. He'll be rehabbing basically all year and might squeeze in a few starts at one of the low level affiliates late in the season.
Photo Credit: Young, NY Daily News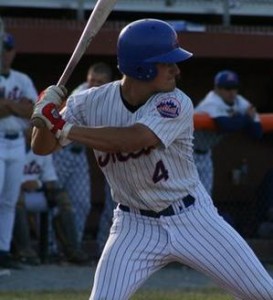 29. Dan Brewer, OF, 22
One of many late round finds on this list, Brewer is a magician with the bat. He hits fastballs, breaking balls, offspeed pitches, pitches inside, pitches outside, pitches up, pitches down,pitches  when ahead in the count, pitches when behind in the count, you name it. Brewer hit .306-.393-.435 between Low-A Charleston and High-A Tampa last year, and it was more than just a case of an older college player taking advantage of young pitchers. He's going to have to prove himself at higher levels because his power is more into the gaps than over the fence, and he'll get his first chance to do that when he opens the 2010 season as a regular member of Double-A Trenton's outfield.
Photo Credit: Flickr user CapeCod2007
28. Greg Golson, OF, 24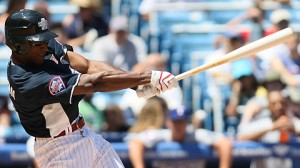 GM Brian Cashman turning nothing into something when he swapped the overmatched Mitch Hilligoss for the toolsy Golson in late January, even if the latter has struggled with the bat the last two seasons. Golson's star has fallen a long way since being the 21st overall pick of the 2004 Draft, however he still provides value with top of the line speed and elite defense in the outfield. Even if his tremendous physical gifts never fully turn into baseball skills, Golson will still be a useful role player as a defensive replacement/pinch running specialist. He'll start the year as Triple-A Scranton's ballhawking centerfielder, unless an injury or a breakout showing in Spring Training lands him on the Opening Day roster.
Photo Credit: Rich Pilling, Getty Images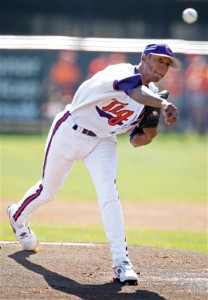 27. D.J. Mitchell, RHSP, 22
One of 2009's biggest surprises, Mitchell tore through two levels of A-ball while posting a 2.63 ERA and a 125-44 K/BB ratio in 140.1 IP. He used his low-90's sinker and newly learned Nardi Contreras curveball to limit opponents to just two homers all season, but he's defenseless against lefties. They tagged him for a .287 batting average against and he didn't get them to swing and miss nearly enough (5.59 K/9). He's working on a changeup to fix that, but either way Mitchell still profiles as a back-end arm on a bad team and a reliever on a good one. After a shutdown performance with High-A Tampa, he'll get a bump up to Double-A Trenton, where more experienced batters may not be as forgiving.
Photo Credit: Patrick Collard, AP
26. Jairo Heredia, RHSP, 20

It wasn't long ago that Heredia was the Latin American darling of the system, but a shoulder injury and poor conditioning kept him out for much of 2009, putting a little damper on expectations and knocking us back to reality a bit. Heredia was fantastic when he did return to the mound (7.5 K/9, 1.9 BB/9), yet he still has a ways to go before he can maximize the effectiveness of his low-90's fastball and advanced changeup. He tends to throw too many strikes, leaving pitches in the zone when he should be trying to get batters to chase. That's an experience and maturity thing, which will hopefully improve with time. All the lost development time probably means he's due for a return trip to High-A Tampa to start the season.
Photo Credit: Tyrone Walker, The Post And Courier
25. Kevin Russo, IF, 25
As if the Yankees' 2006 draft haul wasn't good enough, they managed to unearth a legit big league reserve in the 20th round in Russo. With enough athleticism to play three infield positions and the corner outfield spots, Russo adds even more value by not being an automatic out at the plate. Although he doesn't provide much pop (career .103 IsoP) he makes up for it with strong on-base skills (career .360 OBP, .397 at Triple-A). Russo is strong enough to not get the bat knocked out of his hands by big league fastballs, and both his defense and speed are at least average, better in the case of the latter. The Yanks deemed Russo worthy of a 40-man roster spot this offseason, and even though he'll enter camp with a very real chance of earning a utility infielder's job, he's likely to return to Scranton to at least start the season.
Photo Credit: AP
24. Hector Noesi, RHSP, 23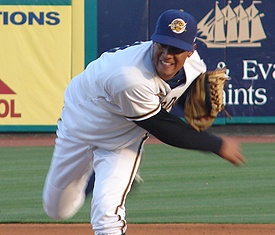 Believe it or not, Noesi has been with the organization since 2004, however he was derailed for nearly two years with Tommy John surgery. Finally healthy in 2009, he was able to remind the Yankees why they were so high on him way back in the day. He showed his rebuilt elbow was up to a heavy workload by throwing 117 innings last year, and his smooth as butter delivery affords him exceptional control (just 15 walks in all those innings). Noesi's stuff – low-90's heat, spike curve, nascent change – is good but not holy crap good, however it could improve the further he gets away from elbow surgery, and his command allows everything to play up. Added to the 40-man roster after the 2009 season, Noesi will begin the year near the front of Double-A Trenton's rotation, and he could pitch his way into big league consideration by mid-season despite his innings limitations. Ultimately, he's a back of the rotation arm or a reliever.
Photo Credit: milb.com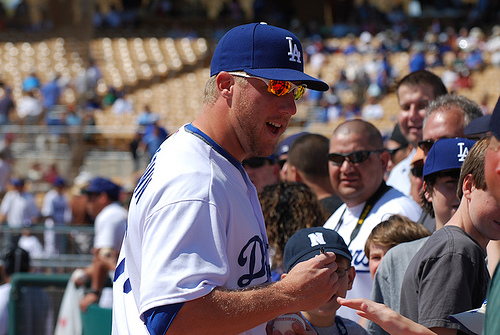 23. Jamie Hoffmann, OF, 25
With their newfound dedication to a hard budget, the one place on the roster where the Yankees could save major money is on the bench. Hoffmann, the first pick in this past Rule 5 Draft, gives the Yanks a low-cost and reasonably useful piece to fill all three outfield spots capably and possibly chip in at the plate. Everyone in and around the organization hopes that his improvements against southpaws in 2009 (.308-.432-.542 in Triple-A) are real, and if so that would make a legit platoon option at the big league level. If he's unable to stick on the 25-man roster all season, Hoffmann would have to be offered back to the Dodgers for half the original $50,000 Rule 5 pick cost. A big Spring Training would go a long way to increasing Hoffmann's chances of sticking in pinstripes for the long haul.
Photo Credit: Flickr user phxwebguy
22. Bradley Suttle, 3B, 24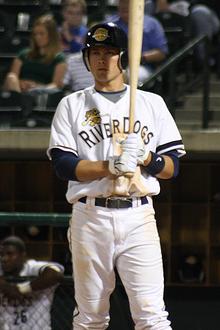 The forgotten prospect, Suttle missed the entire 2009 season with a pair of shoulder surgeries, however his anticipated return in 2010 is a welcome sight for a system lacking impact talent. He projects to be a complete hitter thanks his strong bat control skills, advanced approach, and gap power, now it's just a matter of making up that lost development time and gaining experience. His defense at third improved considerably in 2008, but if he his arm doesn't come all the way back following surgery a move to the outfield may be in order. A healthy season, likely starting with High-A Tampa, would go a long way to improving his prospect status.
Photo Credit: Flickr user quiet soliloquy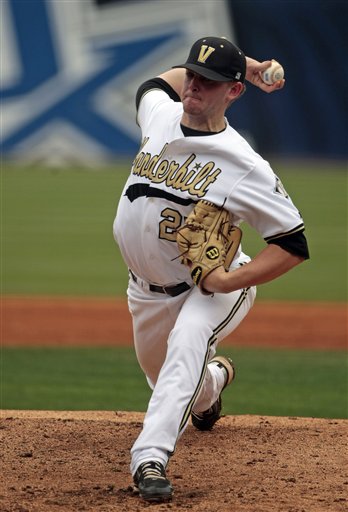 21. Caleb Cotham, RHSP, 22
Of all the college pitchers the Yankees took in the first ten rounds of the 2009 Draft, Cotham might have the highest upside. His low-to-mid-90's sinker and power slider combination should allow him to make it as a reliever at worst, but if he manages to improve his changeup, the sky is the limit. The biggest issue is a lingering knee problem that gave Cotham trouble even though he had surgery to repair the torn meniscus, which is the first thing he'll have to overcome before he can worry about getting professional batters out. Assuming he's healthy, Cotham will begin the year in Low-A Charleston's rotation.
Photo Credit: Dave Martin, AP
20. David Phelps, RHSP, 23

The Yankees have done a very good job of finding quality college arms in the later rounds of the draft and developing them into more, and Phelps is a prime example of that. He led the system with 151 IP in 2009, his 2.38 ERA was the second best among starters in full season ball, and since signing he's posted a fine 3.55 K/BB ratio. Phelps is far from a finished product, backing up his low-90's heat with two below average breaking balls and an okay changeup. Despite being 23-years-old, Phelps still might put a little weight on his 6′-3″, 180 lb frame, which may give him a little more oomph on his heater. After three years at Notre Dame and a dominating seasons split between Low-A Charleston and High-A Tampa, Phelps will likely be tested with an Opening Day assignment to Double-A Trenton. He's one of the better sleepers in a system lacking many.
Photo Credit: Flickr user MIKECNY
19. Wilkin DeLaRosa, LHRP, 25
After spending the first few years of his career as a no-hit outfielder, the Yankees moved DeLaRosa to the mound three years ago and saw enough from him in 2008 (his first as a full-time pitcher) to add him to the 40-man roster after the season. He missed part of the 2009 season with a biceps tendon issue, though he managed to get in close to 100 IP between High-A Tampa and Double-A Trenton. DeLaRosa has a very live arm, but he's so new to pitching and has so much more to learn. His core peripherals – K rate, BB rate, HR rate – all declined last year as his command came and went, so that's something he'll have to figure out in his two remaining option years. He'll start the year back in Trenton's rotation to accumulate innings and experience. Oh, yeah, and apparently it's "Wilkin" and not "Wilkins." I've been wrong all these years. Who knew.
Photo Credit: Mike Ashmore

18. Bryan Mitchell, RHSP, 18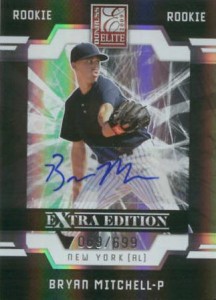 The Yankees went college heavy early in the 2009 Draft, but they managed to grab a high upside prep arm in the 16th round by giving Mitchell $800,000 to pass on playing in his backyard at UNC. Standing 6′-2″ with just 175 lbs on his frame, Mitchell should add even more velocity to his 90-94 mph fastball as he matures. He also throws a sinking two-seamer and a sledgehammer curve that could very well be the best breaking ball in the organization. Mitchell has clean mechanics and an electric arm, which gives him significant upside. Once he faces some live batters (he signed too late to appear in any games), he'll rocket up the prospect rankings. Mitchell has firmer stuff, more polish, and a better medical history than Brett Marshall, who received a similar bonus from the Yanks a year ago. He has the inside track on one of Low-A Charleston's rotation spots next year.
Photo Credit: baseballcardshop98373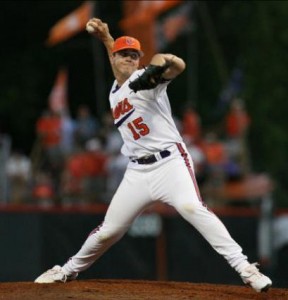 17. Graham Stoneburner, RHSP, 22
Hampering by injuries as a high school senior and as a freshman at Clemson, Stoneburner brought a real live arm to the organization as a 14th round pick in 2009. He problem is that he lacks consistency and feel for his craft, which is something he'll have to work on as he climbs the ladder. At worst, Stoneburner can always fall back on being a power armed reliever because of his explosive mid-90's gas, though he should begin his career as a starter just to get as many in as many innings possible. With one of the best pure arms in the system, Stoneburner will begin the 2010 season with either Low-A Charleston or High-A Tampa. Also, it helps his cause that Stoneburner translates to Steinbrenner in German.
Photo Credit: Mark Crammer
16. Frankie Cervelli, C, 24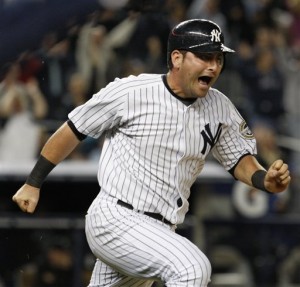 Like longtime Yankee stalwart Jorge Posada, Cervelli began his career as a middle infielder but moved behind the plate soon after signing. Unlike Posada, he had to abandon switch hitting early in his career, and it wasn't until he stuck to hitting righthanded only that he started to blossom. Although his minor league performance is nothing special (.273-.367-.380), Cervelli's outstanding defense will allow him to serve as a legit big league backup for a long time. The offense won't ever be better than below average (the ball just doesn't carry off his bat at all), so it's impossible to project him as anything more than that. Cervelli will start the year as Posada's backup, and figures to be a nice and cheap bench option for the next few years.
Photo Credit: Kathy Willens, AP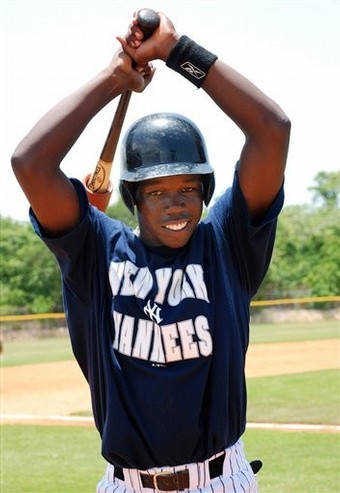 15. Kelvin Deleon, OF, 19
The big money prize of the 2007 Latin American haul, DeLeon made his stateside debut in 2009 and flashed not only his tremendous physical gifts, but an utter lack of polish. He hit for a tremendous amount of power as a teenager (.169 IsoP) in rookie ball, however more than 30% of his plate appearances ended with strike three. Performance that far down in the minors doesn't mean much of anything, but you'd like to see your seven figure bonus baby put on a little more of a show. DeLeon has a special power-speed skill set, however he has a long way to go to refine it, so he'll likely be a slow climber. He'll get his first crack at full season ball this year, when he opens the season as Low-A Charleston's every day right fielder.
Photo Credit: AP
14. Corban Joseph, 2B, 21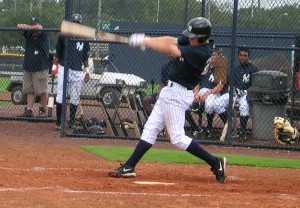 Reports seem to be very mixed on CoJo; many love his swing and hitting ability, though others aren't quite sure how he'll react to upper level pitchers that feature better breaking balls. The one thing everyone agrees on is that he's not going to stay in the middle infield long term, and will likely end up at third base or even left field when it's all said and done. Joseph walked more than he struck out in the second half, a testament to his professional approach and willingness to take what's given to him, though he's still prone to getting out of whack with his swing and going after pitches he can't do much with. He's ready for an assignment to High-A Tampa, where he'll hit in the middle of the order and try to improve his defense.
Photo Credit: CoJo himself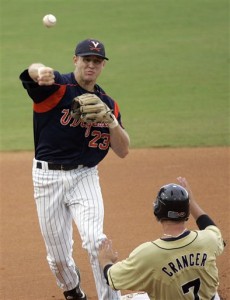 13. David Adams, 2B, 22
Adams is a difficult guy to rank, because it seems like you're either a believer in his bat or you're not. I happen to be a believer, because strong contact skills and an advanced approach are usually a good recipe for success at the upper levels. Whether or not Adams' second half power spike following a promotion to High-A Tampa is real remains to be seen, though in the end he still projects to have just gap power. The Yankees may have him play some other positions in anticipation of a future utility role, though he's good enough to play an adequate second base. Adams will likely get pushed up to Double-A Trenton to begin 2010.
Photo Credit: Phil Coale, AP
12. Ivan Nova, RHSP, 23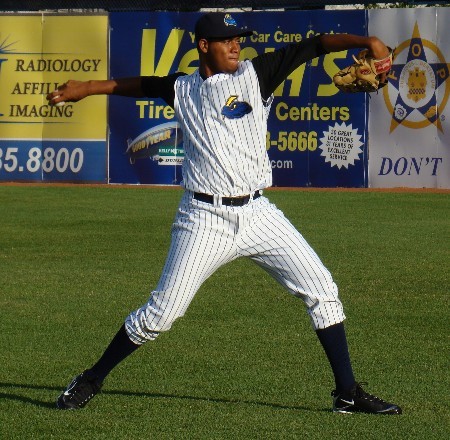 I was never much of a believer in Nova, mostly because he was too hittable at the lower levels and never really missed any bats. After getting Rule 5'd by the Padres and eventually returned at the end of Spring Training, Nova reached Double-A for the first time and finished by posting a 1.22 ERA with gaudy peripherals in his final seven starts with Trenton before being bumped up to Triple-A. Now that he's on the cusp of the big leagues, it's time to take Nova seriously. He won't ever anchor the front of the rotation, but he'll be a valuable asset as a back-end starter or a short reliever with a chance for two knockout secondary pitches. Nova will return to Triple-A just as a placeholder, because he'll be among the first called up given his offseason addition to the 40-man roster.
Photo Credit: Mike Ashmore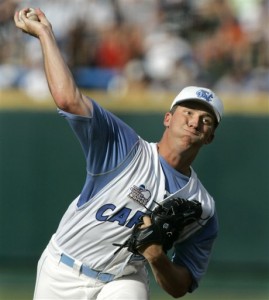 11. Adam Warren, RHSP, 22
If there's one thing we know about scouting director Damon Oppenheimer, it's that he loves polished college arms with long and glorious track records. No one better exemplifies that than Warren, who spent four years at UNC and pitched in as many College World Series. He predictably bowled over the New York-Penn League after signing, and should continue to dominate minor leaguers until he gets to Double-A. Warren's stuff was good but never great, however reports had him touching 96 with Staten Island. Combine that with good command and pitching aptitude, and you've got a guy who should shoot through through minors and and be a big league option at some point in 2011. The Yankees will assign him to High-A Tampa to start the season to keep him in the warm weather, but he shouldn't bother renting a place. He's better of just sleeping on someone's couch for the month he'll be there.
Photo Credit: Nati Harnik, AP
10. Jose Ramirez, RHSP, 20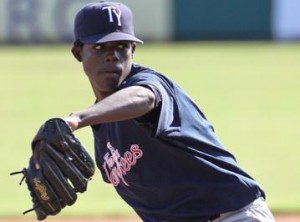 Every season there's always one or two pitchers that show up in rookie ball after being signed as a Latin American free agent, and they become all the rage after flashing some heat. Ramirez is this year's version, following in the footsteps of Arodys Vizcaino and Jairo Heredia and Angel Reyes. He held opponents to just 34 hits in 64 IP, striking out almost three-and-a-half times as many batters as he walked. Rail thin at 6′-1″, 160 lbs, Ramirez projects to add even more to his fastball that already tops out at 96. In most years I would have ranked someone like Ramirez somewhere in the 20's given his limited track record, but I'm a believer (and the Yanks' system has thinned out a bit in the last year). He'll open the season at the very front of Low-A Charleston's rotation.
Photo Credit: milb.com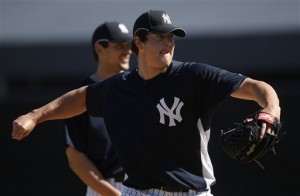 9. Andrew Brackman, RHSP, 24
Yes, Brackman sucked in 2009. I know all about it and wrote extensively about his season here, here, and here. The problem is that besides the number one guy on this list, pretty much no one in the Yankees' system has the upside to be anything more than a number three starter or an above average regular. There's very little star power, and despite Brackman's rough first season back following Tommy John surgery, he still has a tremendous upside and finished the season strong (including Instructional League). Brackman will qualify for a fourth option (because he will have used up all three of his original options by his fifth pro season), meaning he doesn't have stick in the Majors until the 2013 season. It sounds like the Yankees are going to bump him up to High-A Tampa in 2010, and yes, if he struggles like he did in 2009, there will be serious concerns. Right now, let's just have some patience. You don't give up on a kid with this kind of arm after his first 19 starts. No one promised it would be pretty.
Photo Credit: Julie Jacobson, AP
8. J.R. Murphy, C, 18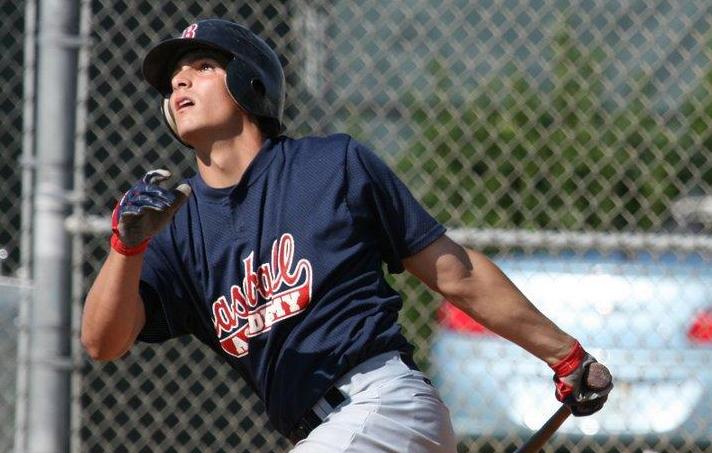 The Yankees didn't make the big name splash we were all expecting (hoping for) early in the 2009 Draft, however they landed a premium high school bat in Murphy with their second round pick. He'll hit for high averages everywhere he goes because of his bat speed and patient yet aggressive approach, and he could grow into above average power down the road. Murphy still has a lot to learn behind the plate because he's relatively new to catching, but he's athletic enough to move to a corner outfield spot or maybe even third base if the whole catching thing doesn't stick. The Yanks will probably take it easy on him and keep him in Extended Spring Training to work on his receiving skills, but his bat if ready for full season ball if the Yanks want to be aggressive.
Photo Credit: IMG Baseball Academy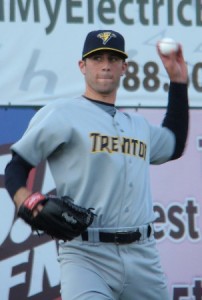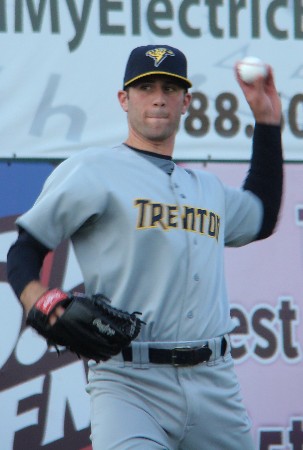 7. Jeremy Bleich, LHSP, 22
The team's highest signed pick from 2008 had an up-and-down season in 2009, though Bleich actually improved his prospect status because he added some giddy-up to his fastball as he got further away from a 2008 elbow injury. He stayed healthy all season and led the system with 27 starts and was fourth with 144.1 IP, which is the important thing, however his peripherals (3.5 BB/9, 7.2 K/9) don't exactly jump out at you. Bleich backs up his improved heater with a big breaking curveball, a changeup, and a strong two-seamer, and his command got better as the season progressed even though the numbers don't bear that out. The scouting report outpaces the performance right now, and Bleich will get a chance to beef up the numbers for the stat obsessed when he returns to Double-A Trenton to start the season.
Photo Credit: Mike Ashmore
6. Mark Melancon, RHRP, 25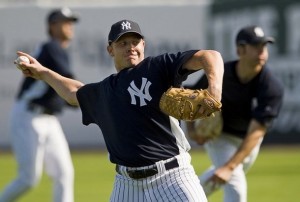 Yankee fans got their first taste of Melancon in 2009, although his traditionally strong control deserted him during his brief time in the Bronx. He remains a dynamite relief prospect, allowing fewer than a baserunner per an inning with a strikeout-to-walk ratio north of four in his minor league career. Melancon has a very good chance to be this year's David Robertson, a strikeout arm that bounces up-and-down early in the season before settling into a defined role in the second half. He'll head to this third Major League Spring Training, and his top notch makeup bodes well for late inning work down the road. A return to Triple-A Scranton to start 2010 is nothing more than formality.
Photo Credit: Steve Nesius , Reuters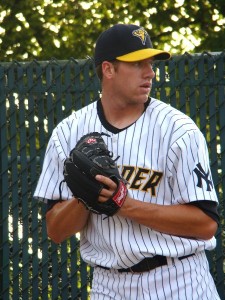 5. Zach McAllister, RHSP, 22
McAllister is a machine, he just keeps plugging along and getting guys out. However he hasn't been able to develop that out-pitch breaking ball we've been waiting for, and that's what limits his ceiling to back-end starter, best case a middle of the rotation workhorse. That said, McAllister has been nothing short of outstanding as a pro, walking just over two and striking out close to eight batters for every nine innings pitched. He remains the club's best upper level pitching prospect, and after starting the season with Triple-A Scranton, there's a good chance we'll see him at some point in 2010.
Photo Credit: Mike Ashmore
4. Slade Heathcott, CF, 19

Scouting director Damon Oppenheimer hasn't drafted many position players in the top two rounds of the draft, but when he has he's target a very specific demographic: toolsy up the middle athletes. Heathcott fits that profile to a T, and he might be the most tooled up player in the system. His package of tools all presently grade out as average or better, except for his power, which is still a ways off given his age. Questions about his makeup scared some teams away, however the Yanks liked Heathcott better than most and went ahead and paid him like a top ten pick. Given Austin Jackson's departure, Heathcott is the organization's best hope for a homegrown everyday outfielder, though he's still several years away from contributing.
Photo Credit: Evan Lewis, Texarkana Gazette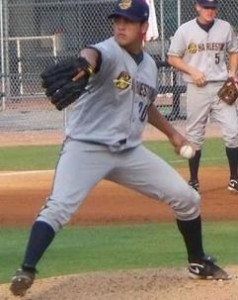 3. Manny Banuelos, LHSP, 19
It's been just two short years since the Yankees purchased Al Aceves and Banuelos (and two others) from the Mexican League, however their $450,000 investment has already been more than justified. As a teenager in a full season league, Banuelos posted dominant strikeout (8.8 K/9) and walk numbers (2.3 BB/9) while being named to the Futures Game (he didn't pitch because rain shortened the contest). He's still a little dangerous because his stuff – fastball, curve, and change, average across the board at the moment – doesn't really line up with his performance, however his command and poise make up the difference. Banuelos will front the High-A Tampa rotation next year, and there's a chance he could end the season as a teenager in Double-A.
Photo Credit: Mike Newman
2. Austin Romine, C, 21
F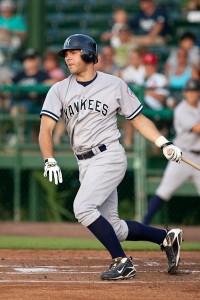 inally given a chance to get out from under Jesus Montero's shadow in the second half of 2009, Romine showed what he was capable of both at the plate and behind it. He improved both his walk rate and power output last season – the latter by more than 20% (in terms of IsoP) – despite spending the season in the pitcher friendly High-A Florida State League. Romine's defensive abilities are still developing, however he has the skill set to turn into a rock solid all-around backstop. He'll be given his first chance at being the primary catcher for a full season next year with Double-A Trenton.
Photo Credit: Scott Jontes, milb.com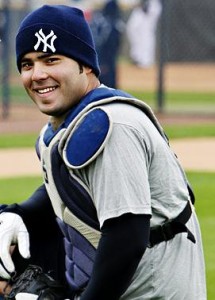 1. Jesus Montero, C, 20
It's been a long time since the Yankees had a number one prospect this far removed from the pack, but it's also been a long time since the Yankees had a position player of Montero's caliber. He's unlikely to remain behind the plate, however his bat is world class and will be an asset wherever he ends up. A career .325-.379-.509 hitter, Montero's performance has managed to get better the closer he gets to the majors, and there's no reason he couldn't catch twice a week while DH'ing the rest of the time when he first breaks into the bigs. Remember, Montero will only be 27-years-old when Mark Teixeira's contract is up, so it's not like he's blocked forever. Barring a disaster or completely unexpected promotion, Montero will spend the season with Triple-A Scranton, and will top this list again next year.
Photo Credit: Elise Scheiner, NY Daily News
In case you're curious, I would have ranked Austin Jackson #2, Arodys Vizcaino #3, and Mike Dunn #12 if they were still around. If Gerrit Cole had signed back in 2007 and developed in the minors similar to how he did during his freshman season at UCLA, he would have ranked #2 on the list, even ahead of Jackson and Vizcaino. Getting Heathcott with the compensation pick is a nice consolation, but Cole is the guy they really miss.
Adam Warren was an interesting player to rank. When I put my first draft together, I had him in the 20's somewhere. But the more I learned about him and the guys I had ahead of him, the more he kept moving up. Eleventh overall is a pretty aggressive ranking, but I believe in his ability to climb the ladder very quickly and contribute to the big league team in some form very soon. He's almost like another Al Aceves, and there's nothing wrong with that.
I guess the one thing that really stuck out to me as I was putting the list together is how completely boring the Yanks' system would be without Montero. The rest of the top ten is solid, but in an ideal world they'd all be knocked down a peg or three by some higher upside players. Austin Romine as your second best prospect isn't as exciting as Austin Romine as your fifth best prospect. There's certainly plenty of talent at the lower levels, so it would be nice to see some of those guys break through a bit this season.
Surely you'll disagree with some of my rankings, so bring any questions, comments, or insults to this afternoon's chat at 2pm.
SI Yanks Photo Credit: milb.com